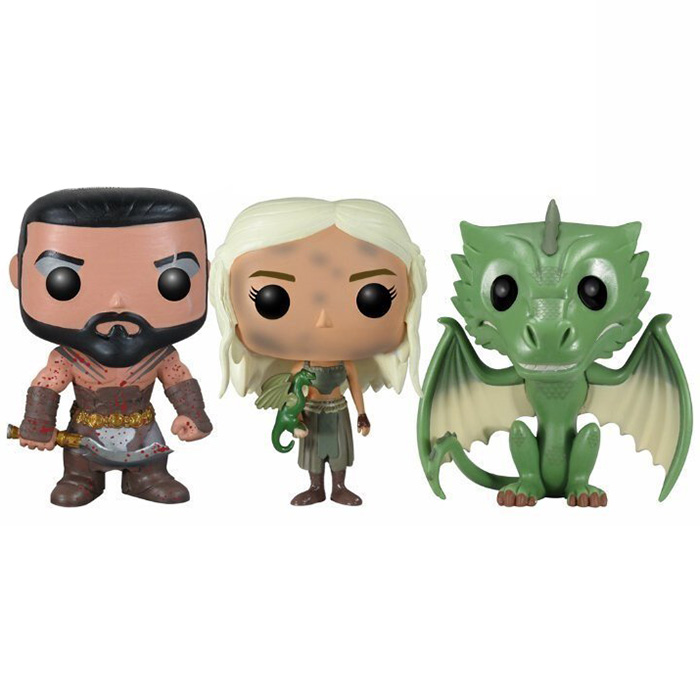 Figurines Khal, Khaleesi et Rhaegal (Game Of Thrones)
Les figurines Funko Pop Khal, Khaleesi et Rhaegal (Game Of Thrones) vous intéressent ?

Vérifier la disponibilité sur

Les débuts d'une reine
Khal Drogo est l'un des personnages importants de la saison 1 de la série Game Of Thrones et Khaleesi, de son vrai nom Daenerys Targaryen en est l'un des personnages principaux. Au début de la série, Daenerys, l'une des dernières héritières des Targaryen, la famille ayant reigné sur Westeros pendant des siècles, est exilé avec son frère en Essos. celui-ci tente de regrouper une armée afin de reprendre le trône qui lui revient théoriquement de droit. Il marie alors Daenerys à un seigneur de guerre Dothraki contre l'aide de son armée. Mais contre toute attente Daenerys et Khal Drogo tombent amoureux et Viserys est exécuté après leur avoir manqué de respect à tous les deux. Khal Drogo va alors promettre à Daenerys de l'aider à retrouver son trône. Malheureusement il meurt suite à une grave blessure. Daenerys place les oeufs de dragon qui lui avaient été offert pour son mariage sur le bûcher funéraire de son mari et ceux-ci finissent par éclore alors que l'on pensait l'espèce disparu depuis toujours. Rhaegal est l'un de ces dragons, nommé ainsi en l'honneur du frère qu'elle n'a pas connu.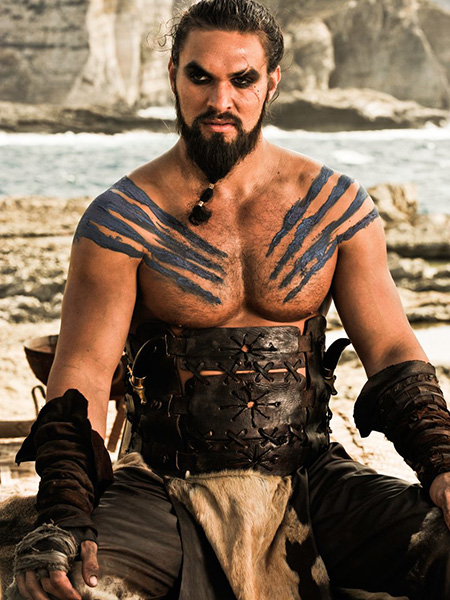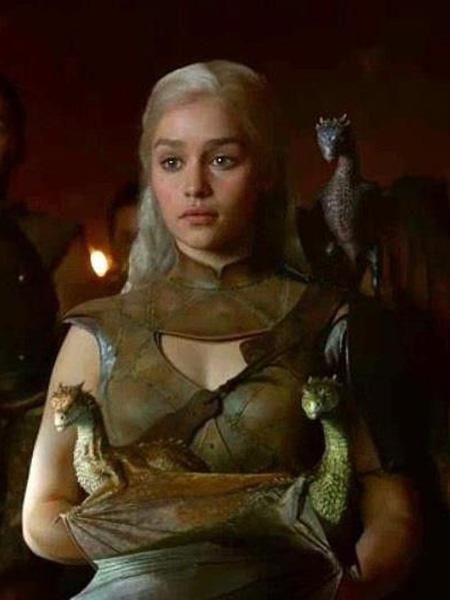 Un étrange pack
Ce pack propose donc trois figurines : une de Daenerys avec Rhaegal, une de Khal Drogo et une autre de Rhaegal adulte. Ce qui est un peu étrange puisqu'on représente donc deux fois le même dragon et que Khal Drogo ne devrait pas se trouver en la présence des dragons puisque ceux-ci naissent justement sur son bucher funéraire. La figurine de Khal Drogo est donc quasi identique à celle de lui déjà sortie seule. Il est représenté avec sa tenue de cuir marron Dothraki, torse nu avec ses tatouages bleus sur le torse. Au niveau de la tête, on retrouve bien sa barbe et ses longs cheveux noirs. Dans sa main droite, il tient son couteau recourbé Dothraki mais ce qui le différencie de l'autre figurine, ce sont les taches de sang sur l'arme et ses vêtements. Pour Daenerys, c'est aussi quasiment la même que la première figurine du personnage. Elle porte sa tenue de marche Dothraki avec des bottes, un pagne et un haut court découvrant son ventre pour résister à la chaleur du désert. On reconnait bien ses longs cheveux blonds nattés et le petit dragon vert sur son bras, contrairement à la figurine de base qui représente un mélange entre Drogon et Rhaegal. Son visage est aussi représenté sale, comme c'est le cas durant toute la partie de la saison deux où elle erre dans le désert. Enfin, on retrouve la figurine de Rhaegal à taille adulte et celle-ci est exactement la même que celle sortie seule.