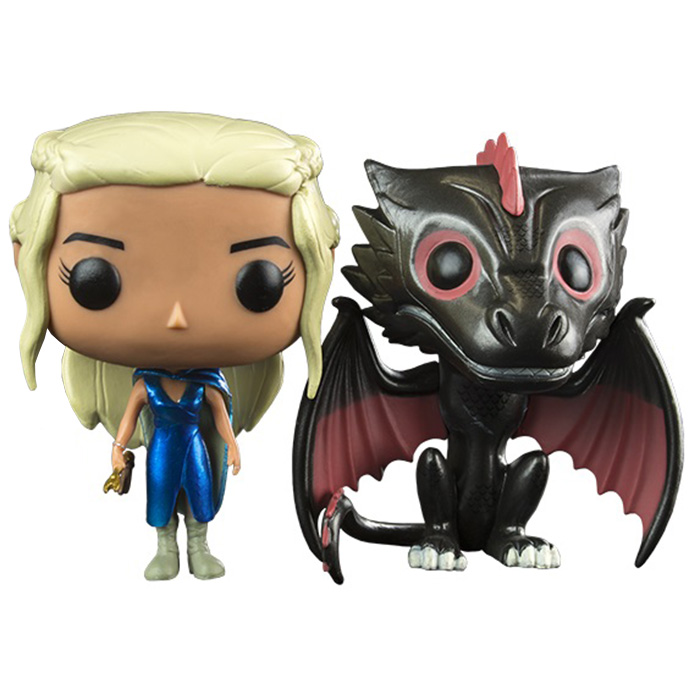 Figurines Daenerys et Drogon (Game Of Thrones)
Les figurines Funko Pop Daenerys et Drogon (Game Of Thrones) vous intéressent ?
Vérifier la disponibilité sur

Un duo redoutable
Daenerys Targaryen est l'un des personnages principaux de la série Game Of Thrones inspirée des romans A Song Of Ice And Fire de George Martin. Elle est l'une des dernières héritières de la famille Targaryen, la famille ayant reigné sur Westeros pendant des siècles. Cette famille ayant été violemment évincée du pouvoir juste avant la naissance de Daenerys, celle-ci est exilée avec son frère en Essos où il tente de regrouper une armée pour retourner à Westeros et reprendre le trône. Mais finalement Viserys et le seigneur de guerre Dothraki à qui il avait marié sa soeur décidéra de l'aider à conquérir le trône pour elle-même. Suite à l'éclosion des trois oeufs de dragon qui lui avaient été offerts pour son mariage, Daenerys décide de continuer dans sa quête pour reconquérir le trône. Mais avant de pouvoir retourner à Westeros, elle va tenter de rendre la justice en Essos en libérant tous les esclaves et leur proposant de rejoindre son armée. Alors que ses dragons commencent à grandir, ils vont devenir un argument de poids dans la conquête d'Essos puis de Westeros.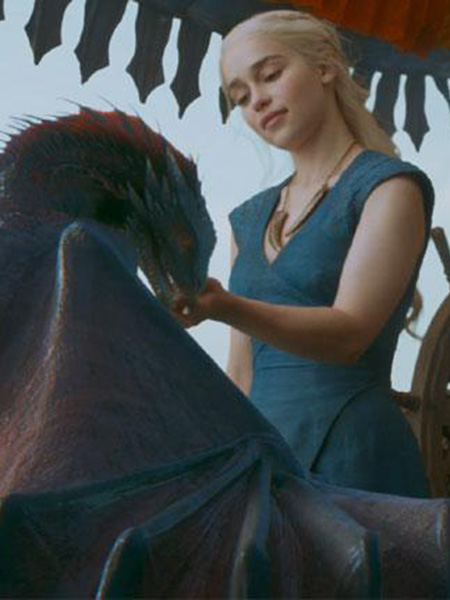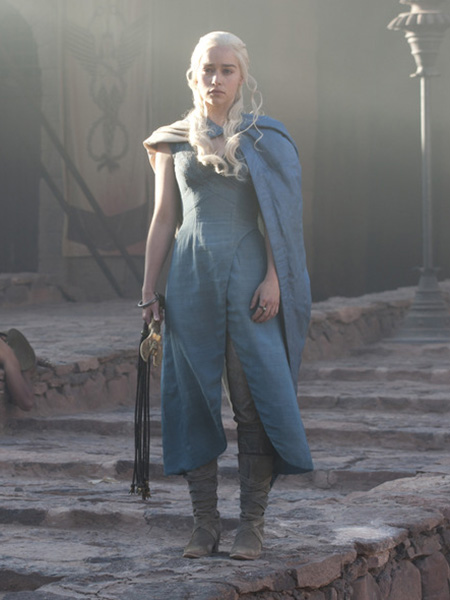 Un joli pack métallisé
Pour ce pack de deux figurines, Funko a choisi de reprendre la figurine de Daenerys en robe bleue telle qu'on la voit durant la majorité de la saison 3 mais avec une jolie peinture métallisée sur la robe et la cape qu'elle porte. C'est à ce moment que Daenerys commence à développer un style qui lui est propre. Portant toujours les bottes et le pantalon typiquement Dothraki et alliant ça à une robe plus féminine et rappelant son origine noble. Elle est aussi accompagnée de Drogon en version adolescente n'ayant pas encore atteint sa taille adulte impressionnante mais étant déjà capable de sérieux dégâts. On reconnait bien ses écailles noires et les détails de rouge sur ses ailes ouvertes ainsi que sur les pointes sur le dessus de sa tête. Cette figurine est aussi recouverte d'une jolie peinture métallisée, ce qui rend ce pack très intéressant.