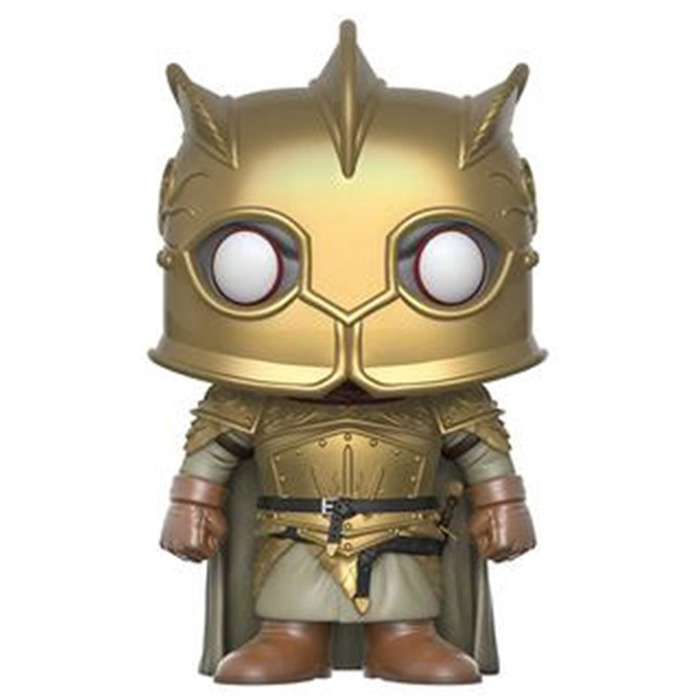 Figurine The Mountain Armoured (Game Of Thrones)
La figurine Funko Pop The Mountain Armoured (Game Of Thrones) vous intéresse ?

Vérifier la disponibilité sur

La Montagne dans un sale état
The Mountain est un personnage important de Game Of Thrones, la série de fantaisie culte de HBO inspirée des livres du même nom. De son vrai nom Gregor Clegane, il est depuis longtemps fidèle à la maison Lannister. C'est un homme au physique et à la force hors du commun mais qui est aussi d'une violence sans pareille, prêt à tuer hommes, femmes, enfants et à violer sans la moindre hésitation. Lors de la guerre qui opposa l'ancien roi Targaryen aux autres familles de Westeros, il n'a pas hésité à tuer de manière violente les derniers descendants des Targaryen sous les ordres des Lannister. Plus tard dans la série, Oberyn Martell, frère de la femme de Rhaegar Targaryen qui fût tué par The Mountain, tente de prendre sa revanche sur The Mountain. Celui-ci est tué pendant le combat mais il parvient tout de même à le blesser avec une flèche empoisonnée. Mais alors qu'on le pense condamné à mourir, Qyburn, nouveau maester au service de Cersei Lannister, parvient à le ramener à la vie, faisant de lui une sorte de zombie. Il n'est alors plus vu sans son armure complète et son casque.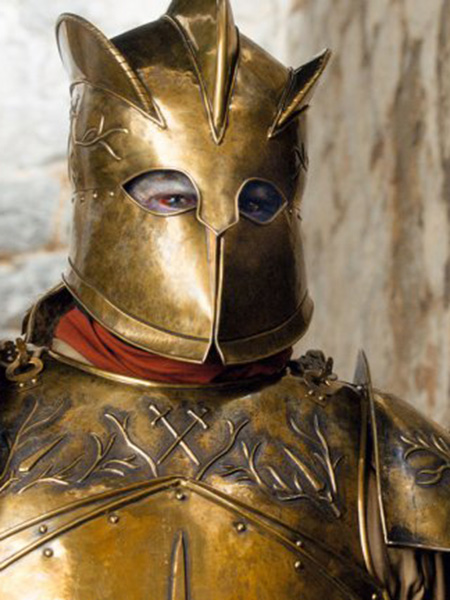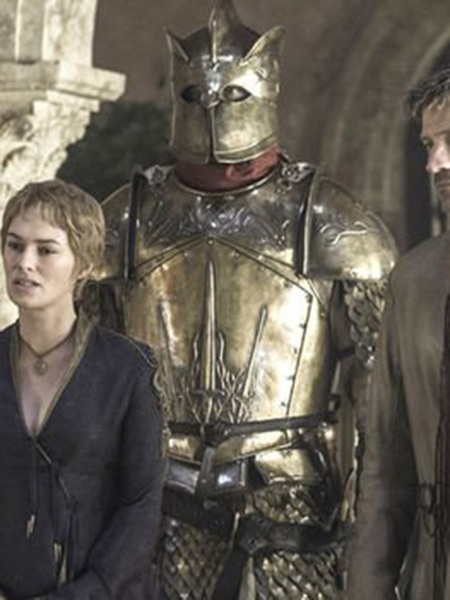 Une armure luxueuse
Pour cette figurine exclusive à la SDCC 2017, The Mountain est donc représenté comme on le voit depuis la fin de la saison 5, c'est à dire avec une armure complète. En dessous, on peut voir qu'il porte une tenue assez simple, une tunique beige avec des bottes marrons ainsi que la fameuse cape beige et dorée de la garde royale. Son armure est dorée et très luxueuse avec de fines gravures pour rappeler qu'il est rattaché aux Lannister, la famille la plus riche du continent. Au niveau de la tête, il porte donc un casque doré assorti à son armure qui ne laisse apparaitre qu'un tout petit peu de peau verte autour des yeux et nous laisse penser qu'il est bel et bien transformé en sorte de zombie. Enfin, même ses mains sont recouvertes de gants afin de ne pas laisser apparaitre.