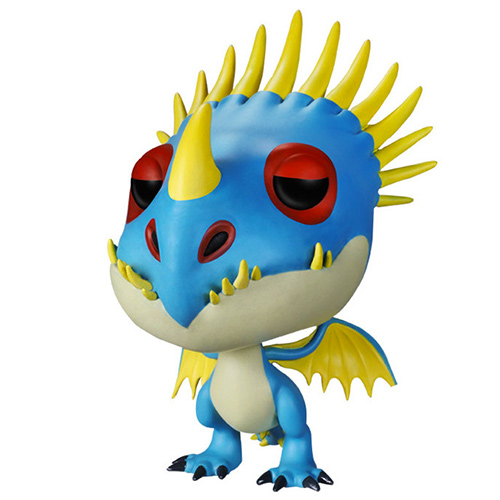 Figurine Stormfly (How To Train Your Dragon 2)
La figurine Funko Pop Stormfly (How To Train Your Dragon 2) vous intéresse ?

Vérifier la disponibilité sur

Le partenaire de vol d'Astrid
Stormfly est un dragon dans le film d'animation des studios Dreamworks, How To Train Your Dragon 1 et 2. Dans ces films, on suit l'histoire d'un jeune viking du nom de Hiccup vivant dans le village de Berk. Depuis toujours, le village est attaqué par les dragons et en retour, tout homme et femme du village se doit de devenir le plus grand chasseur de dragons possible. Hiccup, plutôt maladroit et maigrichon, arrive un jour, grâce à une machine qu'il a inventé, à blesser un de ces terribles dragons. Mais Hiccup ne peut se résoudre à l'achever et va finalement le soigner et l'apprivoiser. Il va alors découvrir que les dragons ne sont pas les terribles créatures qu'on lui avait toujours décrites. Dans le deuxième épisode, tout le village a adopté les dragons et ils font maintenant partie de leur vie quotidienne. Stormfly était au départ un dragon captif utilisé pour entraîner les jeunes vikings à la chasse aux dragons. Il a donc été libéré et est maintenant le partenaire de vol de la jeune mais impitoyable Astrid, la première à avoir découvert le secret de Hiccup, qui deviendra plus tard sa petite amie. Dans ce deuxième volet de How To Train Your Dragon, le groupe de Hiccup va rencontrer de terribles chasseurs de dragons et va devoir protéger son village.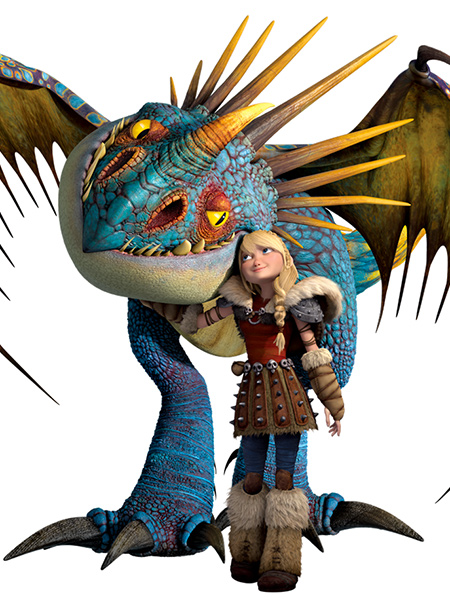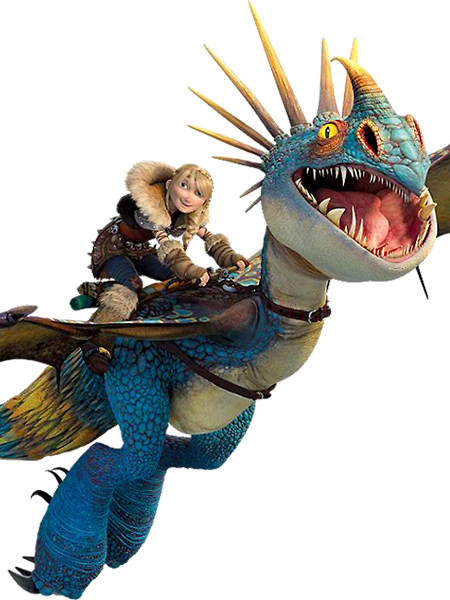 Un dragon aux couleurs d'oiseau tropical
Stormfly est un joli dragon aux couleurs vives avec une dominante de bleu et de jaune. Bien qu'il soit plutôt impressionnant et féroce, il a aussi une allure plutôt amusante. On retrouve donc bien ses longues pattes arrière bleues et griffues. Son poitrail ainsi que le dessous de sa tête sont beiges. Comme dans le dessin animé, ses ailes sont dans une dominante de jaune même si l'on regrette de ne pas retrouver le détail de ce joli motif qui lui donne un côté féérique. En revanche sa tête rappelant celle d'un dinosaure est particulièrement bien reproduite et donne tout son charme à cette figurine. On retrouve bien ce bec pointu avec les multiples dents jaunes qui en dépassent quand il est fermé. Funko a aussi bien reproduit la corne et les multiples pics jaunes qui lui hérissent le crâne. Enfin ses yeux noirs ainsi que ses narines ont été cerclés de rouge pour respecter le style du dragon dans le dessin animé. Ce joli petit dragon est à assortir avec sa partenaire de vol Astrid, ainsi que le couple Hiccup et Toothless.