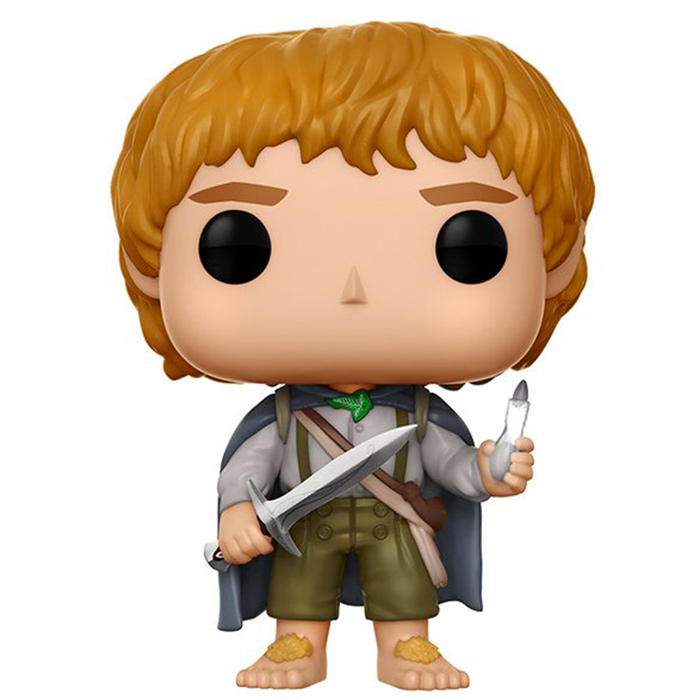 Figurine Samwise Gamgee (The Lord Of The Rings)
La figurine Funko Pop Samwise Gamgee (The Lord Of The Rings) vous intéresse ?

Vérifier la disponibilité sur

L'ami fidèle
Samwise Gamgee est un hobbit et l'un des personnages principaux de la très célèbre trilogie littéraire et cinématographique Le Seigneur Des Anneaux. Des milliers d'années avant le début de l'histoire, le terrible seigneur du Mordor, Sauron, tenta de prendre le pouvoir sur la Terre du Milieu grâce aux anneaux qu'il donna aux plus grands rois humains, elfes et nains pour les corrompre à et l'anneau unique qui lui permettrait de tous les contrôler. Après une longue guerre, l'alliance des trois peuples gagna mais l'anneau et donc Sauron survécurent. Au début de l'histoire, l'anneau se retrouve par hasard entre les mains de Frodo. Issu du paisible peuple des hobbits, ses préoccupations sont bien loin de la guerre et du pouvoir. Pourtant le Mordor semble reprendre des forces et il est décidé que l'anneau doit être détruit. Les hobbits se montrant particulièrement résistants aux forces d'attraction de l'anneau, Frodo se porte volontaire pour aller détruire l'anneau. Il sera accompagné d'une compagnie de nains, humains, elfes, magiciens mais aussi de plusieurs hobbits dont Sam, son plus fidèle ami. S'il est au départ réticent à quitter la Comté, Sam finira par trouver son courage et fera tout pour aider et protéger son ami dans sa dangereuse mission.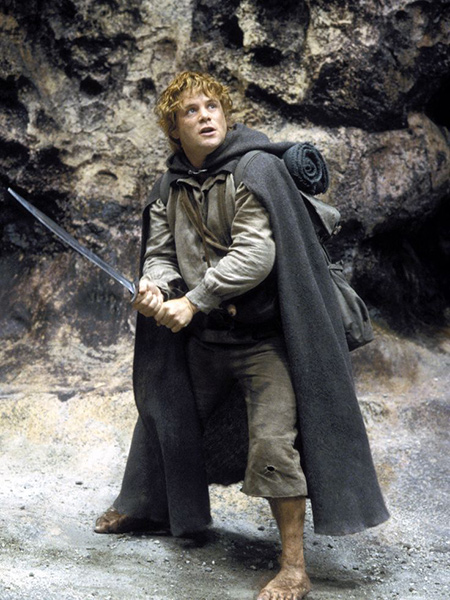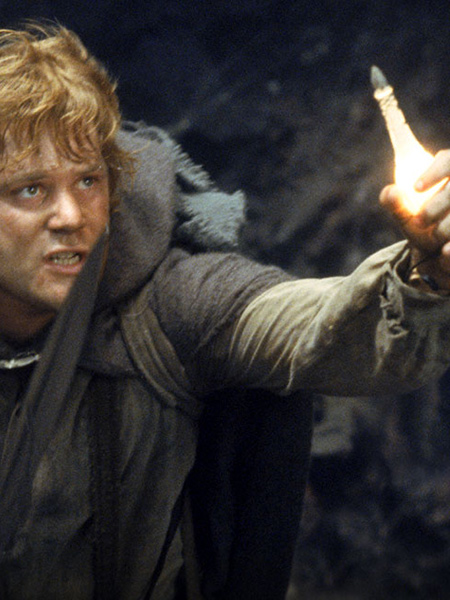 Sam à la fin de l'histoire
Sam est ici clairement représenté vers la fin de l'histoire, plus particulièrement lors de la scène du Retour Du Roi juste après que Frodo ait été attaqué par Shelob, l'araignée géante. Au niveau du corps, on peut voir que Sam porte les vêtements classiques d'un hobbit, un pantalon court vert avec des bretelles par dessus une simple chemise grise. Avec cela, il porte bien sûr la cape offerte par Galadriel à la fin du premier livre/film, attachée par cette fameuse broche en forme de feuille verte, très joliment représentée. On peut aussi deviner les bretelles du sac à dos dans lequel il porte toutes ses provisions. Au niveau de la tête, son visage est simple mais on reconnait bien sa chevelure bouclée d'un blond roux. Enfin, il tient dans ses mains Sting l'épée de Frodo ainsi que l'objet lumineux qui lui avait été offert par Galadriel. Sam les tient à ce moment précis car, Frodo ayant été mordu par Shelob, il s'en sert pour la combattre.