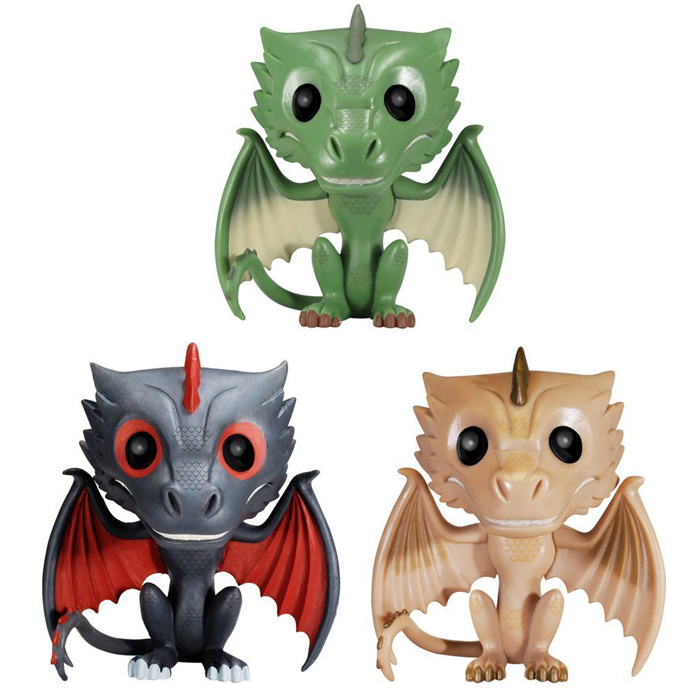 Figurines Rhaegal, Viserion et Drogon (Game Of Thrones)
Les figurines Funko Pop Rhaegal, Viserion et Drogon (Game Of Thrones) vous intéressent ?

Vérifier la disponibilité sur

Trois frères à leurs débuts
Rhaegal, Viserion et Drogon sont les trois derniers dragons vivants dans la très célèbre série de fantaisie Game Of Thrones. Au début de la série, pendant que les grandes familles de Westeros conspirent les unes contres les autres pour le pouvoir, Daenerys et son frère, les derniers survivants de la famille Targaryen, tentent de réunir une armée et des moyens pour retrouver le trône. Daenerys est donc donnée en mariage à un guerrier Dothraki en échange de son armée et elle reçoit des oeufs de dragon, supposément morts, en cadeau. Mais lorsque son mari meurt et qu'elle place les oeufs de dragon sur son bucher funéraire, ils finissent enfin par éclore. Leurs débuts sont difficiles puisqu'ils sont trop petits pour chasser et que Daenerys doit les nourrir tant bien que mal malgré le fait que son peuple est actuellement entrain de errer dans le désert en chemin vers la ville de Qarth.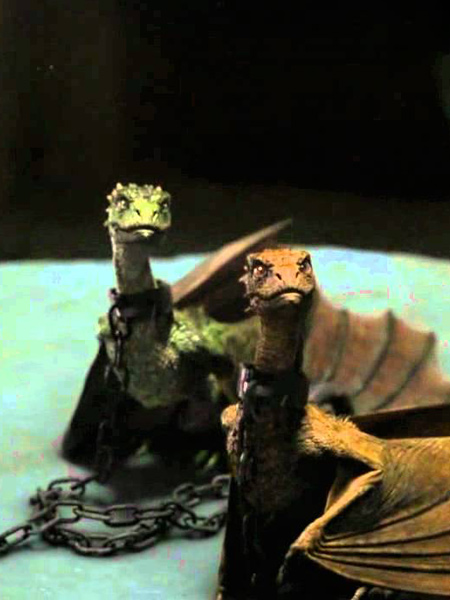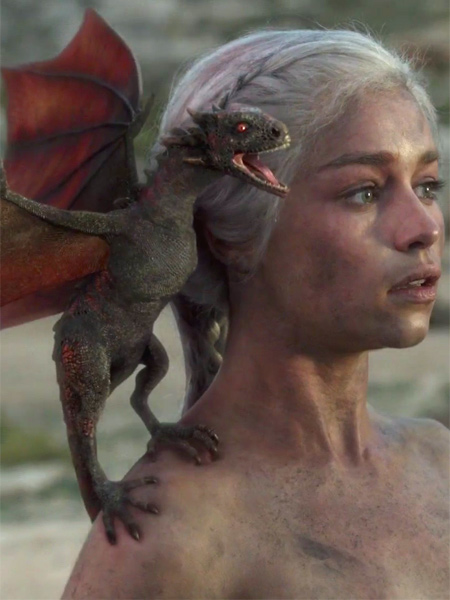 De beaux enfants
Pour ce joli pack de trois figurines, Funko a choisi de représenter les trois petits dragons de Daenerys en tant que bébés debout et les ailes étirées. Drogo, le plus gros et costaud des trois est principalement noir avec l'intérieur des ailes et les cornes sur le dessus de la tête rouges. Rhaegal est tout vert avec l'intérieur des ailes légèrement beige et enfin Viserion, nommé ainsi pour son frère est presque tout beige avec quelques touches de dorée sur les ailes ainsi que les cornes sur le dessus de la tête.