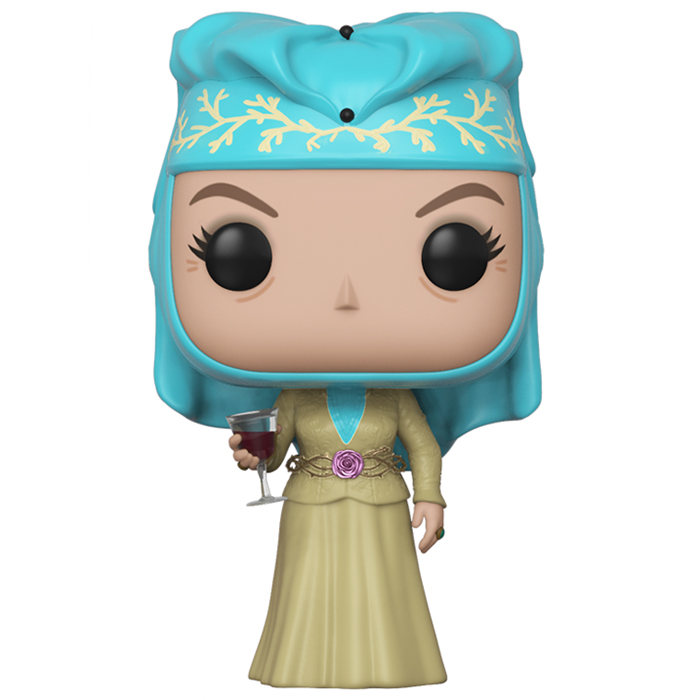 Figurine Olenna Tyrell (Game Of Thrones)
La figurine Funko Pop Olenna Tyrell (Game Of Thrones) vous intéresse ?

Vérifier la disponibilité sur

La matriarche de la famille
Olenna Tyrell est la matriarche de la puissante famille Tyrell dans la série Game Of Thrones adaptée des célèbres romans de George Martin. Bien qu'étant une femme, Olenna est bel et bien la chef non officielle de cette famille qui a toujours plutôt bien su être du bon côté des guerres de pouvoir dans le continent de Westeros. Ils avaient longtemps soutenu les Targaryen avant de se rallier aux Baratheon il y a une vingtaine d'années et ils ont été là pour aider les Lannister quand ils étaient en conflit avec Stannis Baratheon qui se considérait comme le seul roi légitime. Olenna est une femme intelligente et elle est particulièrement proche de sa petite fille Margaery qu'elle considère comme la seule véritable héritière de la famille, son propre-fils manquant de l'intelligence qui caractérise les deux femmes. Elle ira même jusqu'à empoisonner Joffrey Baratheon le jour de son mariage avec Margaery, ne souhaitant pas que sa petite-fille se retrouve mariée avec cet homme violent et pervers. Quand Cersei tue une grande partie de la cours en fin de saison 6, Olenna quitte Westeros et décide de s'allier avec les Martell pour soutenir Daenerys Targaryen. Malheureusement, les choses ne se passeront pas exactement comme elle les avait prévues.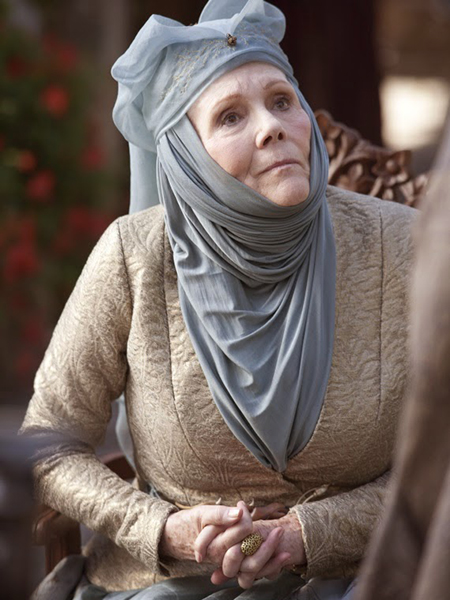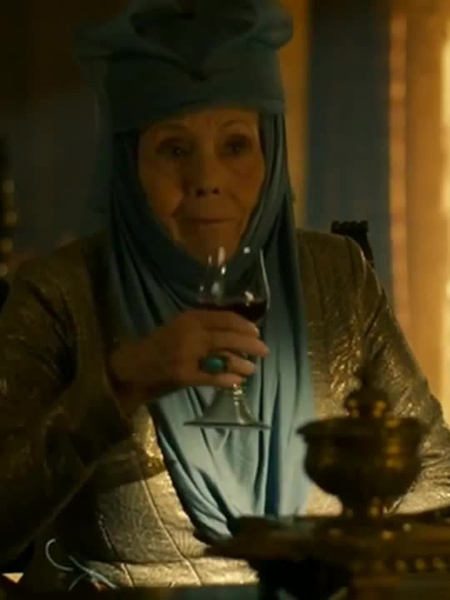 Un personnage mythique
Olenna Tyrell reste parmi les personnages favoris de nombreux fans et il était donc logique que Funko finisse par la représenter pour cette figurine exclusive à la SDCC 2018. Elle est donc représentée avec cette tenue bien typique du style des Tyrell. Elle porte une robe vert clair aux jolies broderies sur la partie haute et porte une ceinture métallique avec une rose au centre, le symbole de sa famille. Au niveau de la tête, elle porte une coiffe qui cache complètement ses cheveux et lui donnerait presque l'air d'une religieuse si ce n'était pour sa couleur turquoise vive et les motifs végétaux que l'on retrouve à l'avant. Enfin, elle est bien sûr représentée avec un verre de vin à la main, comme c'est si souvent le cas dans la série.