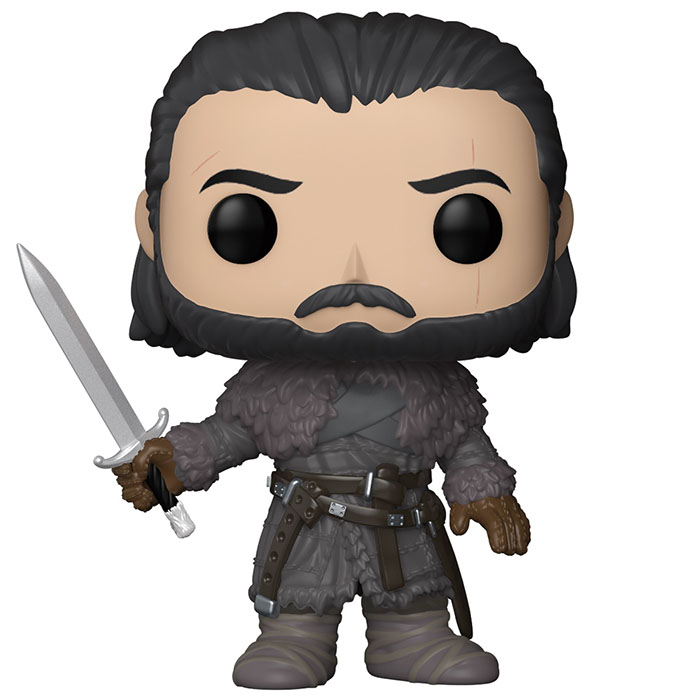 Figurine Jon Snow beyond the wall season six (Game Of Thrones)
La figurine Funko Pop Jon Snow beyond the wall season six (Game Of Thrones) vous intéresse ?

Vérifier la disponibilité sur

Retour vers le danger
Jon Snow est l'un des personnages centraux de la série Game Of Thrones ayant bien évolué depuis le jeune adolescent partant s'engager dans la garde de nuit au tout début de la série. Après plusieurs années et ayant prouvé sa valeur, Jon est devenu le chef de la garde de nuit après la mort du commandeur Mormont. Mais sa décision d'accueillir les wildlings de leur côté du mur pour qu'ils rejoignent l'armée humaine plutôt que celle des white walkers ne plait pas à tout le monde et plusieurs de ses hommes se rebellent contre lui et tentent de le tuer. Il est heureusement ramené à la vie par Melisandre et étant donné que "sa garde est terminée" puisqu'il est mort une première fois, il décide de quitter la garde de nuit et d'arrêter de se battre. Mais il est vite rattrapé par la guerre puisqu'il va devoir reprendre Winterfell des mains de Ramsay Bolton. En cours de saison 7, devenu roi du Nord, il va finir par s'allier avec Daenerys et pour prouver que le vrai danger vient d'au-delà du mur, il va mener une expédition afin de capturer l'un des terribles wraiths créés par les white walkers.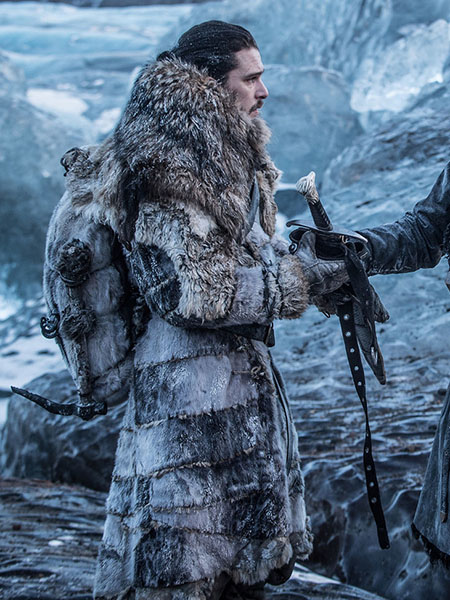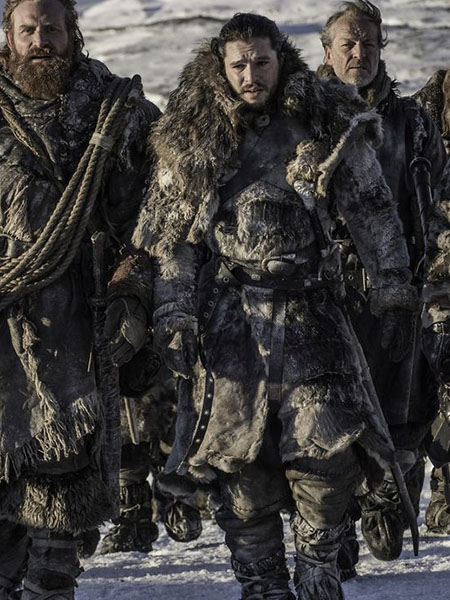 L'hiver est bien arrivé
Pour cette nouvelle figurine, Funko a donc représenté Jon avec la tenue qu'il porte lorsqu'il est au delà du mur quand il décide d'aller capturer un wraith. Il porte une tenue épaisse composée de plusieurs couches de vêtements, tuniques en laine et en fourrure pour affronter le froid intense. Il porte aussi des gants marrons ainsi que sa fameuse épée offerte à lui par le commandeur Mormont. Au niveau de la tête, on retrouve son épaisse barbe ainsi que ses cheveux retenus en arrière. On retrouve bien aussi les quelques cicatrices sur son visage qui relatent les nombreuses batailles auxquelles il a survécues au cours des années.