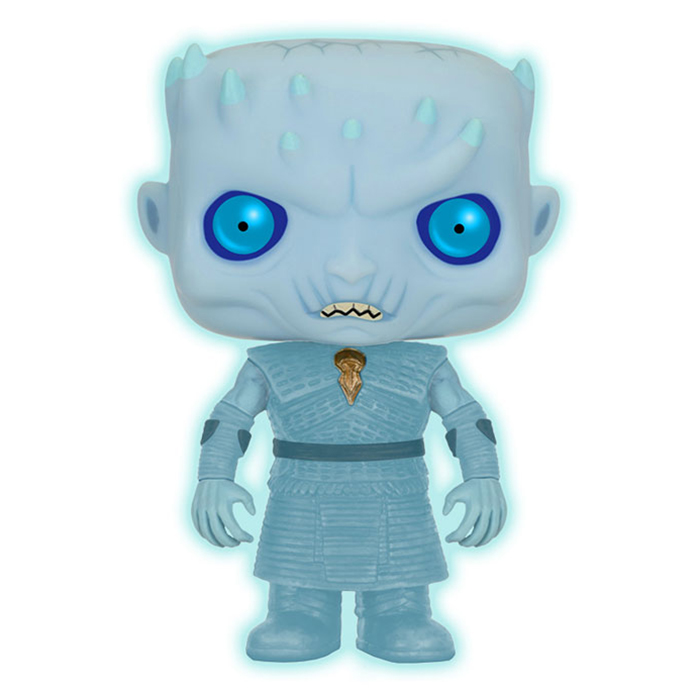 Figurine Night King Glow In The Dark (Game Of Thrones)
La figurine Funko Pop Night King Glow In The Dark (Game Of Thrones) vous intéresse ?

Vérifier la disponibilité sur

L'ennemi suprême
Le Night King est l'un des personnages importants de Game Of Thrones, la série de fantasy inspirée des romans de George Martin. Sur le continent de Westeros, les sept royaumes sont séparés des terres sauvages au nord par un immense mur de glace. De l'autre côté vivent les sauvageons mais surtout des créatures bien plus dangereuses. Alors que l'hiver arrive les white walkers sont de retour et ont commencé à réunir une armée de mort-vivants qui grandit de jour en jour et menace tout le royaume malgré l'ignorance de tout le monde sauf la garde de nuit. Le night king semble être le leader des white walker, ces créatures à la peau pâle et aux yeux bleus luminescents qui ont la capacité de réveiller les morts et de les contrôler. On apprend en saison six que les white walkers furent créés à partir d'être humains par les enfants de la forêt au moment de l'arrivée des hommes en Westeros afin de les protéger. Mais leurs créatures se retournèrent malheureusement contre eux.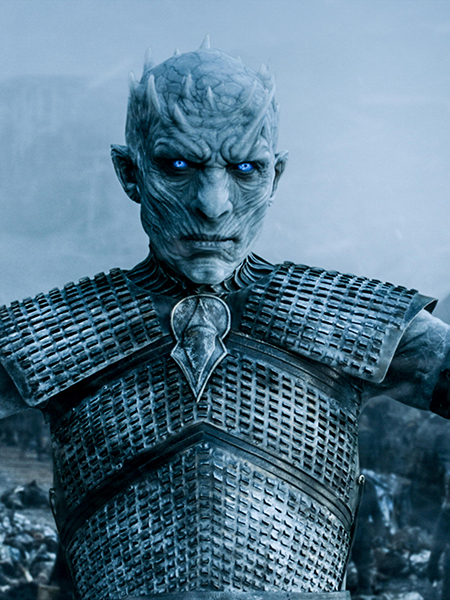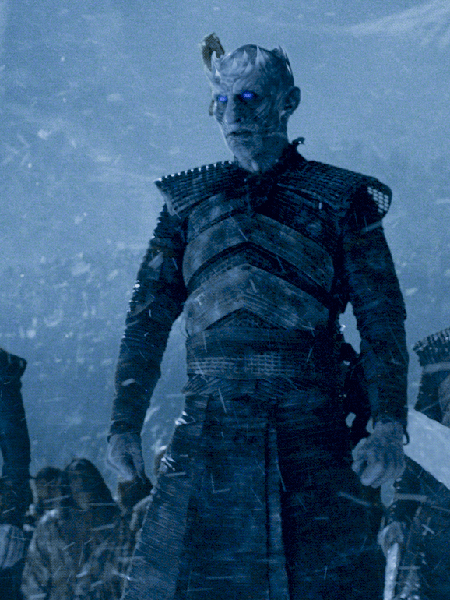 Terrifiant même dans le noir
Cette figurine est une version exclusive de la figurine pour les magasins Gamestop de la première figurine du Night King créée par Funko. On retrouve toujours cette peau bleu pâle rappelant la couleur de la glace ainsi que cette tunique simple mais relativement élégante qui contraste avec l'allure cauchemardesque du personnage et de son armée. Bien que globalement humanoïde, son visage est transformé et l'on retrouve bien ses os très marqués ainsi que sa quasi absence de lèvres et de nez. Son visage est aussi recouvert de sortes de petites cornes qui ne sont pas sans rappeler les dragons. Enfin, bien sûr cette figurine est phosphorescente et brille donc dans le noir pour un effet encore plus terrifiant.