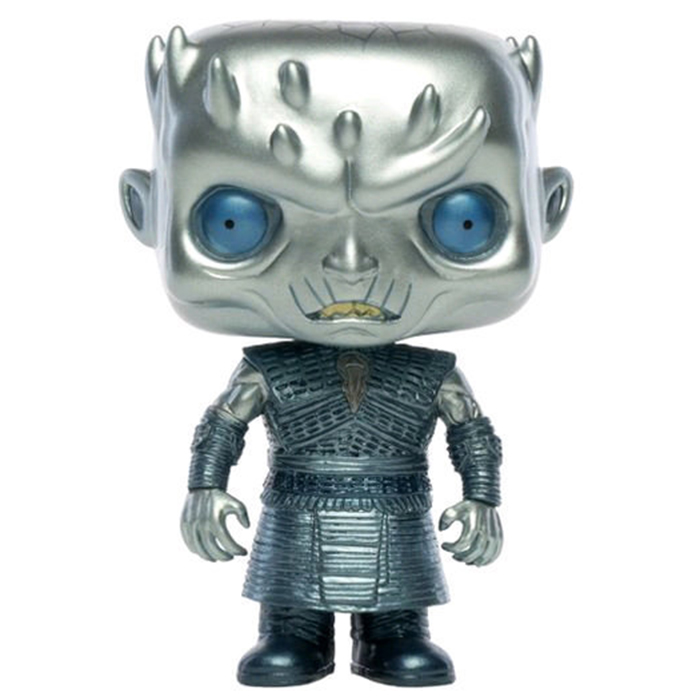 Figurine Night King chrome (Game Of Thrones)
La figurine Funko Pop Night King chrome (Game Of Thrones) vous intéresse ?

Vérifier la disponibilité sur

Un terrifiant ennemi
Le Night King est l'ennemi ultime dans les livres et la série télé fantastiques Game Of Thrones. Il apparait assez peu dans les premières saisons et son origine demeure mystérieuse. C'est une une créature mythique vivant de l'autre côté du mur protégeant Westeros et on sait juste qu'il a le pouvoir de réveiller les morts pour en faire des soldats sous ses ordres. Jon Snow combat son armée en saison deux et trois puis le rencontre enfin face à face dans le fameux épisode Hardhome en saison cinq. Mais il sait déjà depuis bien longtemps que le Night King est leur pire ennemi et que c'est le vrai danger qui les menace tous. Mais ce n'est que quand Bran atteint enfin la caverne du three eyed raven qui peut voir dans le passé, présent et futur que l'on apprend comme sont nés les white walkers. C'étaient au départ de simples hommes que les children of the forest, les premiers habitants de Westeros dont les terres étaient entrain d'être envahies, ont capturés et transformés pour qu'ils combattent les leurs. Mais ils en ont perdu le contrôle et les white walkers sont devenus très puissants et ont maintenant leur propre projet de domination du monde.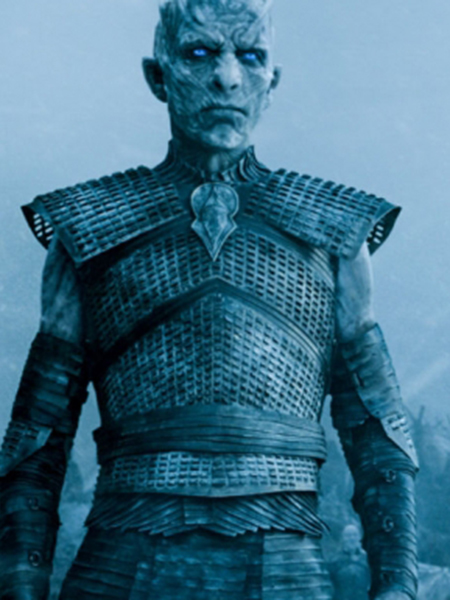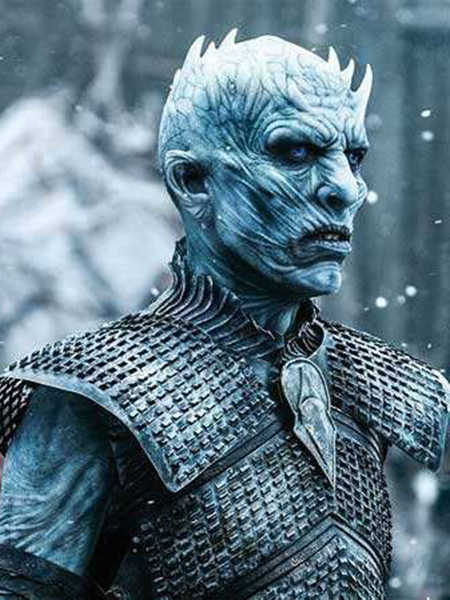 Un méchant chromé
Pour cette version exclusive du personnage, Funko l'a représentée avec une peinture brillante "chrome" qui ne le rend pas moins terrifiant. On retrouve bien cette longue tunique à manches courtes légèrement bleutée avec les protège-poignets qui l'accompagnent. Ses bottes sont d'un bleu un peu plus foncé et sa peau est complètement argentée. Au niveau de la tête, on retrouve ses fameux yeux bleus brillants et sa bouché décharnée ouverte sur des dents jaunes. Sur sa tête, on peut voir de nombreuses excroissances ainsi que son squelette assez visible directement sous sa peau.