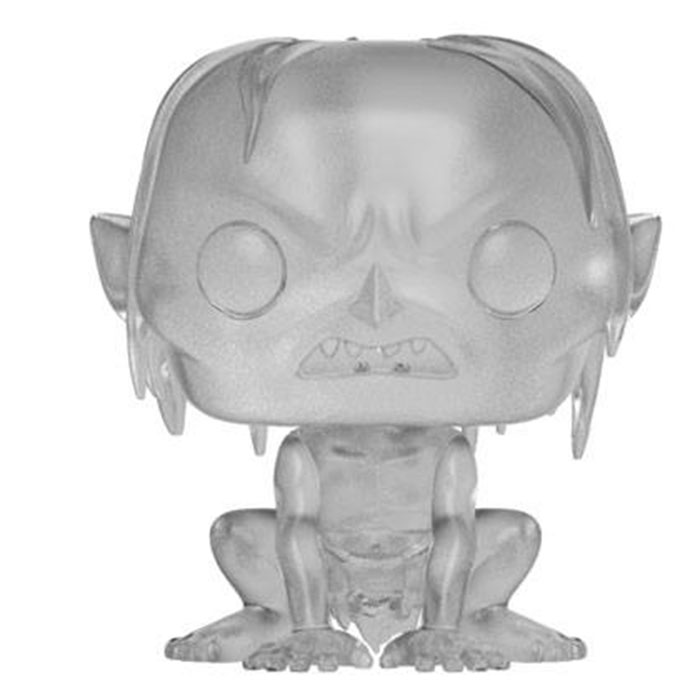 Figurine Gollum invisible (The Lord Of The Rings)
La figurine Funko Pop Gollum invisible (The Lord Of The Rings) vous intéresse ?

Vérifier la disponibilité sur

Une fin tragique
Gollum est un personnage central de la trilogie littéraire et cinématographique Le Seigneur des anneaux. Gollum était au départ un Hobbit. Quand il trouva l'anneau, il fut immédiatement corrompu par son pouvoir et banni de son village pour avoir tué son ami mais celui prolongea aussi sa vie indéfiniment. Il perdit l'anneau suite à un défi avec le hobbit Bilbo qui en devint le nouveau maître. Cela prolongea aussi sa vie mais il parvint à rester étonnamment immunisé par le mal qui s'en dégage. Arrivé à l'âge de 111 ans, il décide de le léguer à son neveu Frodo et de prendre sa retraite auprès des elfes. Frodo va alors se retrouver avec la lourde tache de détruire l'anneau pour de bon dans la montagne du Destin et c'est là qu'il va croiser le chemin de Gollum. Celui ci va être son guide pendant un temps, tiraillé entre l'envie de récupérer l'anneau et celui de sincèrement aider Frodo. Finalement, alors que Frodo s'apprête à jeter l'anneau dans la lave, Gollum parvient à s'en emparer et à le mettre. S'ensuit une bataille et Gollum tombe finalement dans la lave avec l'anneau, finissant la mission de Frodo.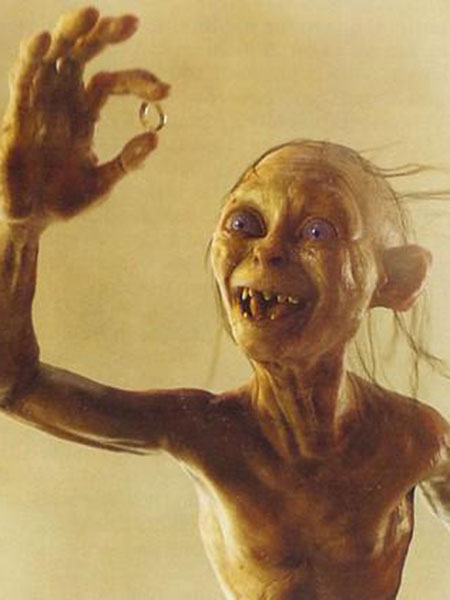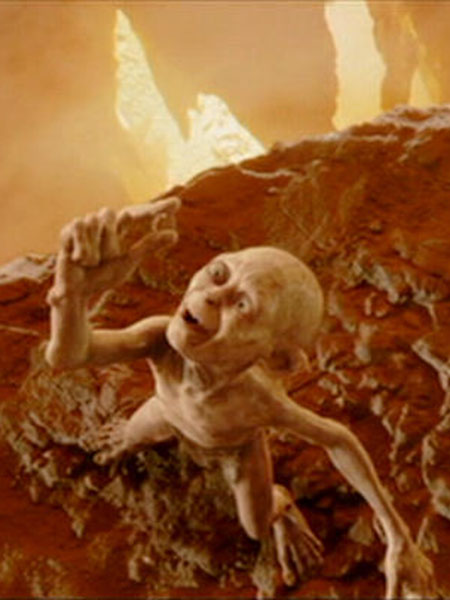 Un dernier moment de bonheur
Pour cette figurine exclusive Barnes and Noble, Funko a représenté Gollum en version invisible pendant les quelques instants où il parvient à voler l'anneau à Frodon et à le porter avant de tomber dans la lave du volcan. Comme sur la version classique, il est représenté accroupi avec les deux mains entre les pieds. On peut voir qu'il ne porte qu'un pagne et que son corps est très maigre. Au niveau de la tête, on retrouve ses deux yeux globuleux ainsi sa bouche ouverte sur quelques dents aiguisées en pointe. Enfin, on retrouve ses oreilles pointues de hobbit ainsi que les quelques mèches de cheveux sur le dessus de sa tête.