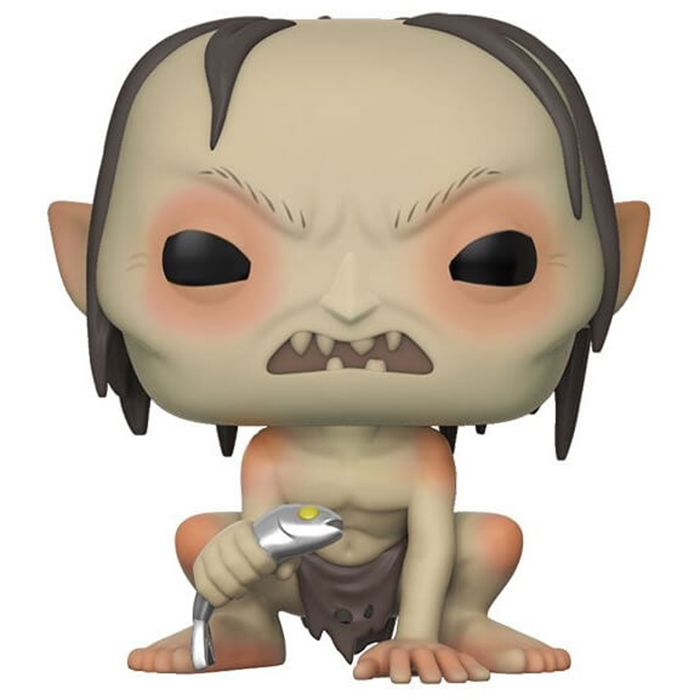 Figurine Gollum avec poisson chase (The Lord Of The Rings)
La figurine Funko Pop Gollum avec poisson chase (The Lord Of The Rings) vous intéresse ?

Vérifier la disponibilité sur

Un hobbit qui a mal tourné
Gollum est l'un des personnages importants de la trilogie littéraire et cinématographique Le Seigneur des anneaux. Son histoire est assez tragique. Il n'est au départ qu'un simple hobbit quand il trouve par hasard l'anneau de Sauron au fond d'un lac. Tout de suite corrompu par son pouvoir, il se bat avec son ami pour l'avoir et finit par le tuer. Il est banni du village et se retrouve à devoir vivre caché dans des cavernes et sous la montagne. L'anneau prolonge sa vie presqu'indéfiniment mais finit aussi par le détruire de l'intérieur. Il devient terriblement maigre, sa peau devient grise, son visage est déformé et il devient si obsédé par l'anneau qu'il se comporte presque comme une bête sauvage, mangeant les animaux qu'il chasse crus et se déplaçant à quatre pattes. Il finit par perdre l'anneau au profit de Bilbo qui le garde presque cent ans avant de le laisser à son neveu Frodo qui finira par recroiser le chemin de Gollum. Pendant un temps, Gollum redevient un peu le hobbit qu'il était, souhaitant sincèrement aider Frodo mais l'attraction de l'anneau reprend le dessus et il meurt en tombant dans le volcan avec l'anneau, remplissant tout de même la mission de Frodo.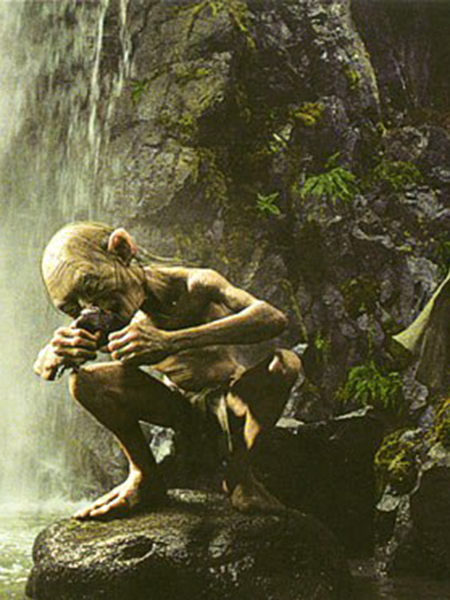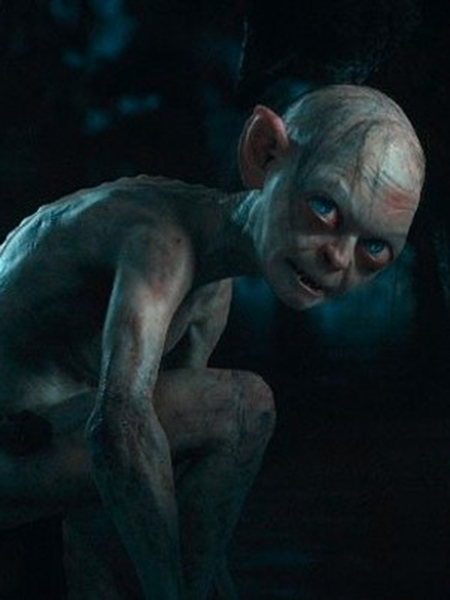 Un hobbit devenu animal sauvage
Pour cette version chase de Gollum, Funko l'a représenté avec un poisson dans la main. A deux reprises au cours des deux derniers films de la trilogie, on peut voir Gollum pêcher un poisson et le manger directement alors qu'il est à peine mort. Comme la figurine de base, il est représenté à quatre pattes avec sa peau grise et quelques touches touches de roses aux extrémités. Il ne porte q'un simple pagne en lambeaux et tient donc un poisson argenté dans sa main droite. Au niveau de la tête, on retrouve ses yeux noirs habituels des figurines pop et il découvre ses dents pointues. Il ne lui reste que quelques cheveux sur la tête et on reconnait ses oreilles pointues de hobbit.