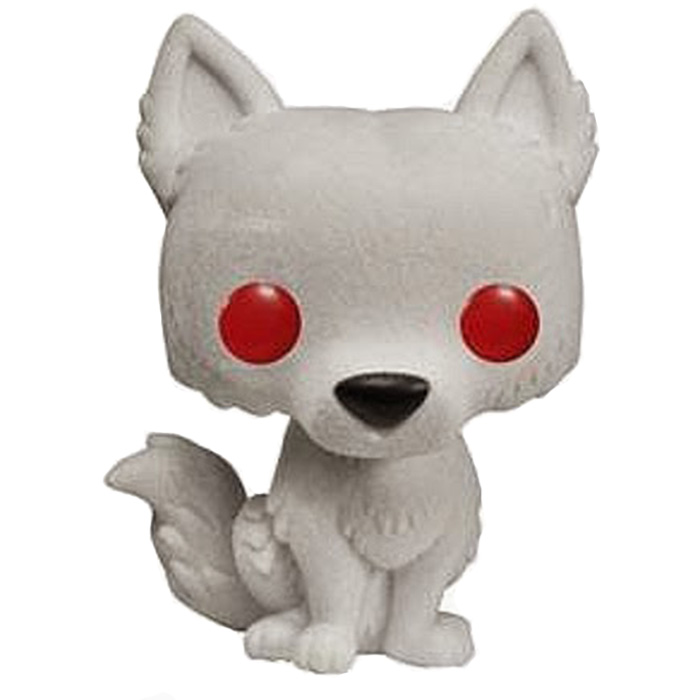 Figurine Ghost flocked (Game Of Thrones)
La figurine Funko Pop Ghost flocked (Game Of Thrones) vous intéresse ?

Vérifier la disponibilité sur

Un compagnon fidèle
Ghost est un direwolf, sorte de loup géant d'une espèce que l'on croyait disparue dans la série Game Of Thrones. Ghost fait partie d'une portée dont la mère est morte et que la famille Stark trouve dans le tout premier épisode de la série. Alors que Ned Stark pense qu'il faut mieux tous les tuer puisque leur mère est morte, Jon, son fils bâtard, propose qu'ils les gardent puisqu'il y en autant que d'enfants légitimes Stark et que c'est l'emblème de leur maison. Quelques mètres plus loin, ils trouvent un sixième chiot albinos, tout blanc avec les yeux rouges. C'est donc logiquement Jon qui en hérite. Comme tous les autres loups de sa portée, Ghost va se montrer très fidèle envers Jon, le protéger et même lui sauver la vie plusieurs fois au cours de la série. Bien qu'il n'ait pas été vu pendant la dernière saison, Ghost est le dernier loup vivant avec celui d'Arya qu'elle a libéré tôt dans la série pour lui éviter d'être tué par Joffrey après qu'il l'ait mordu pour protéger Arya.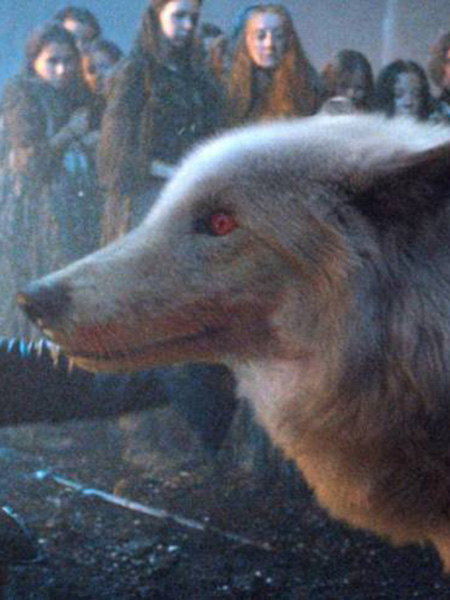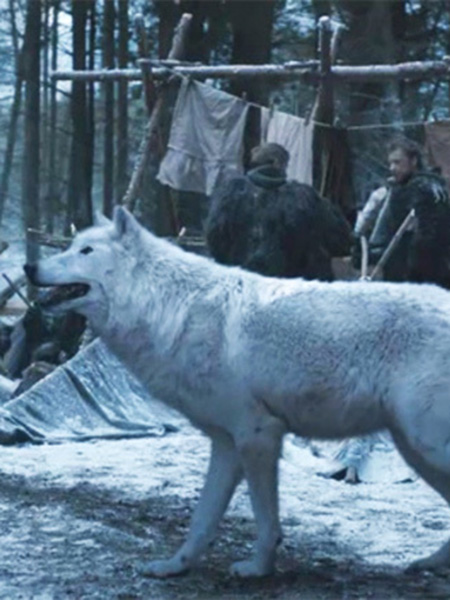 Un loup tout doux
Pour cette figurine exclusive à la SDCC 2014, Ghost a été représentée en version flocked, c'est à dire avec une texture velours toute douce qui correspond très bien pour un loup. On retrouve donc le pelage blanc de Ghost dont la texture et le côté duveteux est très bien représenté. Il est assis sur ses quatre pattes et sa queue est relevée comme s'il était entrain de la secouer. Au niveau de la tête, on retrouve bien ses grandes oreilles pointues et surtout ses yeux rouges qui le différencient bien des autres loups de sa portée.