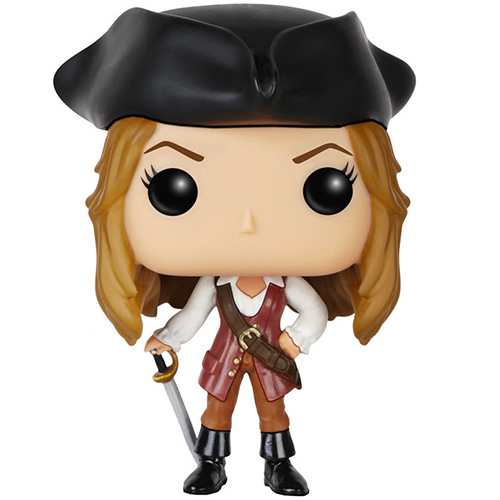 Figurine Elizabeth Swann (Pirates Of The Caribbean)
La figurine Funko Pop Elizabeth Swann (Pirates Of The Caribbean) vous intéresse ?

Vérifier la disponibilité sur

Une fille de gouverneur devenue pirate
Elizabeth Swann est l'un des personnages principaux des films Pirates Des Caraïbes : la saga cinématographique très librement inspiré de la fameuse attraction des parcs d'attraction Disneyland. Les films se déroulent dans les îles des Caraïbes au 18ème siècle alors qu'elles appartenaient encore aux anglais. Au début du premier film, le gouverneur Swann et sa fille Elizabeth sont en route vers Port Royal en Jamaïque lorsqu'ils sauvent Will Turner, un jeune garçon naufragé. Elizabeth voit qu'il porte un médaillon en or. De peur qu'il soit pirate elle décide de lui enlever alors qu'il est encore inconscient. Douze ans plus tard, Will est devenu forgeron et ils sont amoureux l'un de l'autre même s'ils n'osent se l'avouer. Un jour, le Captain Jack Sparrow débarque à Port Royal après avoir perdu son bateau, le Black Pearl. Il sauve la vie d'Elizabeth Swann, tombée à l'eau mais se fait arrêter par l'armée. Peu de temps près, l'équipage du Black Pearl, le bateau de Jack Sparrow, débarque et enlève Elizabeth car elle possède le médaillon en or qui leur manque pour échapper à leur malédiction. Will va alors libérer Jack Sparrow dans l'espoir qu'il l'aide à retrouver Elizabeth. On se rendra vite compte au fur et à mesure des films qu'Elizabeth Swann est loin d'être la jeune fille sans défense qu'elle a l'air d'être. Elle deviendra même un peu pirate elle aussi.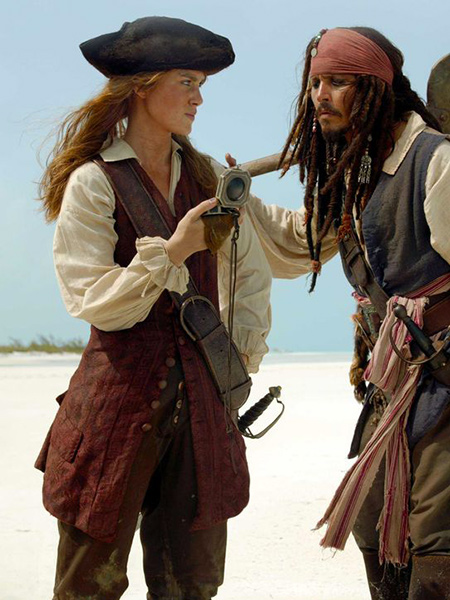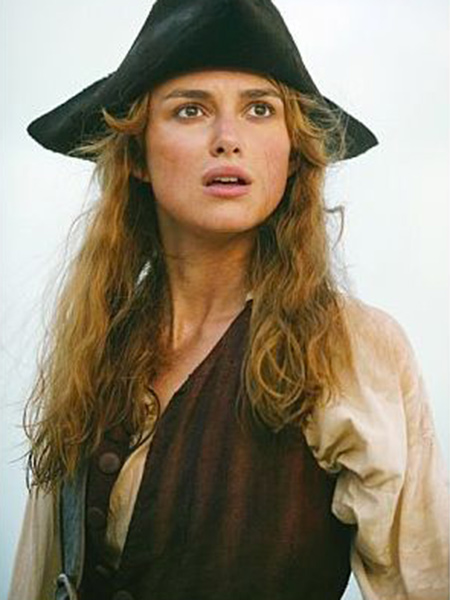 Elizabeth en tenue de pirate
Au cours de la saga, Elizabeth porte de nombreux vêtements différents mais c'est avec la tenue de pirate qu'elle porte pendant toute une partie du second film : Le Secret Du Coffre Maudit, que Funko a choisi de la représenter. On retrouve donc bien ce pantalon en cuir marron clair ainsi que des bottes hautes semblables à celles de Jack. Elle porte aussi une large chemise blanche ainsi qu'un long veston ajusté à la taille pour lui donner un air plus féminin. Dans sa main droite, elle tient son épée. Au niveau de la tête, son visage est tout simple mais sa chevelure brun/roux est joliment représentée et elle porte le fameux chapeau tricorne typique des pirates et de la mode de l'époque.