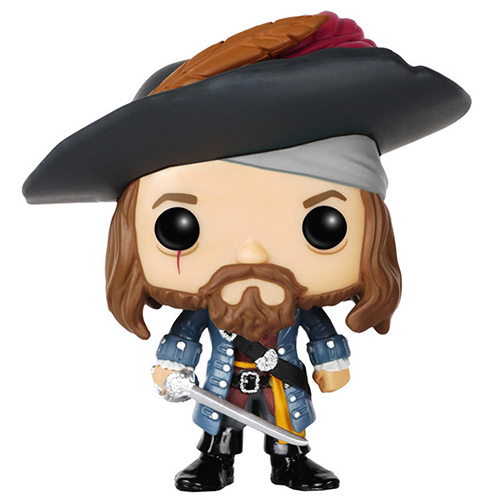 Figurine Barbossa (Pirates Of The Caribbean)
La figurine Funko Pop Barbossa (Pirates Of The Caribbean) vous intéresse ?

Vérifier la disponibilité sur

Le traitre et sa malédiction
Barbossa est l'un des personnages importants des films Pirates Des Caraïbes, et en particulier du premier volet : La Malédiction Du Black Pearl. Cette saga s'inspire de la fameuse attraction des parcs Disneyland. L'action se déroule dans les îles des Caraïbes au 18ème siècle. Au début du film, le gouverneur Swann et sa fille Elizabeth recueillent Will Turner, un jeune naufragé. Elizabeth prend le médaillon en or qu'il porte, de peur qu'il soit un pirate. Douze ans plus tard, Will est devenu forgeron et ils sont amoureux l'un de l'autre même s'ils n'osent se l'avouer. Un jour, le Captain Jack Sparrow débarque à Port Royal après la mutinerie de son équipage qui a lui a pris son bateau, le Black Pearl. Il sauve la vie d'Elizabeth Swann, tombée à l'eau mais se fait arrêter par l'armée. Peu de temps près, l'équipage du Black Pearl débarque et enlève Elizabeth car elle possède le médaillon en or qui leur manque pour échapper à leur malédiction. Barbossa, le nouveau capitaine du Black Pearl, lui explique que depuis qu'ils ont volé le trésor dont fait partie le médaillon de Will, ils sont maudits. De son côté, Will va alors libérer Jack Sparrow dans l'espoir qu'il l'aide à retrouver Elizabeth. Le jeu de poursuites et de trahisons entre pirates va pouvoir commencer.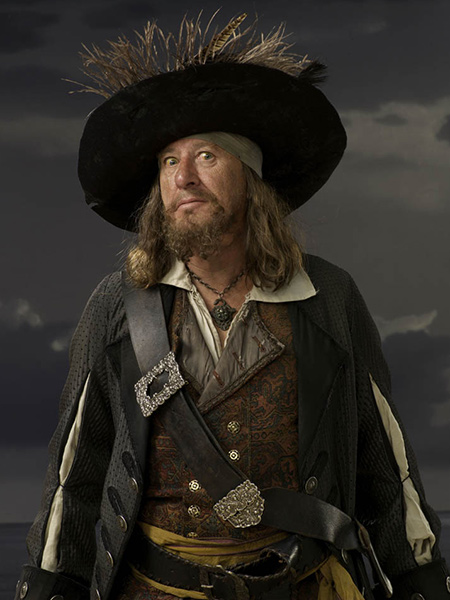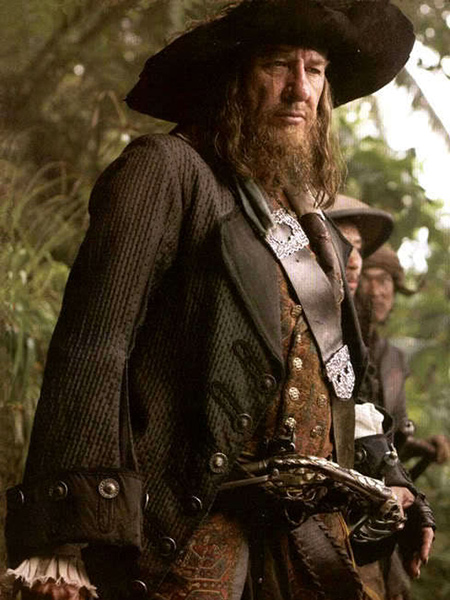 Le pirate maudit
Après avoir organisé une mutinerie, Barbossa est devenu capitaine du bateau de Jack Sparrow mais a attiré une malédiction sur ton son équipage e volant le trésor d'un célèbre pirate. En effet, tant qu'ils n'auront pas rendu tout l'or, ils seront tous des morts-vivants. Mais leur vraie apparence n'étant visible qu'à la lumière de la pleine Lune, c'est avec son apparence humaine que Funko a choisi de le représenter. Barbossa a donc la tenue classique du pirate et de cette époque mais en version plus luxueuse et colorée que Jack Sparrow. Il porte un pantalon rouge avec des bottes noires vernies, une ceinture jaune à la taille ainsi qu'un manteau de velours bleu. Il porte bien sûr une belle épée dans sa main droite. Au niveau de la tête, Funko l'a rendu très expressif avec ses sourcils asymétriques, ses cernes et sa cicatrice. Ses cheveux et sa barbe sont particulièrement bien rendus et bien sûr, comme il est capitaine, il porte un beau chapeau avec une plume.