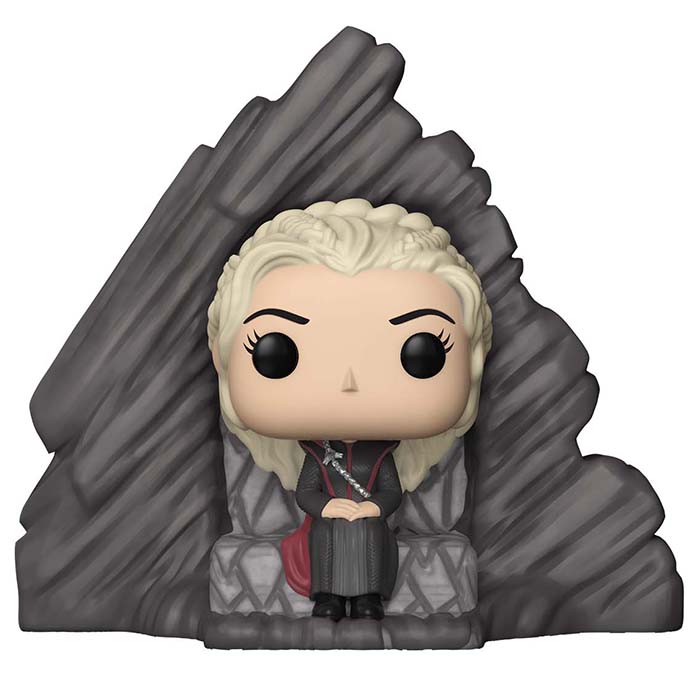 Figurine Daenerys Targaryen on Dragonstone throne (Game Of Thrones)
La figurine Funko Pop Daenerys Targaryen on Dragonstone throne (Game Of Thrones) vous intéresse ?

Vérifier la disponibilité sur

La reine est de retour
Daenerys Targaryen est l'un des personnages principaux de la série Game Of Thrones ayant pris une importance grandissante depuis les tous premiers épisodes jusqu'à devenir l'une des dernières prétendantes au trône de Westeros. Après avoir passé plusieurs saisons à Meereen à tenter de faire régner la paix et faire en sorte que les esclaves qu'elle a libérés le restent, Daenerys a enfin fini par réunir son armée et à se mettre en route vers Westeros. En partie grâce à Varys et Tyrion et elle est rejointe par les familles Greyjoy, Tyrell et Martel et arrive à Dragonstone, ancien siège de sa famille. Là, elle prend immédiatement place sur le grand trône de pierre ancien utilisé à l'époque des rois Targaryen. Si Daenerys part gagnante et triomphe lors de nombreuses batailles grâce à ses dragons, elle subit vite de larges pertes à cause d'Euron Greyjoy qui capture ou tue toutes les femmes de la famille Martell ainsi que Yara Greyjoy. Elle perd ensuite Olenna Tyrell face à l'armée de Jaime Lannister. Quand Jon Snow vient lui proposer de s'allier, ayant besoin de miner la pierre présente à Dragonstone et permettant de tuer les white walkers, après de nombreux conflits, elle insiste pour qu'il lui prête allégeance, ce qu'il finit par faire, jugeant sa cause plus importante que son potentiel titre de roi. Une idylle finit par naître entre eux ignorant qu'ils sont en fait tante et neveu.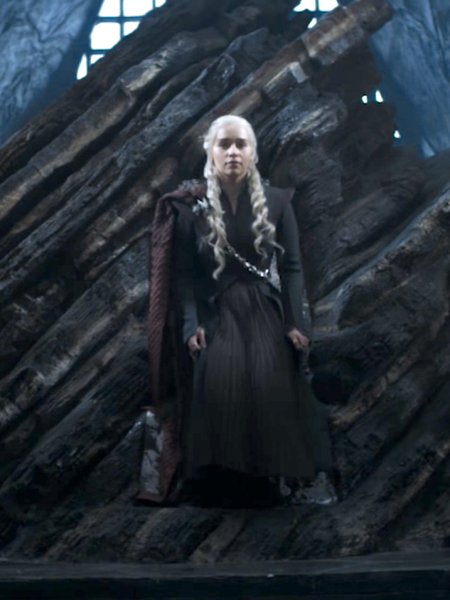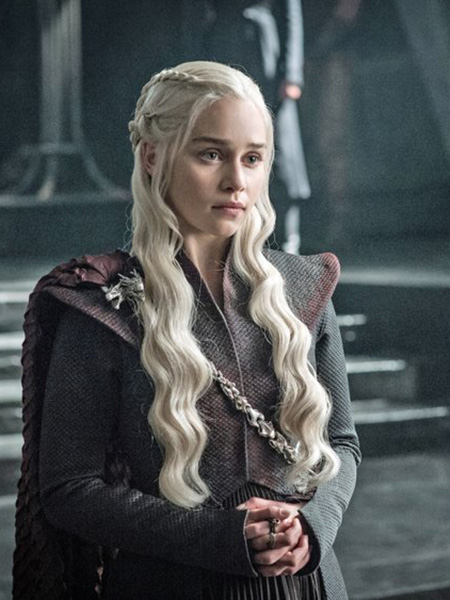 Daenerys sur son trône
Daenerys est donc ici représentée assise sur son trône à Dragonstone sur lequel elle s'assoit dès son arrivée dans la ville ancestrale. Contrairement au fameux trône de fer composé de centaines d'épées, celui-ci est beaucoup simple et brut mais tout autant imposant. Il est composant d'un unique et très gros morceau d'obsidienne, la fameuse pierre noire de Dragonstone permettant de tuer les white walkers et il est très bien représenté ici. Daenerys y donc assise avec les mains croisées sur les cuisses. Elle porte une longue robe grise ainsi qu'un élégant manteau noir aux épaules très marquées avec un simple morceau de tissu rouge. Cela contraste fortement avec les couleurs claires et beaucoup plus vives qu'elle avait porté pendant toutes les précédentes saisons sur le continent beaucoup plus chaud d'Esos. On peut aussi voir sa cape rouge maintenue par la chaine en argent en travers de son torse. Ses cheveux blonds sont nattés de manière très élaborée afin de refléter l'importance de son nouveau statut.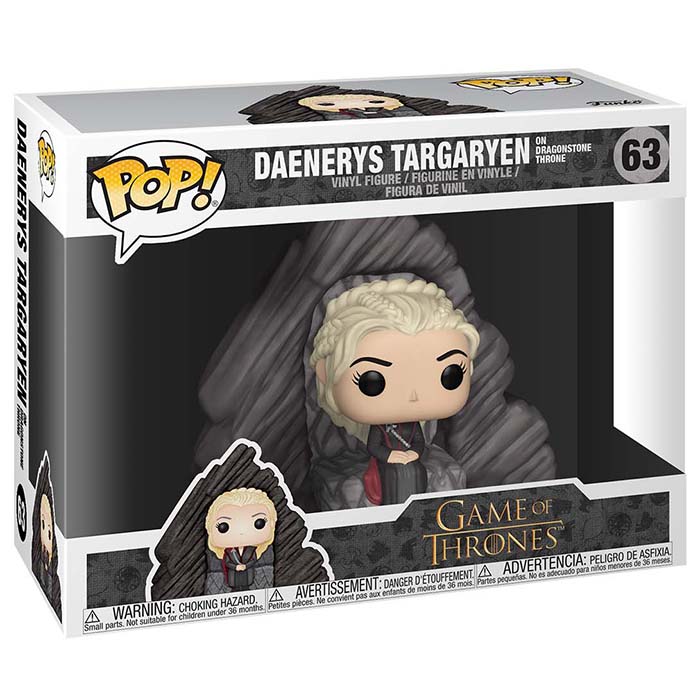 La figurine Funko Pop Daenerys Targaryen on Dragonstone throne (Game Of Thrones) vous intéresse ?

Vérifier la disponibilité sur

Trouvable également ici :

29.90 €
Voir l'offre