Figurine Daenerys on Iron Throne (Game Of Thrones)
La figurine Funko Pop Daenerys on Iron Throne (Game Of Thrones) vous intéresse ?

Vérifier la disponibilité sur

Une fin possible
Daenerys Targaryen est l'un des personnages les plus importants de la série Game Of Thrones inspirée des romans A Song Of Ice And Fire de George Martin. Au début de la série, elle et son frère sont exilés sur l'autre continent depuis que leur père a été violemment évincé du trône du continent de Westeros. Alors que son frère Viserys est prêt à tout, y compris la vendre en marriage à un seigneur de guerre Dothraki, pour amasser assez d'argent afin de s'acheter une armée pour reconquérir Westeros, Daenerys voit rapidement une autre idée germer dans sa tête. Peut-être que ce serait elle, finalement, qui pourrait mériter le trône. Après la mort rapide de son frère et l'éclosion d'oeufs de dragons, dont on pensait l'espèce disparue, Daenerys va vite gagner en puissance et réunir du monde autour d'elle. En fin de saison 6, elle est même rejoint par Tyrion Lannister qui va devenir sa "main du roi". En saison 7, Daenerys débarque enfin à Westeros, bien décidée à conquérir les trônes. Après des débuts difficiles, elle va naturellement s'allier avec Jon Snow et l'aider à prouver au reste du continent la menace réelle venue d'au-delà du mur. La saison 8 sera la dernière et Daenerys est donc l'un des personnages qui pourra potentiellement se retrouver sur le trône.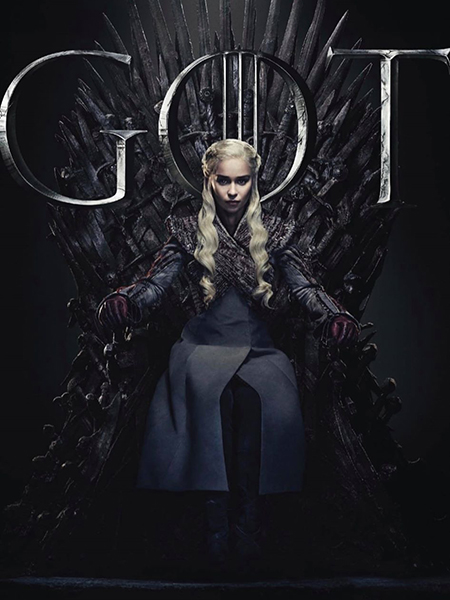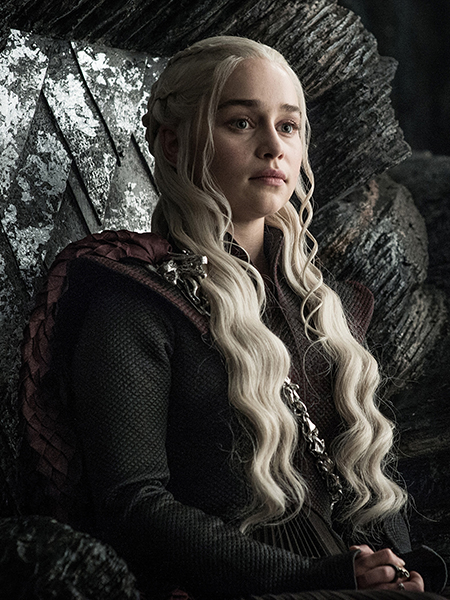 La place d'une reine
Avec la huitième et dernière saison qui arrive, les spectateurs se demandent qui des principaux personnages de la série se retrouvera sur le trône à la fin. l'une des possibilités est bien sûr Daenerys. Ell est donc représentée ici sur le fameux Iron Throne. Elle porte la longue robe noire qu'elle portait en saison sept avec la cape rouge maintenue en travers de son torse avec un joli bijou argenté représentant des dragons. Elle est représentée assise avec les bras étendus sur le côté. Au niveau de la tête, on retrouve ses cheveux quasi blancs retenus en arrière par un enchevêtrement complexe de tresses qui sont bien caractéristiques du personnage. Enfin le trône est le même que celui qui était sorti séparément, constitué d'épées pointues refondues pour créer ce fameux trône.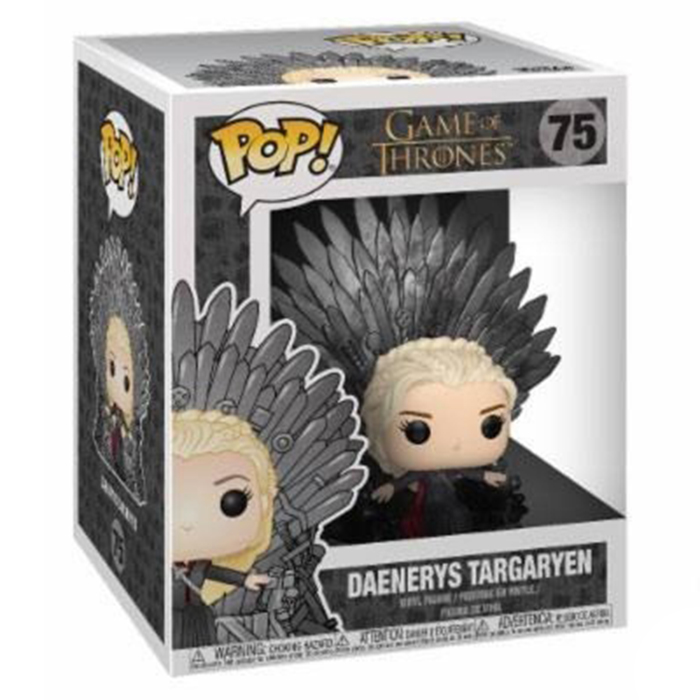 La figurine Funko Pop Daenerys on Iron Throne (Game Of Thrones) vous intéresse ?

Vérifier la disponibilité sur

Trouvable également ici :

29.90 €
Voir l'offre