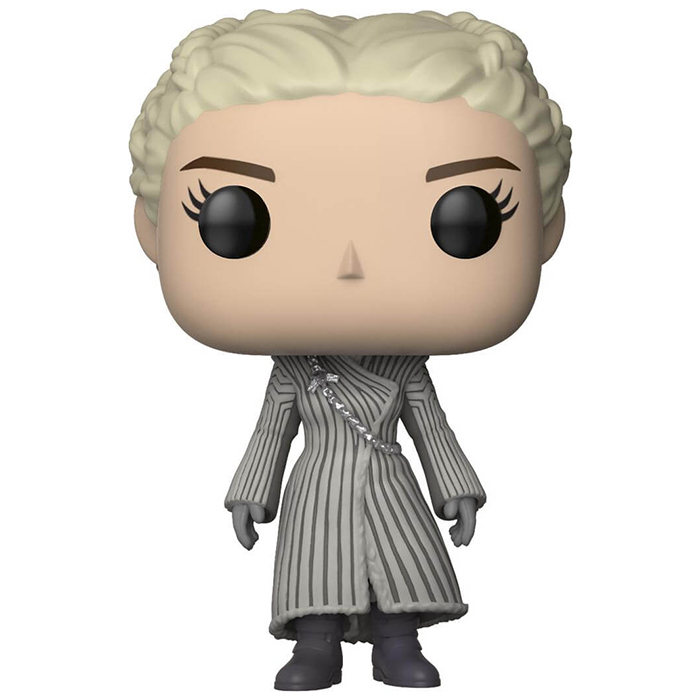 Figurine Daenerys beyond the wall (Game Of Thrones)
La figurine Funko Pop Daenerys beyond the wall (Game Of Thrones) vous intéresse ?

Vérifier la disponibilité sur

l'hiver arrive aussi pour Daenerys
En saison sept et après avoir passé six saisons à avoir réuni son armée et préparé son retour, Daenerys débarque enfin sur le continent de Westeros, plus précisément à Dragonstone, ancien siège de sa famille. Elle triomphe aisément de ses premières batailles mais les choses se compliquent quand, en très peu de temps, elle perd deux de ses plus grandes alliés dans ce combat : Olena Tyrell Yara Greyjoy et toute la famille Martell. C'est alors qu'elle reçoit une lettre de Jon Snow. Son but est avant tout de convaincre les différentes forces en présence que leur combat pour le pouvoir est futile en comparaison avec la menace de l'armée des White Walkers. Suite au conseil de Tyrion qui lui promet qu'il est sûrement sérieux et de confiance, Daenerys accepte de le voir. Les choses sont compliquées quand il refuse de lui prêter allégeance en échange de son aide mais étant donné la gravité de la situation, il finit par accepter, réalisant que le sort de Westeros était plus important que la possibilité pour lui d'être roi. Décidant que la cause de Jon est justifiée, elle envoie avec lui plusieurs hommes pour voyager au-delà du mur et ramener une preuve de l'existence des white walkers à Cersei et espérer la convaincre de se joindre à son armée. Les choses ne se passent pas comme prévu et les hommes se retrouvent encerclés par l'armée des morts. Heureusement Daenerys vient à leur secours mais l'un de ses dragons est tué, ce qui aura des conséquences dramatiques sur la suite des évènements.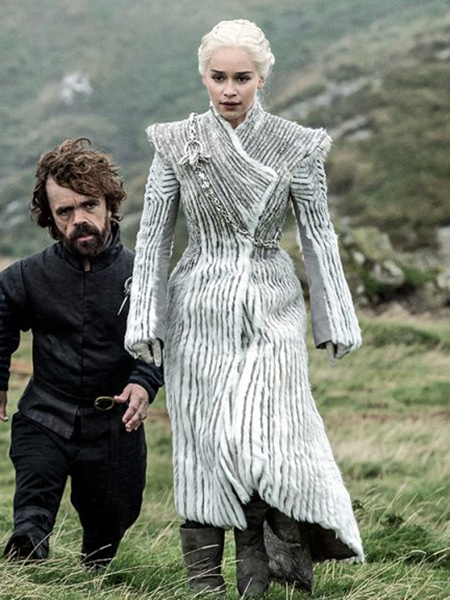 Une tenue de reine
Pour cette nouvelle version de ce personnage très populaire, Funko a choisi de représenter Daenerys avec le lourd manteau d'hiver en fourrure qu'elle porte lorsqu'elle part pour le mur à dos de dragon pour venir au secours de Jon Snow et de son groupe. C'est un long manteau à bandes de fourrure blanche et grise qu'elle porte avec une grosse chaine en argent avec un motif de dragon en travers du torse. Avec cela, elle porte des gants gris clair et d'épaisses bottes en cuir noir en plus du pantalon que l'on peut vaguement en dessous. Au niveau de la tête, ses longs cheveux blonds sont coiffés en plusieurs nattes formant un ensemble complexe et élégant et l'on peut voir l'évolution du personnage depuis la saison un avec ses simples nattes Dothraki.