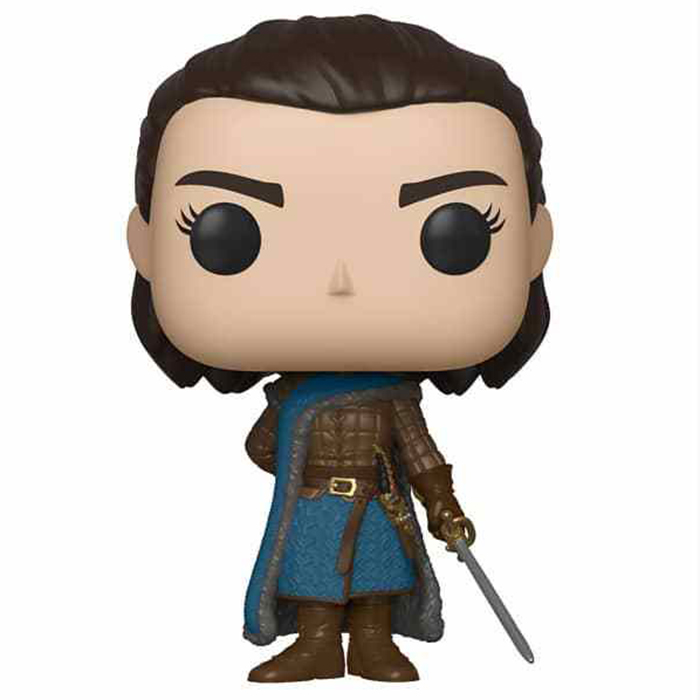 Figurine Arya Stark saison 7 (Game Of Thrones)
La figurine Funko Pop Arya Stark saison 7 (Game Of Thrones) vous intéresse ?

Vérifier la disponibilité sur

Une enfant devenue impitoyable
Arya Stark est l'un des personnages importants de la série fantastique Game Of Thrones inspirée des célèbres romans de George Martin. C'est la plus jeune fille de la famille Stark, qui n'a qu'une dizaine d'années quand on la découvre dans le premier épisode de la série. Si les choses qu'elle a vécues en sept saisons l'ont rendue particulièrement dangereuse et impitoyable, la jeune Arya avait déjà un caractère très fort dès le début de la série. Bien qu'étant une fille, son seul souhait était devenir une guerrière. Son père va accepter de l'entrainer et lui faire donner des cours d'escrime par le formidable Syrio Forel et l'épée offerte par son frère Jon est la seule chose qu'elle parviendra à garder tout ce temps. Quand son père est condamné à mort par Cersei, elle est embarquée par un ami de celui-ci travaillant dans la garde de nuit, qui prévoit de l'amener en sécurité chez son frère Jon. Mais leur compagnie est attaquée et elle se retrouve prisonnière chez Tywin Lannister. Suite à ça, elle passe du temps avec la compagnie sans bannière puis avec The Hound qui prévoyait de la ramener à sa famille contre de l'argent, avant d'enfin retrouver sa liberté. Elle décide alors de prendre un bateau pour Braavos et apprendre auprès de l'homme qui l'avait sauvé chez Tywin Lannister. Son entrainement chez les "faceless men" dure deux ans, pendant lesquels elle apprend à devenir une tueuse capable de prendre le visage des gens qu'elle a tués. Mais au final, elle décide de rentrer en Westeros, bien décidée à venger sa famille. Elle tue Walder Frey puis prend la route pour King's Landing avant d'apprendre que Jon et Sansa sont de retour à Winterfell. Elle décide alors d'y retourner et retrouve enfin sa famille.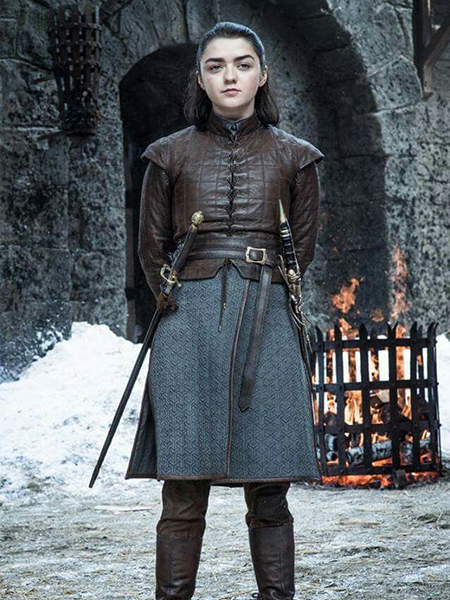 Une jeune fille qui a bien grandi
Pour cette nouvelle figurine d'Arya Stark, Funko l'a donc représentée avec la tenue qu'elle porte dans la saison 7. Revenue à Westeros, Arya a de nouveau une tenue Westerosi. Et puisqu'elle est de retour dans le Nord et que l'hiver est là, sa tenue ressemble en fait beaucoup à celle portée par Jon. Se considérant comme une guerrière, elle ne porte de robe mais un pantalon avec des bottes et une longue tunique bleue. Par dessus, elle porte une armure souple en cuir et enfin une élégante cape reprenant ses deux couleurs et qui montre bien qu'elle vient d'une famille aisée. Celle-ci lui découvre les épaules et lui laisse la liberté de mouvement nécessaire pour manier l'épée "Needle" qu'elle tient dans sa main gauche. Au niveau de la tête, Arya porte ses cheveux mi-longs mais simplement ramenés en arrière de la même façon que Jon les porte.