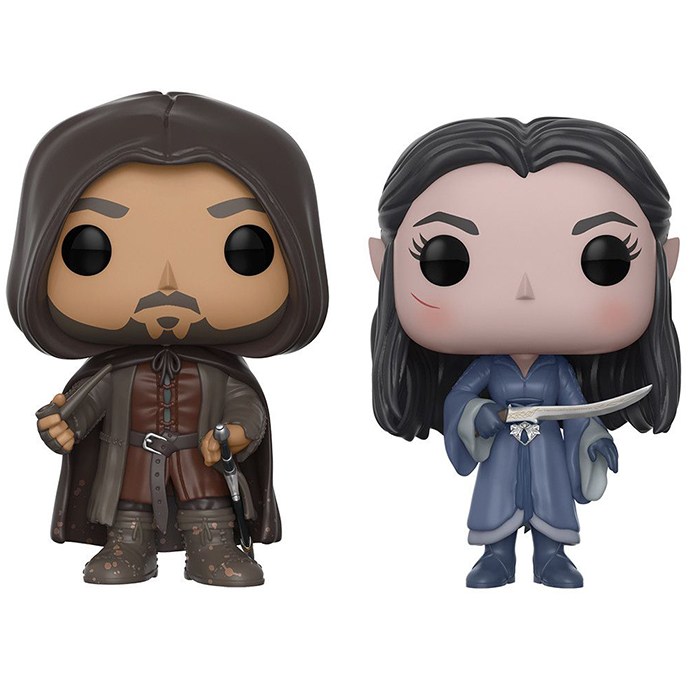 Figurines Aragorn et Arwen (The Lord Of The Rings)
Les figurines Funko Pop Aragorn et Arwen (The Lord Of The Rings) vous intéressent ?

Vérifier la disponibilité sur

Un amour éternel
Aragorn est l'un des personnages principaux de la trilogie "Le Seigneur Des Anneaux" adaptée de la trilogie littéraire de J.R.R. Tolkien. On le rencontre d'abord en tant que "Grand-Pas" quand il sauve les hobbits d'une attaque des Nazguls quand ceux-ci attendent Gandalf prisonnier de Saruman. Aragorn va ensuite les mener jusqu'à Rivendell où ils doivent rencontrer l'elfe Elrond et participer au conseil qui décidera de ce qui doit être fait de l'année unique de Sauron. C'est là qu'on y apprend son vrai nom et qu'il est en fait l'héritier du royaume du Gondor. En chemin, Frodo est blessé par les Nazgul et il doit arriver au plus tôt à Rivendell pour être guéri. Heureusement, c'est à ce moment qu'arrive Arwen, la fille d'Elrond, qui parvient à l'emmener à temps à son père. Plus tard, on apprend qu'Arwen et Aragorn sont amoureux et fiancés même si Elrond désapprouve fortement. Il rappelle à Arwen que bien qu'Aragorn soit un homme bien, il finira par mourir alors qu'elle vivra éternellement dans la tristesse dans une terre du milieu que les elfes auront à tout jamais quittée.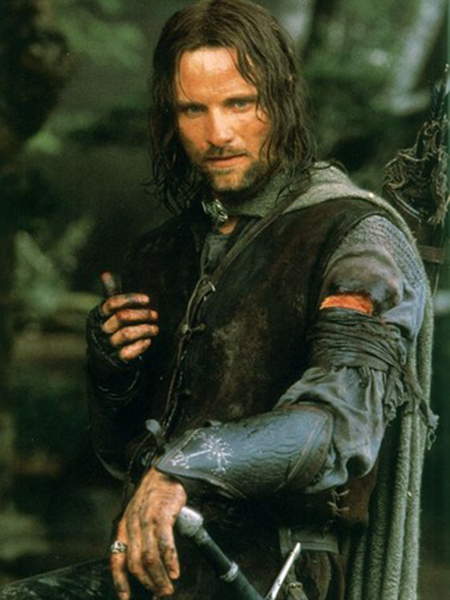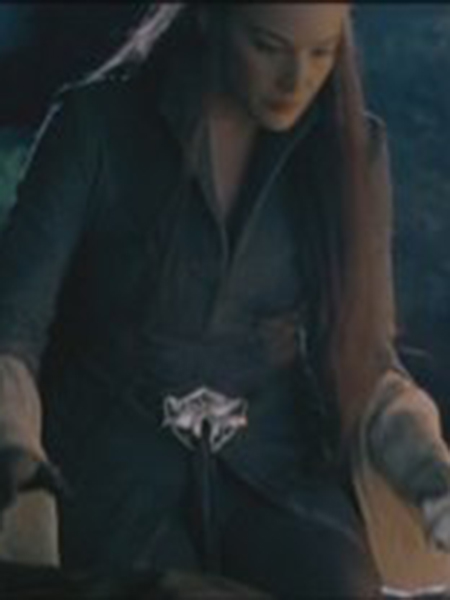 La première rencontre avec Arwen
Pour ce pack exclusif pour la SDCC 2017, Aragorn et Arwen sont représentés lors de la scène où Arwen apparait pour la première fois dans la forêt pour aider Frodo. Aragorn porte encore sa tenue de ranger, donc une tenue pratique et passe-partout. Celle-ci est composée de vêtements de différentes teintes de marron : un pantalon, une tunique, une veste, une grande cape avec une capuche ramenée sur sa tête et des bottes en partie recouvertes de boue. Il tient une pipe à la main et une épée est glissée à sa ceinture. Arwen, quant à elle, porte des vêtements pratiques pour chevaucher mais qui n'en restent pas moins luxueux et montrent son statut élevé parmi les elfes. Elle porte un pantalon avec de hautes bottes bleu foncé. Par dessus, elle porte un long manteau à plusieurs épaisseurs fermé par une ceinture avec élégant bijou argenté. Elle porte aussi des gants assortis à sa tenue et une épée courbée typique des elfes. Au niveau de la tête, on retrouve bien son teint pale, ses joues roses ainsi que la petite coupure sur sa joue provoquée par une branche d'arbre. Enfin, ses oreilles pointues d'elfe dépassent de sa longue chevelure brune.