Figurine Pickle Rick with laser (Rick and Morty)
La figurine Funko Pop Pickle Rick with laser (Rick and Morty) vous intéresse ?

Vérifier la disponibilité sur

Prêt à tout
Pickle Rick est une des versions les plus loufoques du personnage de Rick dans la série animée Rick and Morty. Afin d'échapper à une séance de thérapie familiale après le divorce de sa fille et de son mari Jerry, Rick décide de se transformer en cornichon. Sa fille Beth étant fâchée, elle lui confisque l'antidote, ce qui devient particulièrement compliqué quand Rick tombe par accident dans les égouts et doit se débrouiller sous sa forme de cornichon. Il se confectionne alors une sorte d'armure faite à bases de restes d'animaux morts et d'objets trouvés dans les égouts. Il doit survivre à de nombreuses et improbables péripéties avant de pouvoir rentrer chez lui et prendre l'antidote après avoir accepté d'aller en thérapie.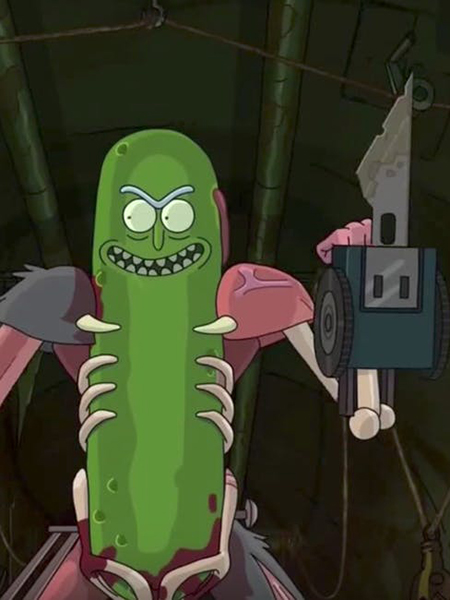 Une version encore plus folle
Cette version est la deuxième de Rick en cornichon. On retrouve toujours son corps de cornichon vert avec son visage bien reconnaissable avec son mono sourcil. En bas du corps, il semble porter les jambes à moitié décomposés d'un chat et il porte un squelette de cage thoracique pour le faire tenir debout. En guise de bras, il a aussi des pattes d'animal mort dont les os et la chair sont bien visibles. Cette fois, il est en plus représenté avec le laser qu'il parvient à construire pour s'enfuir de l'immeuble dans lequel il se retrouve bloqué quand il sort des égouts.