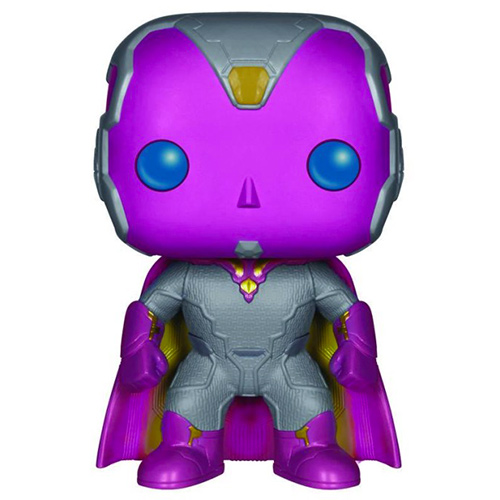 Figurine Vision (Avengers Age Of Ultron)
La figurine Funko Pop Vision (Avengers Age Of Ultron) vous intéresse ?

Vérifier la disponibilité sur

Jarvis prend forme humaine
Vision est l'un des personnages du film "Avengers Age Of Ultron" des studios Marvel. Le film démarre lorsque les Avengers capturent le Baron Von Strucker et récupèrent le sceptre de Loki qui avait disparu depuis le premier film. Grâce à l'énergie contenue dans cette arme, Tony Stark et le physicien Bruce Banner pensent pouvoir finaliser le programme Ultron, un système de défense de la planète ultra-puissant inspiré de Jarvis, l'assistant virtuel du super-héros Iron Man. Mais Ultron se retourne, prend possession de l'un de ses robots, puis se répand partout sur Terre grâce à internet dans le but de détruire l'humanité. Pour cela, il veut un corps plus puissant et décide de faire appel à une chercheuse en génétique pour lui créer un corps dans lequel il mettra la puissante gemme présente dans le sceptre de Loki. Mais les Avengers parviennent à l'arrêter avant qu'ils ait le temps d'y transférer sa conscience. Tony Stark décide alors d'y transférer celle de Jarvis, afin de finir le travail qu'il avait commencé avec Ultron. Entre temps, le demi-dieu Thor, indécis sur la route à suivre, est allé au bassin des visions. Cela lui a permis de voir qu'il fallait suivre le plan de Tony Stark. Cela va donc donner naissance au personnage de Vision, un nouveau super-héros aux pouvoirs particulièrement puissants, qui les aidera bien sûr à combattre Ultron.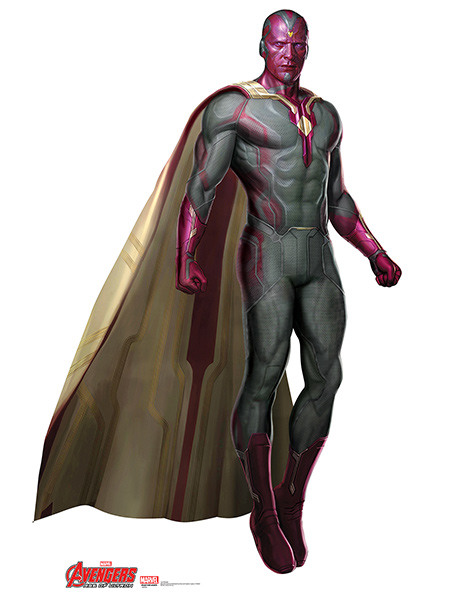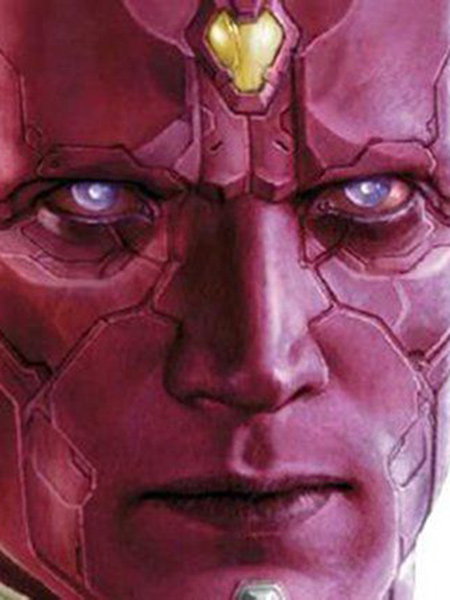 Un nouveau super-héros
Vision est un être hybride mi-humain, mi-robotique et cela est bien sûr visible sur son apparence physique. Comme dans le film, on peut voir que sa peau est violette (bien qu'elle tire un peu plus vers le rouge à l'écran). Ce qui lui donne un style plus proche des personnages des Gardiens de la Galaxie. Il sort de son caisson de création avec une combinaison grise qui laisse tout de même apparaître que certains parties de son corps semblent métalliques. Funko l'a aussi bien sûr aussi représenté avec ses gants et ses bottes du violet caractéristique de ce personnage. Pour compléter sa tenue, Vision porte aussi une cape beige/dorée avec, encore une fois, des touches de violet. Son visage est lui aussi violet, comme le reste de son corps, et on peut voir une sorte de casque métallique qui descend sur front et contient la fameuse gemme jaune lui donnant tous ses pouvoirs. Enfin, Funko a étrangement choisi de lui donner des yeux bleus alors qu'ils apparaissent plutôt légèrement jaunes (comme la gemme) dans le film. Mais cela n'empêche pas cette figurine d'être, encore une fois, vraiment réussie.