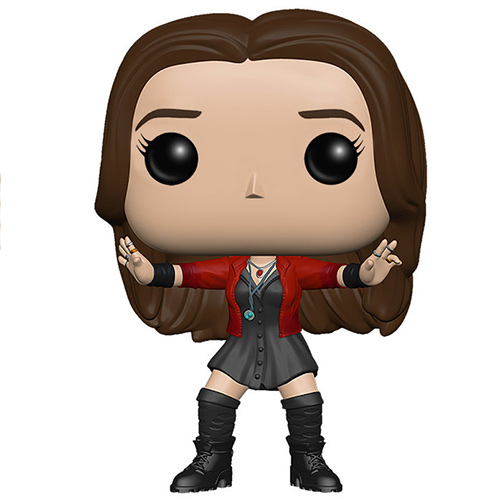 Figurine Scarlet Witch (Avengers Age Of Ultron)
La figurine Funko Pop Scarlet Witch (Avengers Age Of Ultron) vous intéresse ?

Vérifier la disponibilité sur

Un personnage mystérieux
Scarlett Witch est l'un des personnages importants du film des studios Marvel : Avengers Age Of Ultron. Ce film fait indirectement suite aux évènements du premier Avengers mais surtout à ceux de Captain America, The Winter Soldier et à quelques épisodes de la saison 2 de la série Agents Of SHIELD. Au début du film, les Avengers récupèrent le sceptre de Loki, qui avait été volé au sein même du SHIELD par des agents de Hydra. La pierre contenue dans ce sceptre va permettre à Tony Stark et Bruce Banner de créer une super intelligence artificielle qui serait le système de défense ultime de la planète. Malheureusement, cette entité va en conclure que le seul moyen de sauver la planète est détruire l'humanité et de recommencer à zéro. Il se construit alors un corps robotique dans le laboratoire d'Iron Man et recrute deux jumeaux : Scarlett Witch et Quicksilver. Ceux-ci étaient retenus depuis des années dans les laboratoires d'Hydra, où ils ont subi des expérimentations qui leur ont donné des super-pouvoirs. Scarlett Witch a notamment le pouvoir de télékinésie et de manipuler l'esprit des autres à sa guise. Ultron va d'abord utiliser leur haine de Tony Stark pour arriver à ses fins, mais quand ils se rendront compte de son objectif final, ils finiront par joindre leurs forces à celles des Avengers.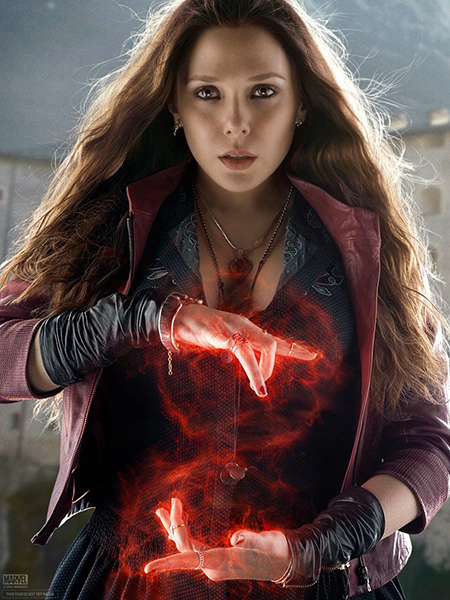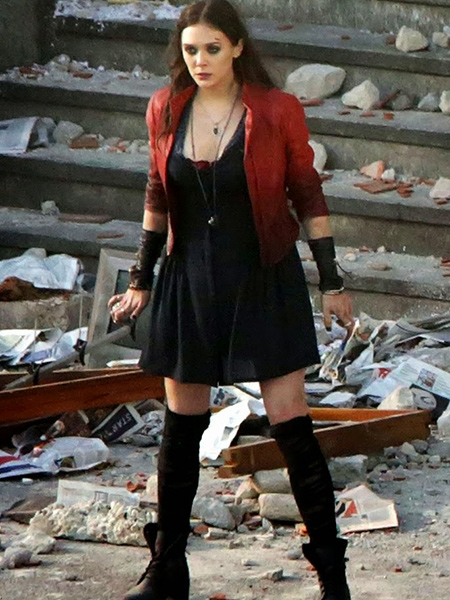 La genèse d'un personnage
Scarlett Witch ne porte qu'une tenue pendant tout le film, c'est donc logiquement ainsi qu'elle est représentée sur cette figurine. Bien que l'on retrouve quelques éléments en commun avec la version des comics, comme l'omniprésence du rouge, le style de Scarlett Witch a été fortement adaptée pour quelque chose de plus sobre et réaliste à l'écran. Ce qui est logique, puisque c'est un peu la genèse du personnage qui est racontée dans ce film. On retrouve bien cette simple robe noire assez courte avec ce blouson en cuir rouge caractéristique. On y retrouve aussi de nombreux détails qui rendent cette figurine particulièrement fidèle : les nuances de rouge sur le blouson, les bagues et divers pendentifs ainsi que ses longues mitaines de cuir. Aux pieds, elle porte, comme dans le film, des bottines noires ainsi que de hautes chaussettes trouées. Au niveau de la tête, son visage est tout simple et sa coiffure bien très que simple aussi, reste tout à fait fidèle au personnage. Enfin, comme nombre des dernières figurines POP, Funko a mis un soin particulier à la posture du personnage qui le situe tout de suite dans l'action du film.