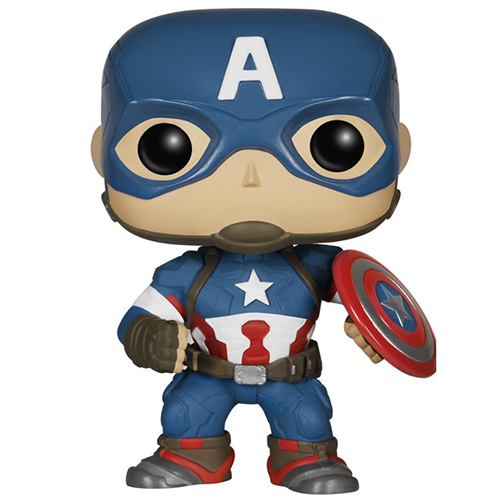 Figurine Captain America (Avengers Age Of Ultron)
La figurine Funko Pop Captain America (Avengers Age Of Ultron) vous intéresse ?

Vérifier la disponibilité sur

Les Avengers aux commandes
Captain America est l'un des personnages principaux du film Avengers Age Of Ultron des studios Marvel. Captain America était déjà apparu quatre fois dans l'univers cinématique de Marvel. Tout d'abord dans Captain America, puis dans Avengers et Captain America The Winter Soldier. Il était aussi apparu en clin d'oeil dans Thor The Dark World. Steve Rogers est une jeune homme qui s'engage dans l'armée pendant la seconde guerre mondiale. Alors que son physique chétif ne lui permet pas de partir au combat, on le recrute pour un programme spécial. On lui injecte alors une mystérieuse formule qui va décupler son physique, sa force, sa vitesse et sa résistance. Lors d'un combat contre Hydra, une société secrète au sein du régime nazi, son avion tombe au fond de l'Océan et il est laissé pour mort. 70 ans plus tard, il est retrouvé dans un bloc de glace, encore vivant. Il va alors rejoindre le SHIELD et les Avengers. Après la chute du SHIELD dans Captain America The Winter Soldier, les Avengers deviennent un groupe indépendant et vont devoir cette fois sauver le monde de la menace de l'intelligence artificielle Ultron, créée par le scientifique Tony Stark et le physicien Bruce Banner.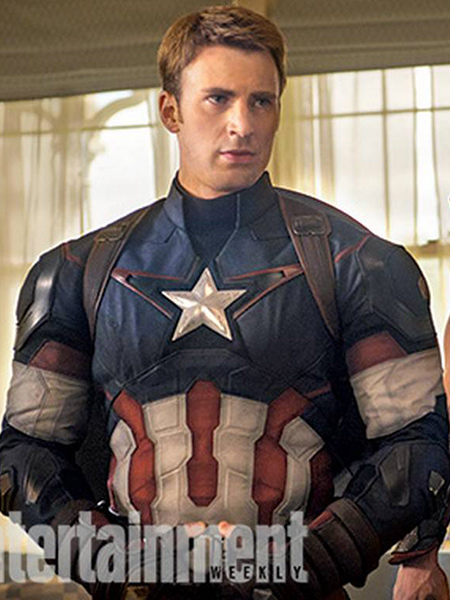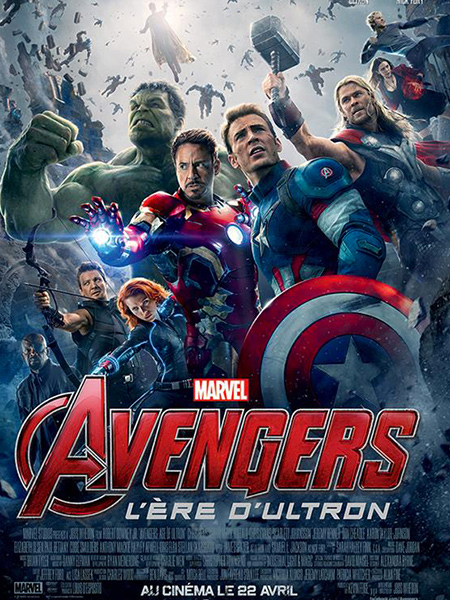 Une nouvelle facette de Captain America
Comme Thor, le costume de Captain America reste presque toujours le même. Inspiré du drapeau américain, on retrouve du bleu, du blanc, du rouge, des rayures et des étoiles. Cependant, il évolue toujours un minimum d'un film à l'autre. Dans le premier "Captain America", c'était une version rétro. Dans Avengers, c'était une version plus moderne. Dans Captain America The Winter Soldier, c'était une version quasi monochrome et plus sombre, plus proche de l'uniforme du Shield. Dans Avengers Age Of Ultron, on revient à une version proche d'Avengers mais avec des couleurs moins vives, plus "vintage". On retrouve donc ce costume principalement bleu avec une "ceinture" rouge et blanche et une étoile blanche sur le torse. Les détails de sa ceinture et des armures aux poignets sont plutôt finement représentés. Comme toujours il tient son bouclier aux couleurs du drapeau américain (mais cette fois de la main gauche). Au niveau du visage, il est encore une fois représenté avec son casque/masque bleu avec un grand "A" sur le front. Si, à la base, il voulait dire America on peut aussi imaginer qu'il veut maintenant dire Avengers.