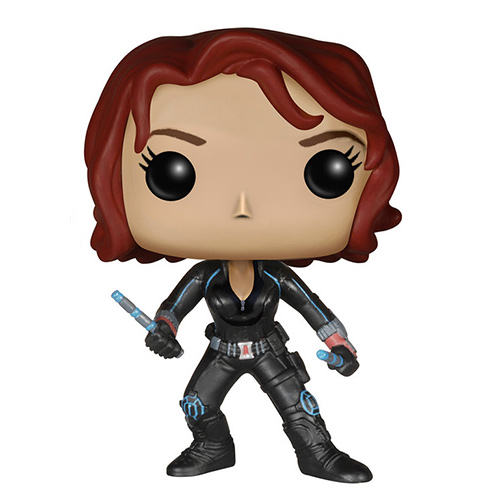 Figurine Black Widow (Avengers Age Of Ultron)
La figurine Funko Pop Black Widow (Avengers Age Of Ultron) vous intéresse ?

Vérifier la disponibilité sur

Le mystère de Black Widow dévoilé
Black Widow est un des personnages principaux du film Avengers Age Of Ultron des studios Marvel. Ce film est la suite du film Avengers sorti en 2012, dans lequel le personnage de Black Widow était aussi l'un des principaux. Mais ce n'était pas sa première apparition dans l'univers de Marvel, puisqu'on la rencontra pour la première fois dans le film Iron Man 2, où elle se fait passer pour l'assistante de Tony Stark afin de rassembler des informations sur lui pour le directeur du SHIELD, Nick Fury. En effet, Black Widow, de son vrai nom Natasha Romanoff, est une espionne travaillant pour cette fameuse agence gouvernementale américaine : le SHIELD, qui gère les menaces extra-terrestres et travaille de près avec les super-héros. Black Widow fût recruté par Hawkeye alors qu'elle travaillait à l'époque pour le KGB. Comme lui, c'est une super-héroïne sans pouvoir mais avec de très hautes compétences d'espionne, que ce soit pour le combat, les langues ou l'infiltration. Elle profite aussi toujours des gadgets dernier cri du SHIELD. Dans ce deuxième volet de Avengers, elle et les autres avengers vont devoir affronter une intelligence artificielle sous la forme du robot Ultron, menaçant de détruire l'humanité ! Ce sera aussi l'occasion d'en apprendre plus sur le passé des avengers et tout particulièrement de Natasha Romanoff.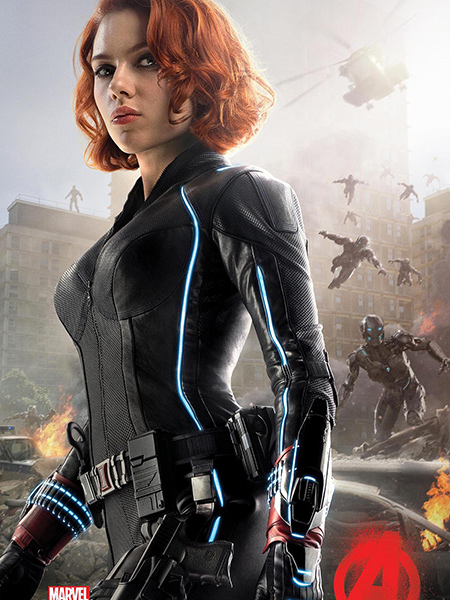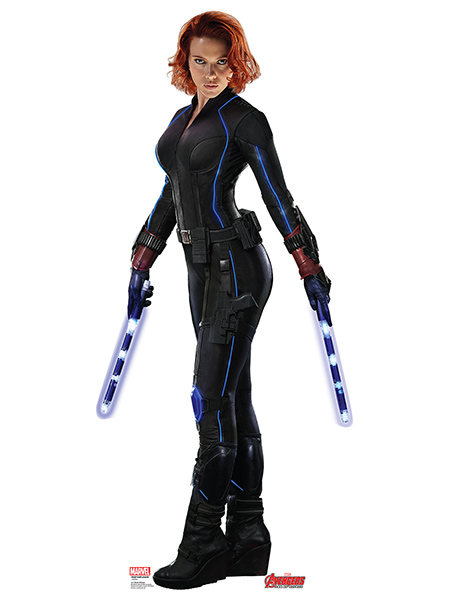 Une figurine plus fidèle au personnage
Cette figurine est la deuxième version de ce personnage après celle réalisée pour Captain America The Winter Soldier. Elle est cependant toujours représentée avec sa fameuse tenue moulante noire d'espionne du SHIELD, mais dans la version améliorée que l'on peut voir dans le film Avengers Age Of Ultron. On retrouve notamment ces éléments bleus fluorescents au niveau des bras, du buste et des genoux. On retrouve bien les détails comme sa ceinture, les bracelets qu'elle porte aux poignets ou ses bottes noires. Black Widow maîtrise de nombreuses méthodes de combat, mais elle est ici représentée avec ses bâtons, assortis à sa tenue. Au niveau de la tête, son visage est très simple mais on retrouve la coupe et couleur de cheveux caractéristiques de son personnage dans les films Avengers. Enfin, au niveau de la posture, là où la précédente figurine manquait un peu de grâce, celle-ci est très réussie et le personnage adopte une attitude plus typique d'une super héroïne.