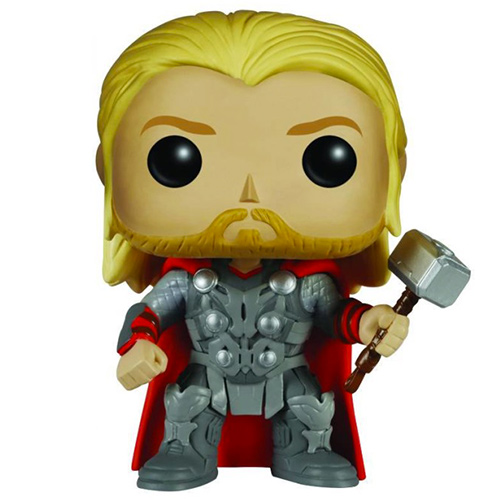 Figurine Thor (Avengers Age Of Ultron)
Thor le terrien
Thor est un personnage du film Avengers Age Of Ultron des studios Marvel. Le film s'inspire des célèbres comics de l'éditeur Marvel. Avant ce film, Thor était aussi apparu au cinéma dans Thor, Avengers 1 et Thor The Dark World. Thor est un demi Dieu venant de la planète Asgard. Il vient pour la première fois sur Terre dans le film Thor quand son père, Odin, l'y exile pour avoir désobéi à ses ordres. Il est aussi privé de ses pouvoir et ne les récupérera que lorsqu'il s'en sera montré digne. Dans Avengers, Thor revient sur Terre lorsque son frère Loki attaque la Terre avec une armée de Chitauris. A la fin de Thor The Dark World, il décide de rester sur Terre avec la femme humaine dont il est amoureux, Jane Foster. Dans Avengers Age Of Ultron, on apprend que Thor est devenu un membre régulier des Avengers. Il partage donc son temps entre cette mission et sa vie avec Jane. Au début du film, le groupe récupère le puissant sceptre de Loki, perdu depuis les évènements d'Avengers. Tony Stark, l'homme derrière Iron Man et le physicien Bruce Banner y voient une opportunité de créer Ultron, le moyen de défense ultime de la planète. Mais leur projet se retourne contre eux quand Ultron développe une intelligence artificielle et décide de détruire l'humanité, selon lui, pour la faire évoluer.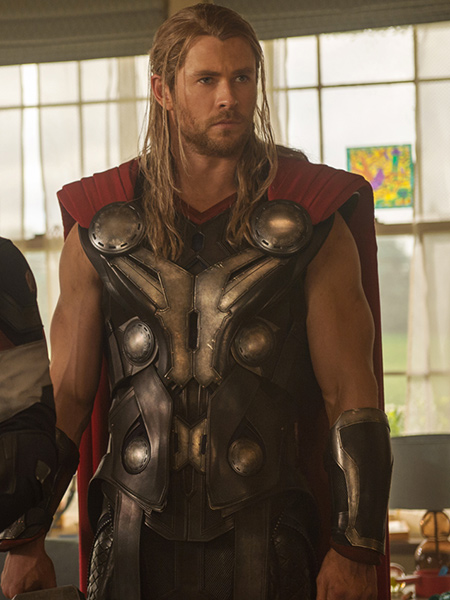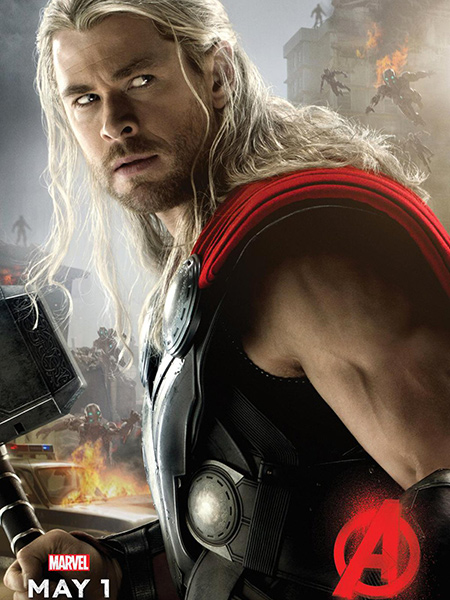 Une nouvelle déclinaison du personnage
Cette figurine est la version du personnage que l'on peut voir dans Avengers Age Of Ultron. Thor est encore dans sa tenue de combat caractéristique, il diffère donc assez peu des deux précédentes figurines créées pour Avengers et Thor The Dark World. Son armure est une évolution de celle de Thor The Dark World, on y retrouve les mêmes motifs et éléments mais elle est faite d'un métal plus clair, nettement plus gris que noir. Etrangement, bien que durant tout le film, Thor se batte bras nus, Funko l'a représenté avec une armure au niveau des bras comme dans le précédent film. Comme toujours, Thor porte sa cape rouge caractéristique et son fameux marteau Mjolnir qui a, pour l'occasion, changé de main. Cette figurine est dans l'ensemble plus détaillée que les deux précédentes, particulièrement au niveau de la tête. Thor a enfin le droit à une paire de sourcils qui lui donne un visage plus expressif et sa barbe blonde est plus finement représentée. Enfin, sa coupe de cheveux est reproduite très fidèlement.