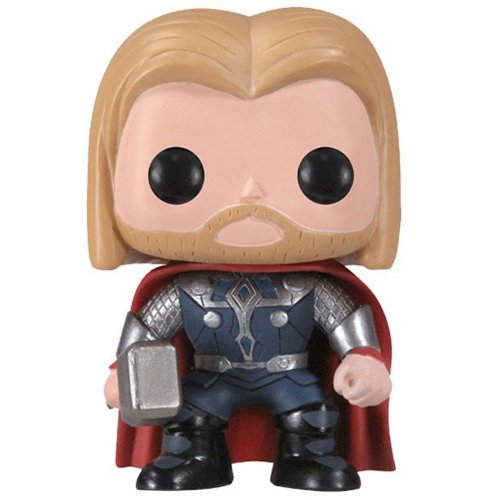 Figurine Thor (Marvel's The Avengers)
La figurine Funko Pop de Thor (Marvel's The Avengers) vous intéresse ?

Vérifier la disponibilité sur

Protecteur de la Terre
Thor est l'un des personnages principaux de la saga de Marvel "Avengers" et le principal des films "Thor". Interprété au cinéma par Chris Hemsworth, il apparaît pour la première fois dans le film Thor. Comme dans la mythologie nordique, Thor est l'un des plus puissants guerriers d'Asgard. Son marteau Mjollnir lui donne une grande force, lui permet d'attirer la foudre et de voler. Dans ce premier film, Loki, jaloux de son frère, incite Thor à aller combattre les géants de glace contre les ordres de leur père, Odin. Cela mènera au bannissement de Thor sur Terre qui n'aura le droit de récupérer son marteau et ses pouvoirs que quand il s'en sera montré digne. Dans "The Avengers", Loki que l'on croyait mort, revient sur Terre pour essayer de prendre le pouvoir avec une armée Chitauri. Thor sera donc de retour pour essayer de le raisonner puis de le combattre auprès du SHIELD et des Avengers (Captain America, Iron Man, Hulk, Black Widow et Hawk Eye). Thor sera ensuite de retour sur Terre pour combattre une nouvelle menace dans "Thor The Dark World".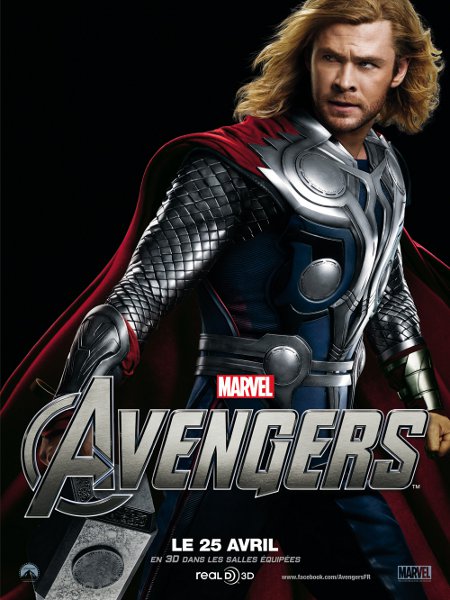 Thor le guerrier
Thor est ici représenté avec la tenue qu'il porte pendant presque tout le film Avengers. Et plus particulièrement celle qu'il porte dans les moments où il doit se battre. En effet sa cape rouge caractéristique et les manches "armure" au motif écaille ne semblent apparaître que lorsqu'il doit faire usage de ses pouvoir. Comme si elles étaient des "attributs divins" déclenchées par l'usage de son marteau, qui est bien sûr aussi représenté sur cette figurine. On reconnaît donc bien sa tenue bleu foncée renforcée par différents éléments d'armure métallique sur le torse ou à la ceinture. On retrouve aussi les larges bracelets métalliques bordés de tissu rouge assorti à sa fameuse cape rouge. Cette tenue semble quasi identique à celle portée dans "Thor", en revanche dans "Thor TDW" bien qu'elle reste assez similaire, elle deviendra un peu plus sobre, moins brillante et on verra plus de cuir que de métal. Enfin Thor est ici représenté avec ses cheveux blonds mi-longs coiffés en arrière et son bouc.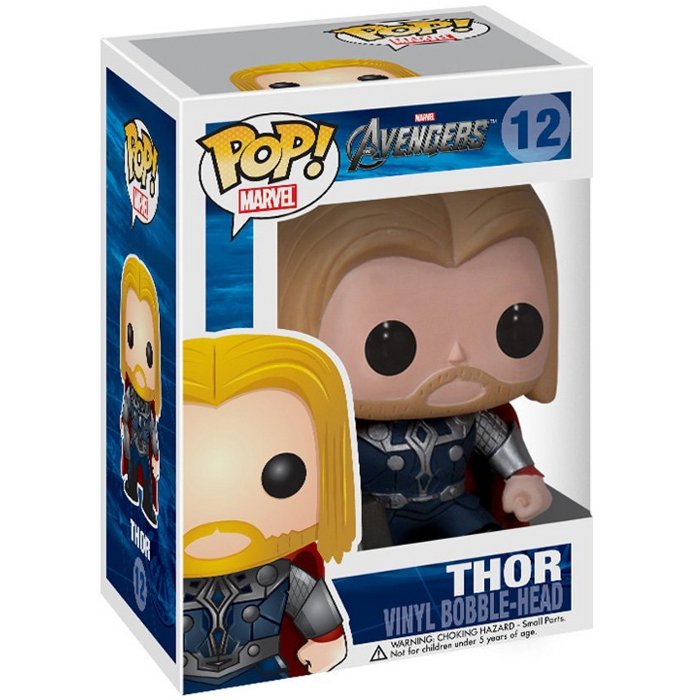 La figurine Funko Pop de Thor (Marvel's The Avengers) vous intéresse ?

Vérifier la disponibilité sur