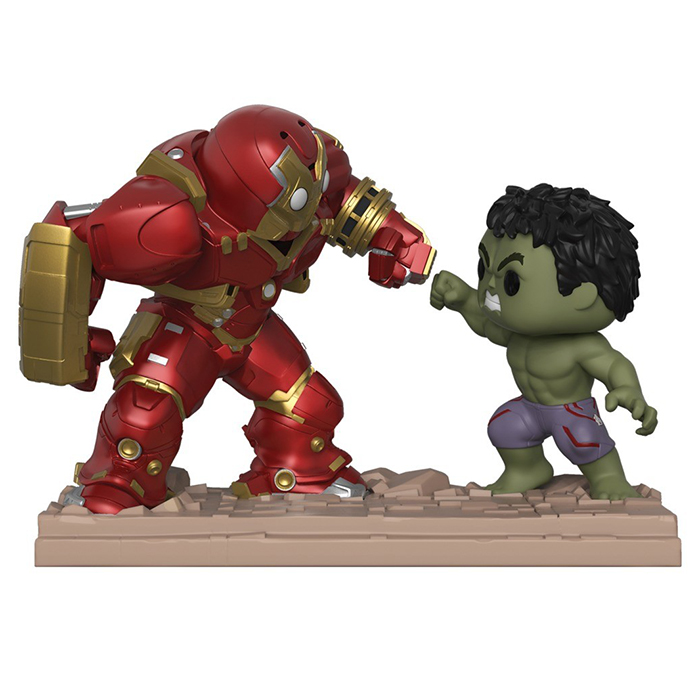 Figurines Movie Moments Hulkbuster VS Hulk (Avengers Age Of Ultron)
Les figurines Funko Pop Movie Moments Hulkbuster VS Hulk (Avengers Age Of Ultron) vous intéressent ?

Vérifier la disponibilité sur

La solution extrême
Hulk est l'un des membres les plus puissants des Avengers dans les films des studios Marvel. Bruce Banner est un brillant scientifique qui a tenté de recréer le sérum ayant donné ses pouvoirs à Steve Rogers, Captain America. Mais quand il le teste sur lui, cela n'a pas les mêmes effets et le transforme en une créature verte, immense et très forte mais quasi enragée et incontrôlable. Depuis, chaque fois qu'il est en colère, il se transforme contre sa volonté. Depuis qu'il a rejoint les Avengers pour combattre de puissants ennemis, il est parvenu à plutôt bien contrôler sa transformation mais il y a toujours le risque de la perte de contrôle. Pour cette raison, Tony Stark a créé une version beaucoup plus grosse et puissante de sa propre armure d'Iron Man pour combattre et neutraliser Hulk au cas où il perde le contrôle. C'est ce qui arrive dans le film Avengers, Age of Ultron quand Scarlett Witch se sert de ses pouvoirs de suggestion mentales pour le mettre en colère.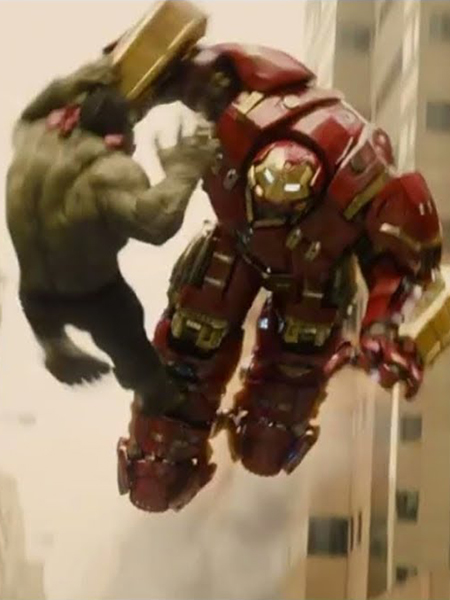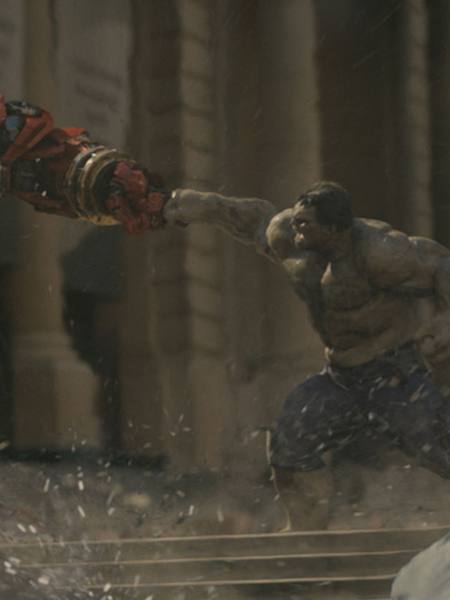 Un affrontement au sommet
Pour ce movie moments exclusif à la comic con de New York, Funko a donc choisi de représenter Hulk entrain de combattre Tony Stark dans son armure de Hulkbuster. Hulk est comme toujours torse nu et porte simplement le pantalon violet fait pour lui et qui est extensible, lui permettant de ne pas le déchirer à chaque transformation. On peut voir la rage sur son visage ainsi que son poing en avant sur le point de frapper celui du Hulkbuster. Le Hulkbuster est lui rouge et or comme l'armure de Tony Stark mais bien plus massive que ce soit en hauteur mais aussi en largeur, faisant de lui une sorte de version massive de Hulk en armure. Il a lui aussi le poing en avant pour frapper Hulk et au sol, on peut voir les nombreux débris là où les deux personnages se sont enfoncés.