Figurine Edward Scissorhands with Face Mask (Edward aux Mains d'Argent)
La figurine Funko Pop Edward Scissorhands with Face Mask (Edward aux Mains d'Argent) vous intéresse ?

Vérifier la disponibilité sur

Une mère attentionnée
Edward est le célèbre héros romantique du film Edward aux Mains d'Argent réalisé par Tim Burton. Edward fut créé par son père, un inventeur vivant dans une étrange manoir dans une petite ville de banlieue américaine. Il lui apprit à parler, lire et toutes sortes de choses sur la vie en général, il lui donna même un coeur mais il mourut avant de lui donner des mains et Edward resta bloqué avec des ciseaux pendant de nombreuses années. C'est alors que Peg, une démonstratrice en produits de beauté, se présente au chateau. Constatant qu'Edward a du vivre seul toutes ces années et que sa peau est pleine de coupures à cause de ses ciseaux, elle décide de le ramener chez elle. Elle lui donne des vêtements plus classiques qu'il met par-dessus ceux en cuir faisant partie intégrantes de son corps, et tente de au mieux de s'occuper de ses blessures. Sa famille l'accepte bien, à part Kim, la fille adolescente, ainsi que les voisins. Mais il ne va pas falloir beaucoup pour que cela change et que certains se retournent contre lui alors que Kim va finalement se rapprocher de lui.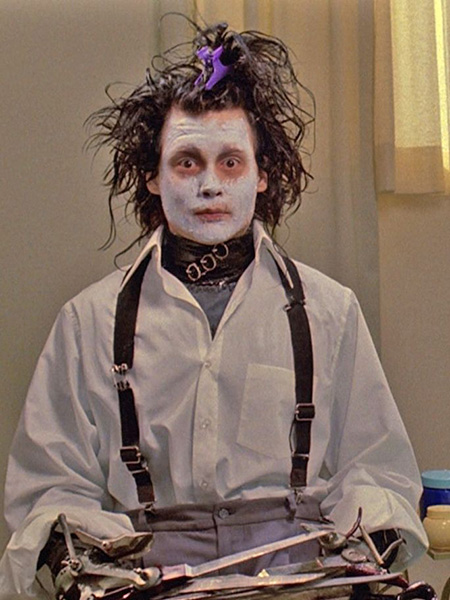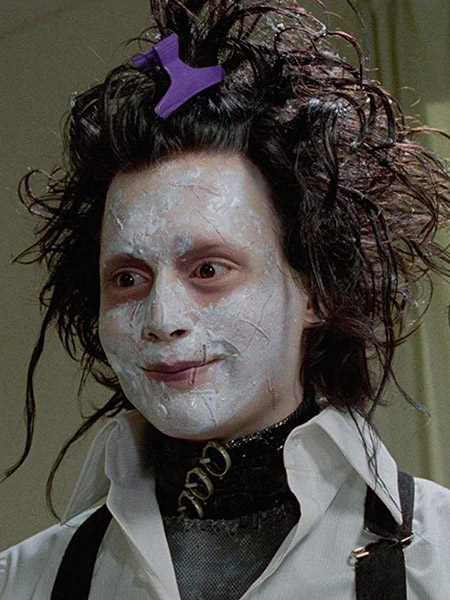 Une drôle d'allure
Pour cette nouvelle version du personnage, Funko a représenté Edward avec les vêtements que lui donne Peg quand elle le ramène chez elle. C'est un pantalon marron un peu trop large et maintenu avec des bretelles, ainsi qu'une chemise blanche roulée autour des bras. On retrouve donc les nombreuses paires de ciseaux remplaçant ses mains et très finement reproduits. Au niveau de la tête, on peut voir que Peg a recouvert sa peau très pale d'un masque de beauté bleu mais on peut toujours voir les cernes autour de ses yeux et ses lèvres noires. Enfin, on retrouve ses cheveux noirs coiffés en pagaille.