Figurine Agent Daisy Johnson (Marvel's Agents Of SHIELD)
La figurine Funko Pop Agent Daisy Johnson (Marvel's Agents Of SHIELD) vous intéresse ?
Vérifier la disponibilité sur

L'orpheline devenue super héroïne
Daisy Johnson est l'un des personnages principaux d'Agents Of SHIELD, une série faisant partie de l'univers étendu Marvel. On y suit au départ la vie d'un petit groupe d'agents sous les ordres de l'agent Phil Coulson, que tout le monde pensait mort des mains de Loki lors de la bataille de New York. Daisy, se faisant au départ appeler Skye, est une hackeuse que le groupe d'agents arrête dans le premier épisode de la série et qu'ils finissent finalement par recruter. Daisy est devenue hackeuse parce qu'elle ne connait rien sur son passé et ses parents. Le seul document qu'elle a retrouvé sur ses origines la relie au SHIELD. Au cours de la saison 1, elle va apprendre des choses troublantes sur son passé. En saison 2, après l'infiltration du SHIELD par Hydra, le SHIELD est entrain de reconstruire et Phil Coulson en est le nouveau directeur. Daisy va enfin retrouver ses parents et apprendre son vrai nom. Elle découvrira aussi qu'elle fait partie d'un groupe de gens appelé les "Inhumains" et qu'elle a le pouvoir de faire vibrer tout ce qui l'entoure. En début de saison 3, Daisy adoptera définitivement son vrai nom de Daisy Johnson et sera mise à la tête d'une équipe chargée de de recruter d'autres personnes possédant des pouvoirs.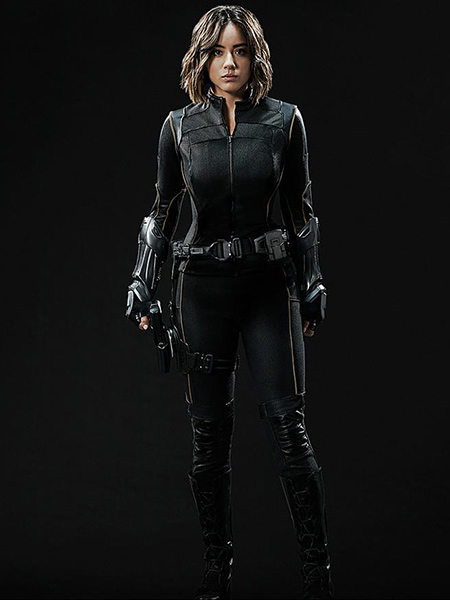 Daisy et sa tenue de super héroïne
Daisy Johnson est un personnage assez connu de l'univers des comics, il est donc intéressant de voir comment Skye a commencé en étant une jeune femme ordinaire et s'est doucement transformée en super héroïne. Elle est ici représentée avec sa tenue d'agent de terrain du SHIELD qu'on la voit porter de plus en plus souvent en saison 3. On retrouve cette tenue noire moulante portée avec de grosses bottes montantes et plates. On retrouve aussi bien sûr la marque de fabrique du personnage, les gants et armures de poignets créés par Fitz et Simmons qui lui permettent de se protéger lorsqu'elle utilise ses pouvoirs. Dans les comics, Daisy a une coupe de cheveux très courte donc l'actrice jouant le personnage a raccourci ses cheveux au fur et à mesure de la série pour mieux coller au personnage. Ici, on retrouve donc bien cette coupe au carré plongeant et ses cheveux légèrement ondulés. Elle est représentée avec une main levée, comme entrain d'utiliser son fameux pouvoir.