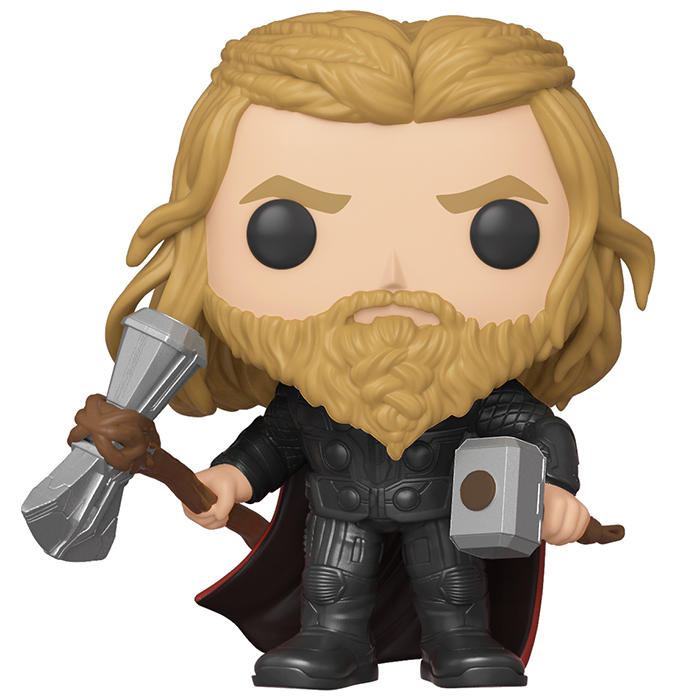 Figurine Thor with Mjolnir and Stormbreaker (Avengers Endgame)
La figurine Funko Pop Thor with Mjolnir and Stormbreaker (Avengers Endgame) vous intéresse ?

Vérifier la disponibilité sur

Thor au bout du rouleau
Thor est l'un des membres originaux des Avengers et donc l'un des personnages principaux des films Avengers Infinity War et Endgame. Au début de Endgame, on le retrouve dans un assez mauvais état psychologiquement. Ce qui est compréhensible puisqu'il avait déjà perdu son marteau à cause de sa soeur Hela, puis sa planète et alors qu'il faisait route vers la Terre avec tout son peuple, il avait été attaqué par Thanos qui l'avait laissé pour mort et anéanti quasiment tout son peuple. A la fin de Infinity War, malgré tous les efforts des Avengers, Thanos avait réussi à réunir les six pierres et avait fait disparaitre la moitié de la population de la galaxie. Après une dernière tentative de changer les choses qui rate, on retrouve Thor cinq ans plus tard dans son village norvégien où il passe son temps à boire de la bière et jouer aux jeux vidéo avec Korg et Meek. Mais Banner et Rocket le convainquent de se joindre à leur nouvelle mission pour retourner dans le passé et récupérer les pierres avant que Thanos ait pu mettre la main dessus. Thor va donc reprendre du service.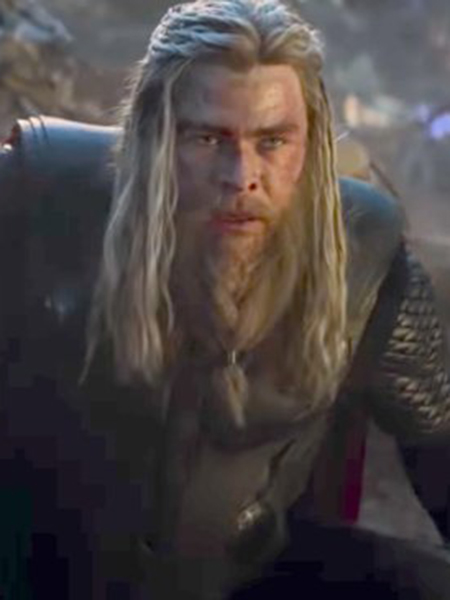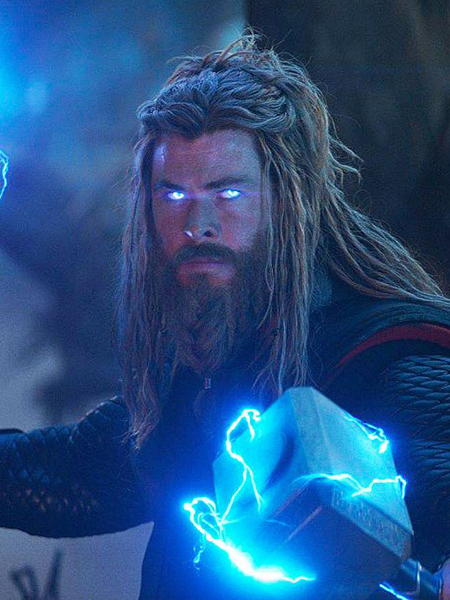 Un vrai dieu viking
Pour cette figurine exclusive de Thor, Funko l'a représenté lors de la bataille finale lorsqu'il reprend son "uniforme" de dieu. C'est celui qu'on avait pu voir dans les précédents films, un sorte d'armure gris foncé d'inspiration médiévale mais dont certains aspects suggèrent une technologie avancée, ainsi que sa fameuse cape rouge. Il tient dans ses mains Stormbraker, la nouvelle hache qu'il s'est fait fabriquer dans le film précédent mais aussi Mjolnir, son marteau qu'il a pu récupérer dans le passé. Au niveau du visage, Thor porte toujours les longs cheveux en partie nattés qu'il avait laissé pousser les cinq dernières années ainsi que sa longue barbe nattée qui lui donne plus que jamais l'air d'un dieu nordique.