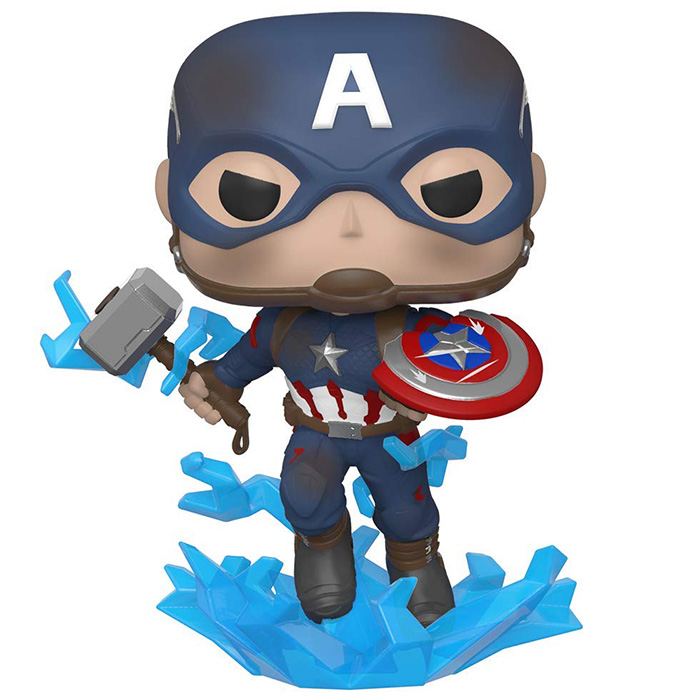 Figurine Captain America with Thor's hammer (Avengers Endgame)
La figurine Funko Pop Captain America with Thor's hammer (Avengers Endgame) vous intéresse ?

Vérifier la disponibilité sur

Le plus puissant des héros
Captain America est l'un des Avengers originaux et l'un de ceux guidant la dernière bataille contre Thanos à la fin du film Avengers Endgame. Après que Thanos ait fait disparaitre la moitié de la galaxie et détruit les pierres afin qu'il n'y ait plus de retour possible, tout semblait sans espoir au début du film Endgame. Mais c'est alors que Scott Lang débarque, ayant passé cinq ans sur le plan quantique ne lui ayant semblé durer que quelques heures. C'est alors qu'avec l'aide de Hulk puis finalement de Tony Stark, les Avengers mettent au point une machine leur permettant de revenir dans le passé dans le but de récupérer les pierres avant que Thanos les ait trouvées et des les réunir pour faire revenir les personnes disparues. Ils réussissent leur mission mais ramènent une version passé de Thanos à leurs trousses, prêt à récupérer les pierres pour cette fois détruire toute la galaxie et repartir à zéro. Les Avengers ayant ramené leurs amis disparus, c'est un combat épique qui éclate entre eux et Thanos. En effet, lors du combat, le bouclier de Captain America est cassé et Thor lui envoie son marteau, prouvant bien que Captain America était le seul humain méritant de le brandir.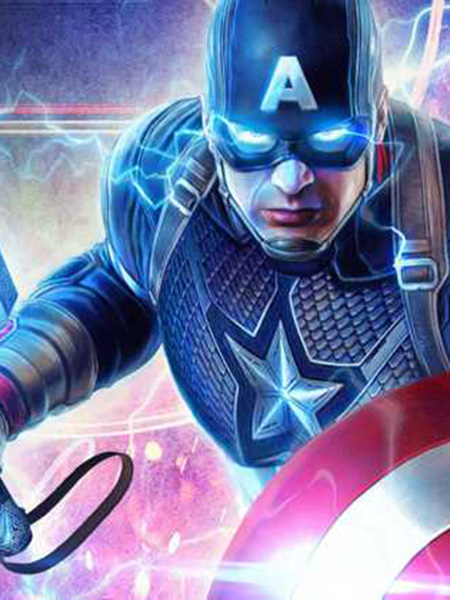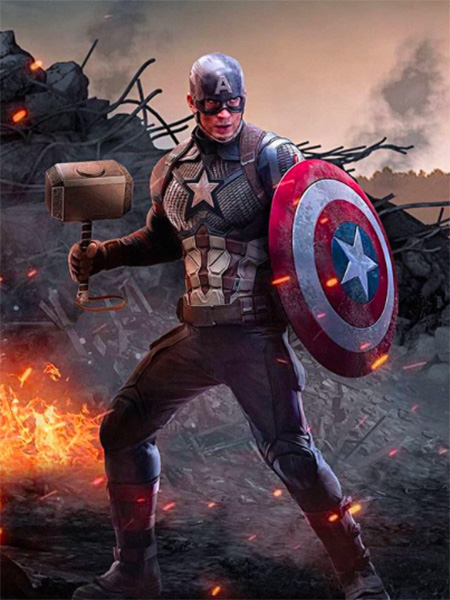 La puissance de Thor
Funko a ici représenté Captain America lors du combat final contre Thanos quand celui-ci brandit le marteau de Thor. Il porte son habituel costume bleu avec des bandes rouges et blanches et l'étoile sur le torse rappelant les couleurs du drapeau américain. Il porte aussi bien sûr son casque avec le A au niveau du front. Dans sa main gauche, il tient son bouclier même si celui-ci est à moitié cassé et dans l'autre, il tient le marteau de Thor. Il est représenté en pleine action entrain de sauter alors qu'il est projeté par les éclairs de foudre du marteau.