Figurine Ron Weasley with slugs (Harry Potter)
La figurine Funko Pop Ron Weasley with slugs (Harry Potter) vous intéresse ?

Vérifier la disponibilité sur

Une année difficile
Ron Weasley est l'un des personnages principaux de la saga Harry Potter. C'est l'un des trois amis inséparables du trio qu'il forme avec Harry et Hermione. En début de seconde année, l'elfe Dobby fait tout pour empêcher Harry de retourner à Poudlard car un terrible danger le guette. Pour cette raison, il bloque l'entrée du quai 9 3/4 et Harry et Ron se retrouvent obligés d'emprunter la voiture enchantée d'Arthur Weasley pour aller à Poudlard. Mais à leur arrivée, cette dernière s'écrase contre le saule cogneur. Les garçons s'en sortent vivants mais la baguette de Ron est cassé en deux. Il la répare mais cela va la rendre très capricieuse tout l'année. En cours de charmes, sont rat va se retrouver seulement à moitié transformer en gobelet mais le plus mémorable reste quand il tente d'envoyer un sort sur Malfoy qui avait traité Hermione de sang-de-bourbe. Le sort se retourne contre lui et il se mets à vomir d'énormes limaces.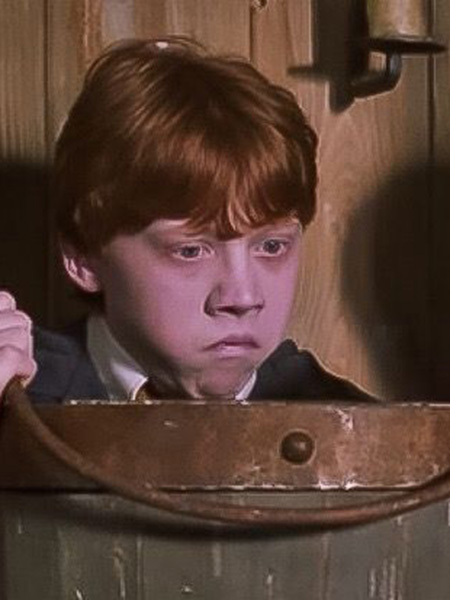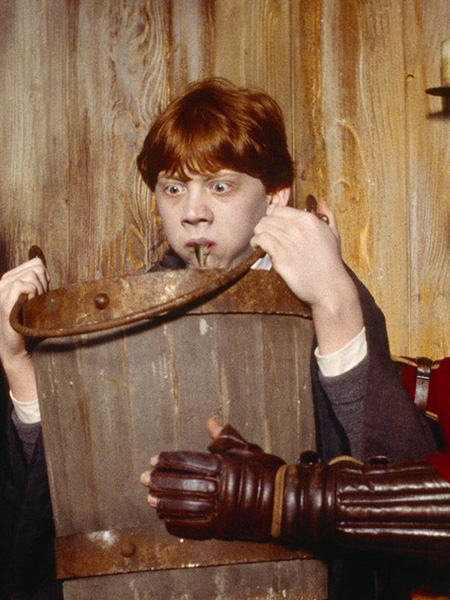 Un héroïsme mal récompensé
Funko a donc choisi de représenter Ron entrain de recracher des limaces suite au sort qui a mal tourné. Il porte son habituelle robe de sorcier ouverte sur son uniforme de Poudlard. Au niveau de la tête, on peut voir que son teint est très pale avec les yeux cerclés de rouge. Ses cheveux sont eux comme toujours roux et retombant sur son front. Enfin, il tient donc dans ses mains le saut que lui donne Hagrid et dont dépassent plusieurs grosses limaces rouge foncé.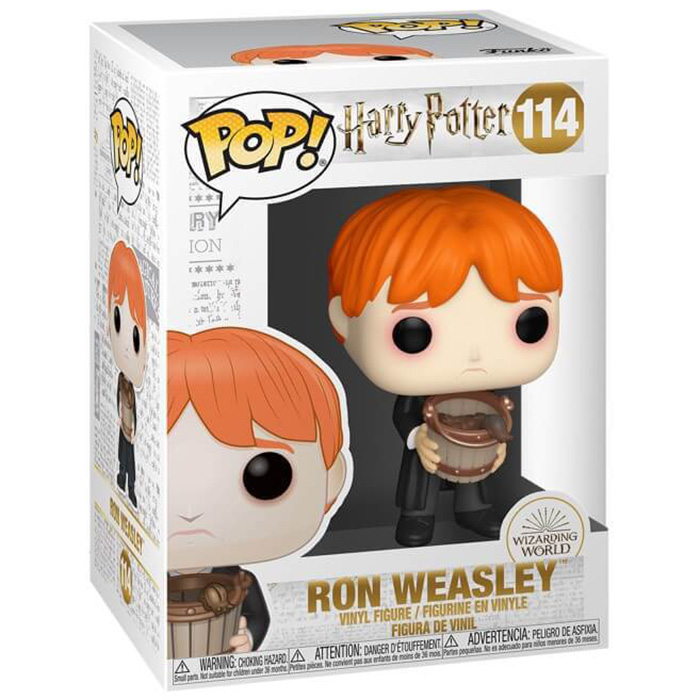 La figurine Funko Pop Ron Weasley with slugs (Harry Potter) vous intéresse ?

Vérifier la disponibilité sur

Trouvable également ici :

13.90 €
Voir l'offre