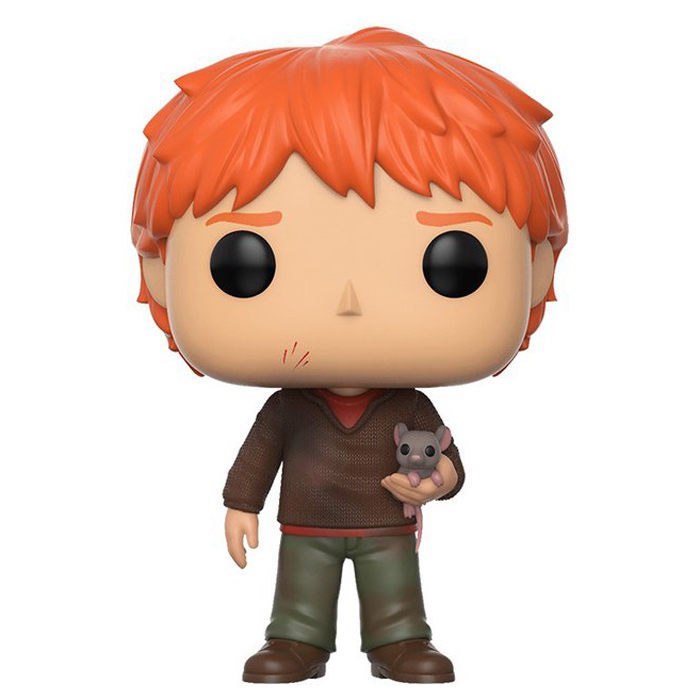 Figurine Ron Weasley with Scabbers (Harry Potter)
La figurine Funko Pop Ron Weasley with Scabbers (Harry Potter) vous intéresse ?

Vérifier la disponibilité sur

Un rat pas comme les autres
Ron Weasley est l'un des personnages principaux de la saga Harry Potter racontant l'histoire du fameux petit garçon orphelin découvrant un jour qu'il est un sorcier. Ron le rencontre et sympathise avec lui dès son arrivée à la gare pour prendre le train en direction d'Hogwarts. Ron vient d'une famille très nombreuses puisqu'il a cinq frères plus âgés et une petite soeur, tous roux comme lui et ses parents. Comme nombre d'enfants à Hogwarts, Ron a un animal de compagnie, qui, dans son cas, se trouve être un rat nommé Scabbers. Dans le troisième film, Sirius Black, l'homme censé avoir vendu les parents d'Harry à Voldemort s'échappe de la prison d'Azkaban. Tout le monde pense qu'il va tenter d'attaquer Harry. Mais quand celui-ci est se retrouve face aux trois amis sous sa forme de chien, il s'attaque contre toute attente au rat de Ron. Celui-ci se trouve en fait être Peter Pettigrew, un ami des Potter qui les a vendus à Voldemort puis s'est transformé en rat pour se faire passer pour mort et faire porter le chapeau à Sirius.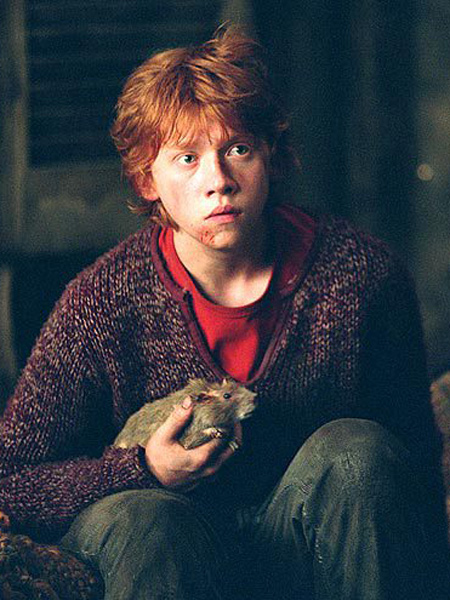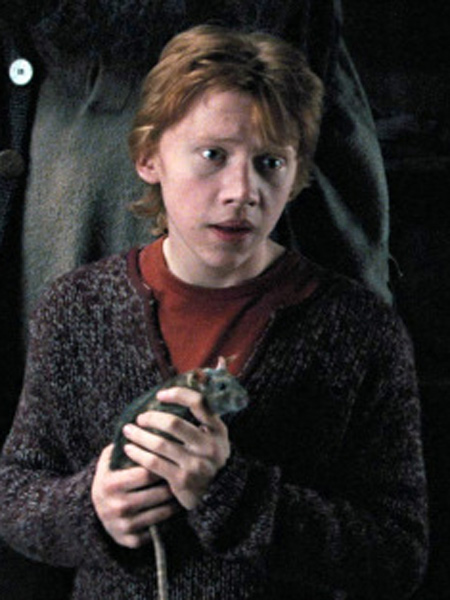 Un rat pas si mignon que ça
Ron est ici représenté au moment de l'attaque : il porte un pantalon kaki sali après avoir trainé dans la boue ainsi que des chaussures marrons. Avec ceci, il porte un pull marron par dessus un t-shirt rouge dépassant au niveau du col. Au niveau de la tête, on reconnait bien sûr sa masse de cheveux roux et l'on peut voir les quelques blessures au niveau de son visage. Enfin, il tient bien sûr dans ses mains son petit rat gris Scabbers, qui, malgré son apparence mignonne et innocente se révèle être le traitre Peter Pettigrew.