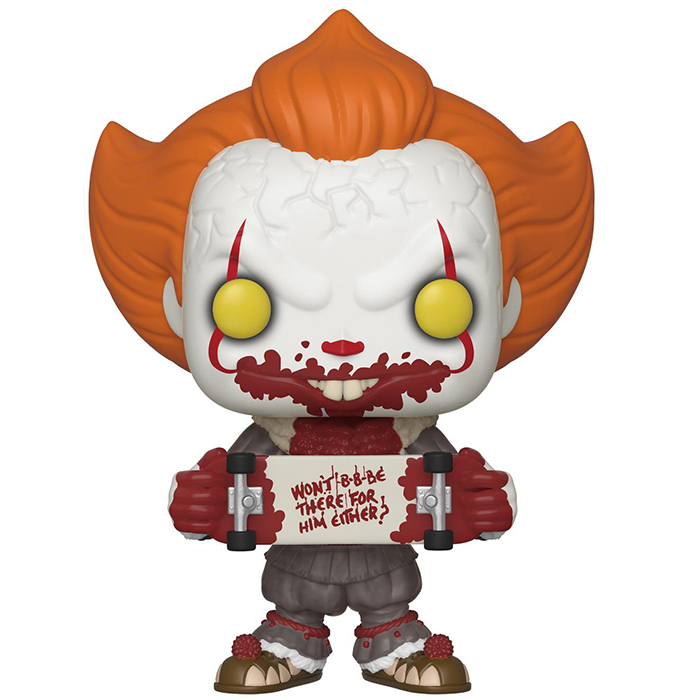 Figurine Pennywise with skateboard (It, Chapter Two)
La figurine Funko Pop Pennywise with skateboard (It, Chapter Two) vous intéresse ?

Vérifier la disponibilité sur

Toujours plus horrible
Pennywise est le terrifiant monstre adoptant la plupart du temps l'apparence d'un clown dans le roman "It" de Stephen King et ses adaptations au cinéma. Dans le premier film, un groupe d'adolescents marginaux affronte ce monstre au début des années 90. C'est une créature d'origine inconnue qui se sert de la peur de ses victimes pour les terrifier avant de les attirer à lui et de les dévorer. En enquêtant sur l'histoire de la ville, les adolescents apprennent que "It" revient tous les vingt sept ans. Ils parviennent à le vaincre mais savent qu'il y a des chances qu'il ne soit pas mort mais juste en hibernation et font le serment de revenir si jamais il réapparait. Dans le deuxième film, It réapparait et recommence à tuer. Mike, le seul des garçons à être resté à Derry, rappelle les autres. Ils hésitent à rester, le souvenir des évènements qui s'étaient effacé par un processus surnaturel leur revient et ils sont terrifiés. Mais finalement, ils acceptent car Mike pense avoir trouver une sorte de cérémonie leur permettant de pouvoir le tuer une bonne fois pour toutes. Mais entre temps, It va tenter de tous les terrifier et des tuer et ils vont devoir à nouveau affronter leurs peurs.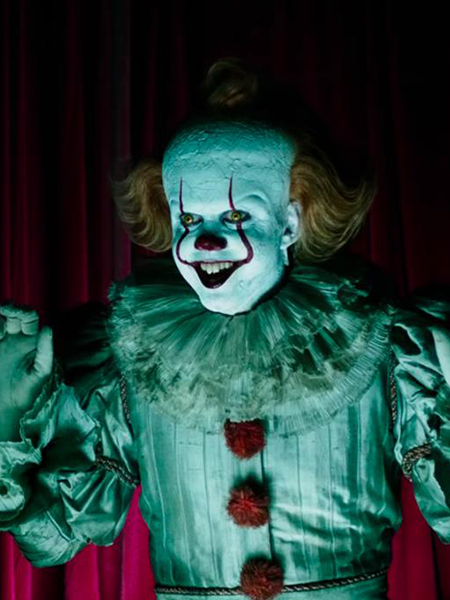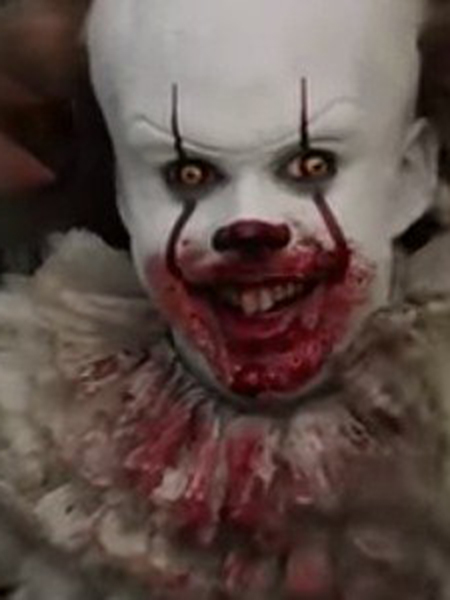 Intelligent en plus d'être terrifiant
Pennywise est ici représenté tenant le skateboard d'un petit garçon qui rappelle à Bill son petit frère qui fût l'une des victimes du clown. Il lui apparait afin de l'attirer dans une fête foraine et l'empêcher de participer au rituel avec les autres. Comme d'habitude, il porte sa tenue de clown un peu ancienne, grise avec une collerette autour du cou et des pompons sur les chaussures. Au niveau de la tête, on retrouve sa peau blanche, ses yeux jaunes et ses cheveux oranges coiffés en trois sortes de pics. Enfin, il tient donc le skateboard du jeune garçon mais celui-ci est partie recouvert de sang, tout comme la bouche et les mains du clown. Et on peut voir un message qui rappelle à Bill qu'il n'a pas pu aider son frère et qu'il ne pourra pas aider ce garçon non plus, tout en se moquant de son bégaiement.