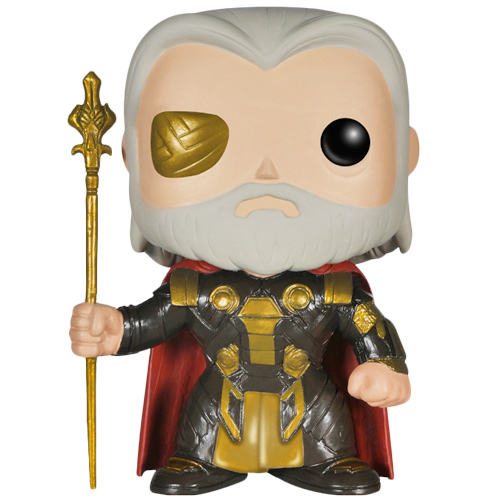 Figurine Odin (Thor The Dark World)
Odin, le père de tous
Odin est l'un des personnages principaux des films des studios Marvel Thor et Thor The Dark World. Le personnage est inspiré du dieu de la mythologie nordique dont il respecte les principales caractéristiques. Il est le dieu principal de cette mythologie et donc dans l'histoire, le roi d'Asgard. Il a pour fils et héritier Thor ainsi que Loki qui, on le découvrira plus tard, a été adopté, et est fait le fils d'un géant de glace. Dans le premier film, suite à une tentative d'incursion des géants de glace, poussé par Loki, Thor désobéit à son père et tente d'aller les combattre. Le combat est un désastre et Odin, pour le punir et lui faire perdre son arrogance, le bannit sur Terre. Il devra alors prouver sa valeur pour récupérer ses pouvoirs et revenir sur Asgard. Ce qu'il fera lorsque Loki fera tomber Odin dans son sommeil et tentera de prendre le pouvoir. Dans Thor The Dark World, Thor a repris sa place sur Asgard. Odin le pousse à se trouver une épouse mais celui-ci pense encore à son amoureuse humaine, Jane Foster, qu'il a du laisser sur Terre. Lorsque celle-ci est contaminée par une étrange force mystique, l'Ether, Thor la ramène sur Asgard et les événements vont alors s'enchaîner !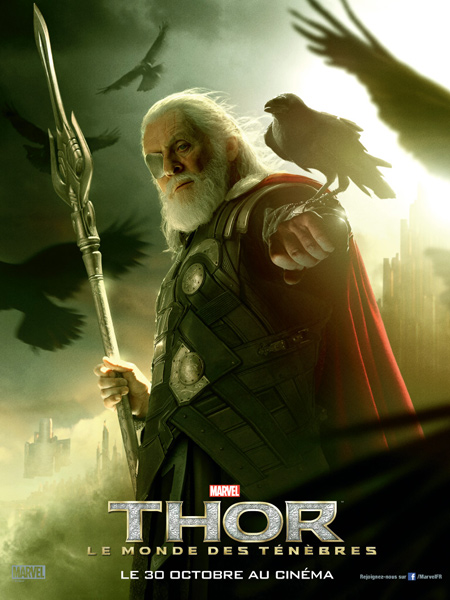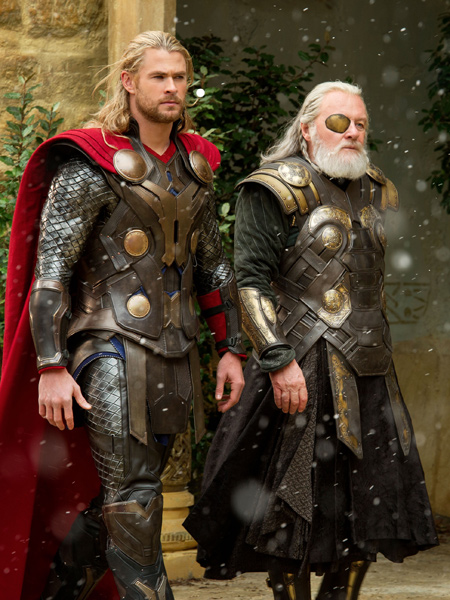 Le dieu de la sagesse
Odin est représenté avec la tenue qu'il porte pendant la majeure partie du film Thor The Dark World. Comme la plupart des dieux de la mythologie nordique, c'est un dieu guerrier mais aussi un dieu de la sagesse. Sa tenue se compose donc principalement d'une armure mais celle-ci est moins brillante et plus portable "au quotidien" que celle de son fils. Elle est notamment composée de plus de cuir que de métal. On reconnaît donc sa tunique de cuir marron aux entrelacements complexes ainsi que les pièce de métal doré sur le torse, les épaules et les poignets. On note d'ailleurs de grandes similitudes avec celle de son fils Thor. Il est aussi représenté avec sa cape rouge, que le personnage ne porte que lorsqu'il est sur son trône. Son visage et sa chevelure blanche sont fidèles à celui de l'acteur Anthony Hopkins, qui joue Odin dans les films. Sur son visage, il porte bien sûr le "bandeau" en or qui cache l'œil manquant, sacrifié pour obtenir sagesse et intelligence. Enfin, il tient dans sa main son sceptre doré, attribut magique équivalent au marteau de Thor.