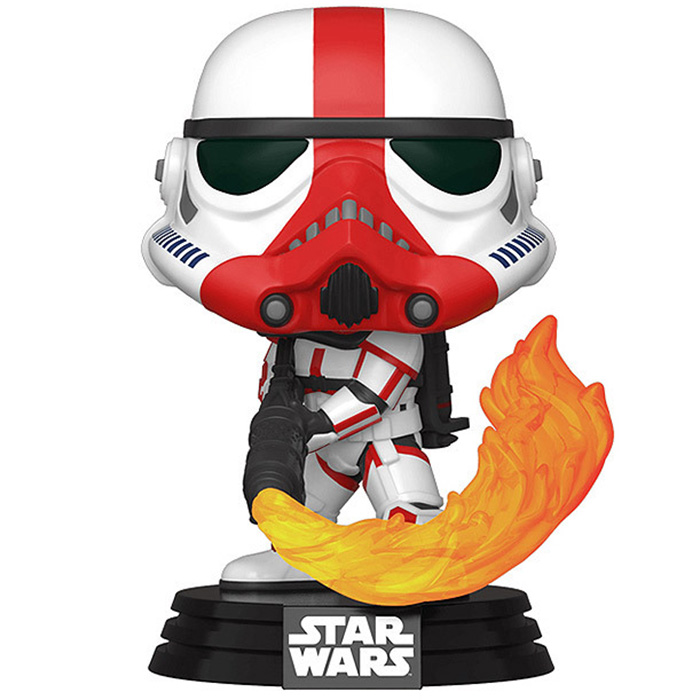 Figurine Incinerator Stormtrooper (Star Wars The Mandalorian)
La figurine Funko Pop Incinerator Stormtrooper (Star Wars The Mandalorian) vous intéresse ?

Vérifier la disponibilité sur

Une arme brulante
L'incinerator stormtrooper est un de ceux que l'on voit pour la première fois dans le dernier épisode de la première saison de la série The Mandalorian, se déroulant plusieurs centaines d'années avant la première trilogie Star Wars dans un monde où l'empire est tombé récemment. Le héros est un chasseur de primes qui devient l'un des hommes les plus recherchés de la galaxie quand il décide de garder et protéger l'enfant qu'il devait livrer à un riche client, ancien haut gradé de l'empire. Dans le dernier épisode, son ancien chef de guilde lui propose de revenir sur la planète et d'annuler son avis de recherche s'il le débarrasse des anciens impériaux qui ont pris le contrôle de la guilde. Malheureusement, c'est un piège et The Mandalorian se retrouve piégé dans un bâtiment avec l'enfant et quelques uns de ses alliés. C'est alors que le stormtrooper débarque avec son lance-flamme pour tout détruire. Heureusement, l'enfant, un jeune bébé Yoda, utilise la force pour repousser les flammes vers les stormtroopers et laisser une chance à ses protecteurs de fuir.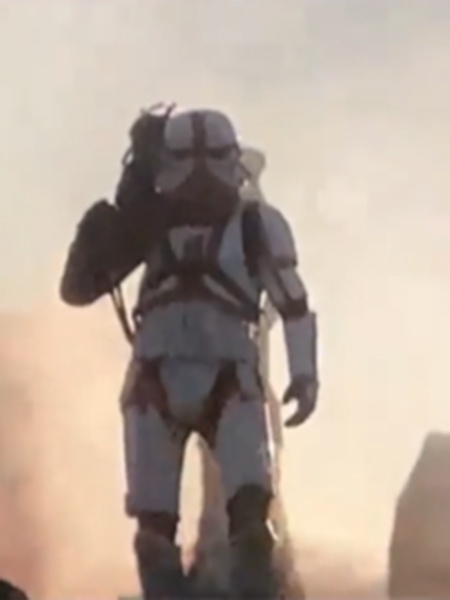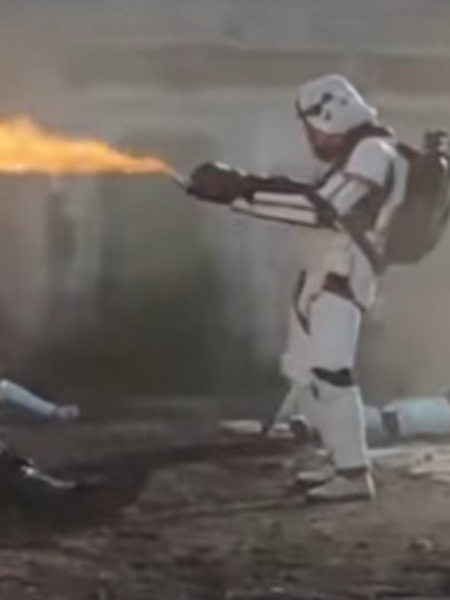 Un stormtrooper rouge
Comme tous les stormtroopers, la base de l'armure de celui-ci est blanche et métallique avec un casque cachant tout son visage. Sous les différentes pièces de l'armure, on peut voir le vêtement noir qui les maintient en place mais aussi des bandes rouges qui rappellent son rôle bien spécifique. Sur son casque blanc à la forme caractéristique, on retrouve aussi une bande rouge verticale au centre et sur l'avant de la partie qui sert à respirer. Enfin il tient donc un gros lance-flamme noir et une grande flamme en part et remonte vers la droite et le haut.