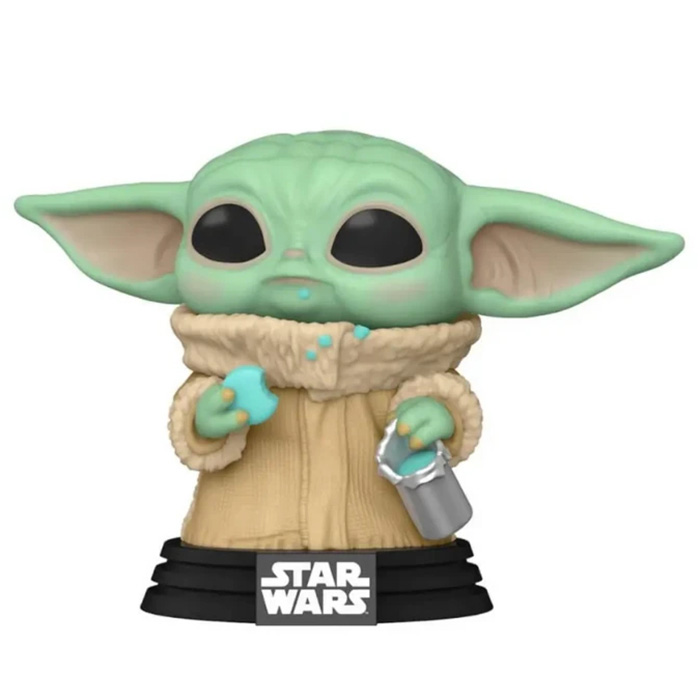 Figurine Grogu with cookies ( Star Wars The Mandalorian)
La figurine Funko Pop Grogu with cookies ( Star Wars The Mandalorian) vous intéresse ?

Vérifier la disponibilité sur

Un enfant pas très sage
Grogu est l'un des personnages principaux de la série Star Wars The Mandalorian. Pendant toute la première partie de la série, on est amenés à penser que c'est la version enfant de Yoda, le fameux grand maître Jedi. The Mandalorian, un célèbre chasseur de prime, a pour mission de le ramener à un riche client, ancien membre de l'empire au début de la série. Mais après avoir livré l'enfant, il change finalement d'avis et vient le récupérer. Il se rend compte que l'enfant est spécial et il a peur de ce que risque de lui faire son client. Sans compter sur le fait qu'il s'est bien sûr attaché à ce dernier. L'enfant montre un don pour la force qu'il utilise plusieurs fois pour sauver le mandalorien ou ses amis. Bien qu'il soit censé avoir 50 ans, il a encore l'allure d'un jeune enfant et ne parle que très peu. Il fait aussi des bêtises comme un enfant et a tendance à manger ce qu'il n'est pas censé manger ou jouer avec ce qu'il n'est pas censé jouer. Dans la deuxième saison, grâce à Ahsoka, on apprend que son nom est Grogu et qu'il serait peut-être une sorte de clone de maître Yoda.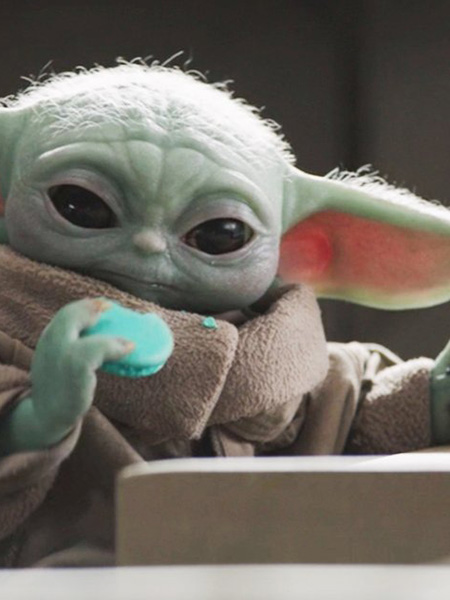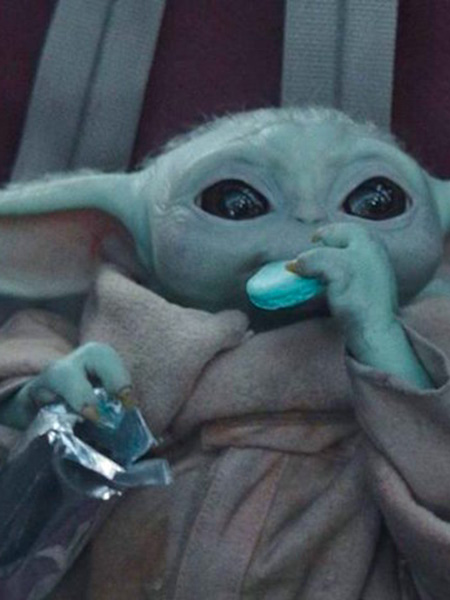 Un enfant gourmand
Grogu est ici représenté en train de manger les cookies qu'il a volés à un enfant dans l'épisode de la saison deux où le mandalorien le confie à son ami pendant qu'il va aider Cara Dune durant une mission. Il se tient debout portant comme toujours sa petite robe beige bordée de fourrure au niveau du col et des manches. Au niveau de la tête, on retrouve ses grandes oreilles vertes et des miettes de gâteaux sur son visage et le haut de sa robe. Enfin, il tient donc un paquet de cookies bleus ressemblant un peu à des macarons et dans l'autre main, il en tient un entamé.