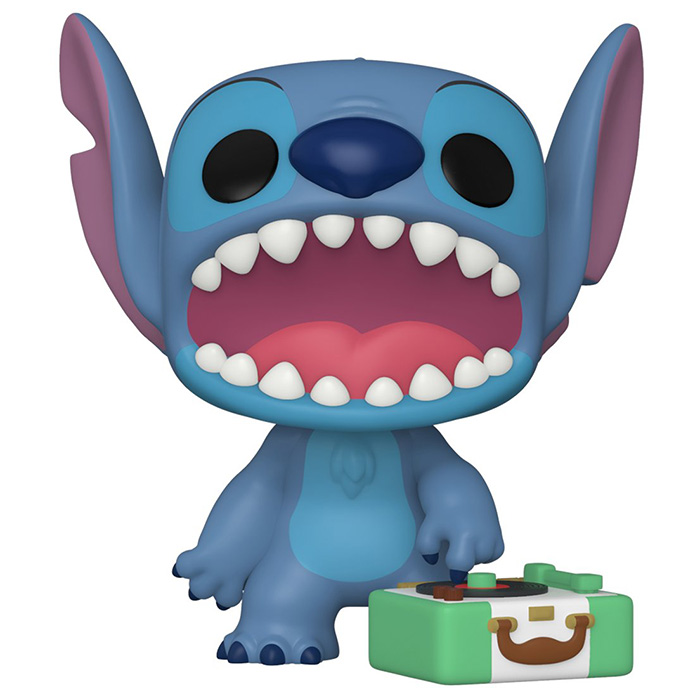 Figurine Stitch with record player chase (Lilo & Stitch)
La figurine Funko Pop Stitch with record player chase (Lilo & Stitch) vous intéresse ?

Vérifier la disponibilité sur

D'étranges capacités
Stitch est le drôle d'animal qu'adoptent Lilo et sa grande soeur au début du dessin animé de Disney Lilo et Stitch se déroulant sur l'île d'Hawaii. Elles l'adoptent au chenil pour agrandir leur petite famille brisée depuis la mort de leurs parents. Le prenant pour un chien, elles ignorent qu'il est en fait une créature extra-terrestre ayant atterri sur Terre alors qu'il tentait de s'échapper lors de son transfert vers une planète où il allait être exilé. Il a décidé de jouer le jeu afin d'échapper à ses poursuivants mais il est parfois difficile pour lui de cacher ce qu'il est ayant été programmé pour être très intelligent mais aussi très méchant et destructeur. Il est aussi capable d'une force surhumaine et possède de surprenantes capacités comme celle de jouer de la musique en posant simplement son doigt sur un disque. Malgré tout cela, Stitch va finir par s'attacher à sa nouvelle famille et va même tout faire pour les protéger quand elles se retrouveront en danger.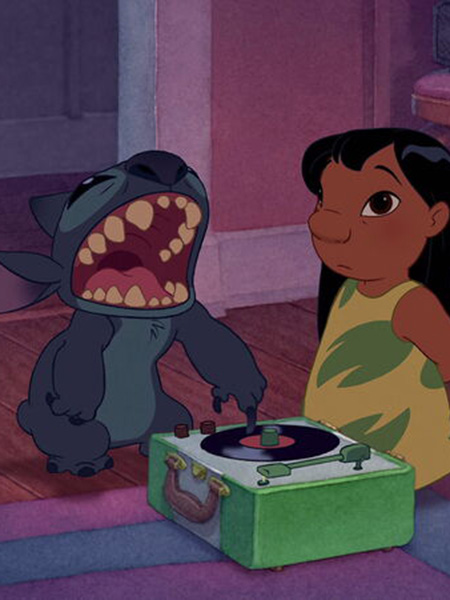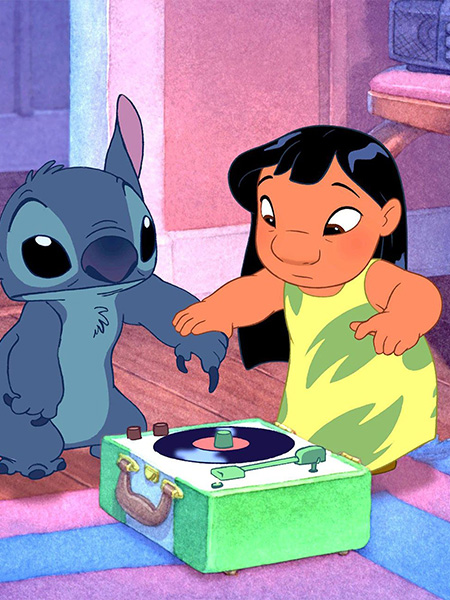 Un extra-terrestre musical
Stitch est ici représenté lors de cette fameuse scène où Lilo découvre qu'en plaçant son doigt sur un disque vinyl tournant et en ouvrant la bouche, Stitch peut diffuser la musique. Il est donc représenté debout sur ses pattes arrières griffues. Sa bouche est très grand ouverte sur ses dents pointues pour laisser sortir la musique. On retrouve aussi ses grandes oreilles dressées vers le haut. Il se tient donc avec une griffe sur le disque vinyl étant en train de tourner sur un petite platine disque rétro tenant dans une petite valise verte et blanche.