Figurine Steve with Sundae (Stranger Things)
La figurine Funko Pop Steve with Sundae (Stranger Things) vous intéresse ?

Vérifier la disponibilité sur

Une nouvelle vie pas passionnante
Steve est l'un des personnages principaux de la série Stranger Things et l'un de ceux ayant le plus évolué depuis le début. En saison 1, il était le petit ami un peu superficiel de Nancy qui se comportait comme le cliché du garçon populaire insupportable. Après avoir été confronté à L'Upside Down et à sa propre stupidité en fin de saison un, il commença à changer. En saison deux, Nancy rompt avec lui et il développe une amitié surprenante avec Dustin qui a besoin de son aide lorsqu'aucun de ses amis ne sont disponibles. En saison trois, Steve travaille chez Scoops Ahoy, un marchand de glace dans le nouveau centre commercial d'Hawkins. Il s'ennuie ferme avec sa collègue Robin qui, elle, s'occupe en se moquant de lui et de ses tentatives ratées pour draguer. Mais les choses vont devenir plus intéressantes quand Dustin revient de vacances et demande à nouveau de l'aide pour transcrire des messages en russe qu'il capte avec la radio qu'il a fabriqué. Contre toute attente, Robin mais surtout Erica, la petite soeur énervante de Lucas qui passe son temps chez le marchand de glace, vont s'en mêler.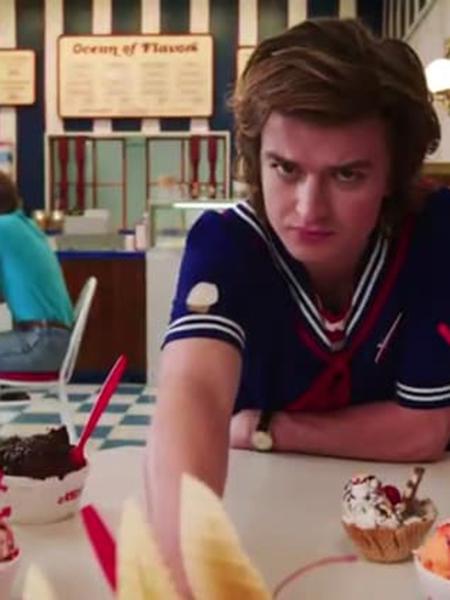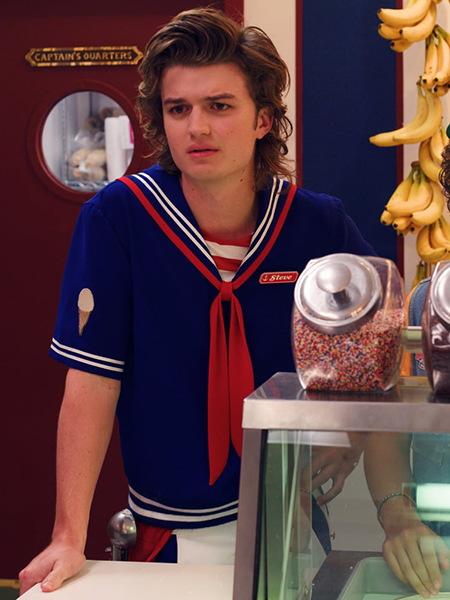 Un deal particulier
Pour cette version exclusive de Steve, Funko l'a représenté avec son uniforme qu'il porte toute la saison et tenant une impressionnante coupe de glace dans ses mains (celle qu'il va préparer pour Erica quand ils ont besoin de son aide). Son uniforme de marin est donc bleu avec des rayures blanches sur les bords des manches et en bas du short et il porte une sorte de foulard au niveau du col. Il porte aussi des petites baskets bleues et, au niveau de la tête, on retrouve ses cheveux bruns ainsi que son petit chapeau blanc de marin sur lequel est écrit "Ahoy". Enfin, il tient bien sûr l'énorme coupe de glace sur laquelle on retrouve des bananes, de la chantilly et des fruits.