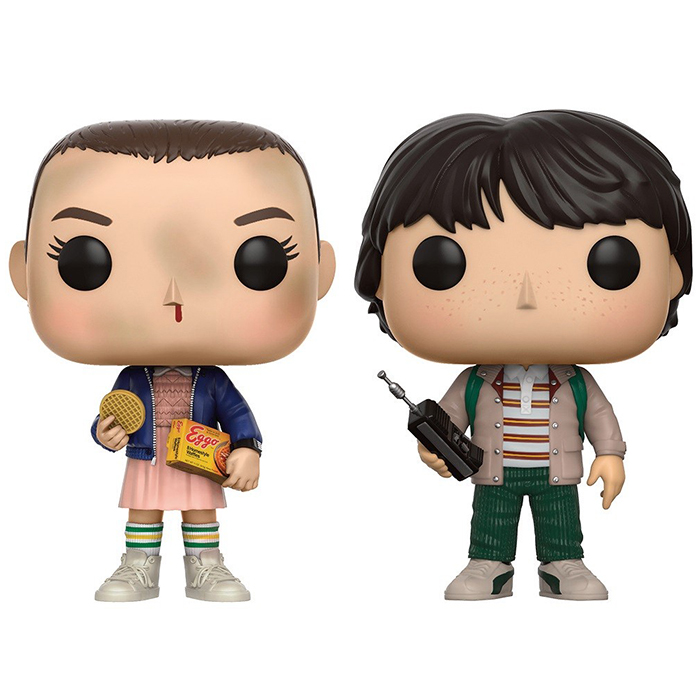 Figurines Eleven with eggos et Mike (Stranger Things)
Les figurines Funko Pop Eleven with eggos et Mike (Stranger Things) vous intéressent ?
Vérifier la disponibilité sur

Les meilleurs amis
Eleven et Mike sont deux des personnages principaux de la série déjà culte de netflix : Stranger Things. Se déroulant dans les années 80 dans la petite ville américaine de Hawkins, la première saison raconte l'enquête sur l'enlèvement plus qu'étrange du jeune Will alors qu'il rentrait chez lui en passant par la forêt. Alors que la police et la mère du jeune garçon enquêtent de leur côté, les trois meilleurs amis du garçon, Mike, Lucas et Dustin, décident de mener l'enquête de leur côté, persuadés qu'il y a quelque chose d'étrange. Alors qu'ils tentent de retracer ses pas dans la forêt sous une pluie torentielle, ils tombent nez à nez avec Eleven, une jeune fille au crâne rasé portant une robe d'hôpital et Mike décide de l'héberger en secret dans son sous-sol. Très vite, il devient clair qu'Eleven n'est pas une jeune fille comme les autres, recherchée par les hommes dangereux travaillant dans le laboratoire duquel elle s'est échappée. Quand elle leur explique qu'elle a la possibilité de retrouver Will grâce aux pouvoirs de son esprit, l'enquête va prendre un nouveau tour.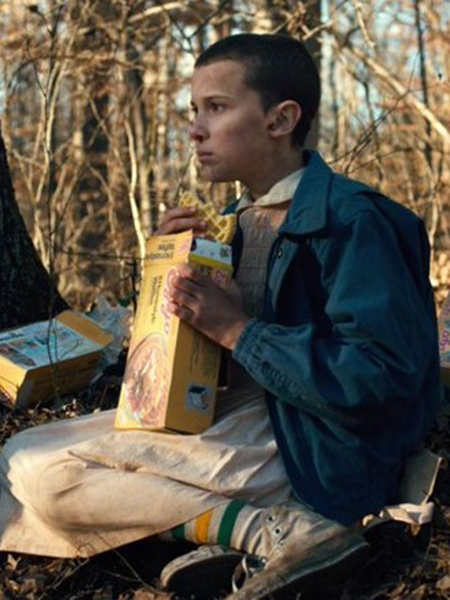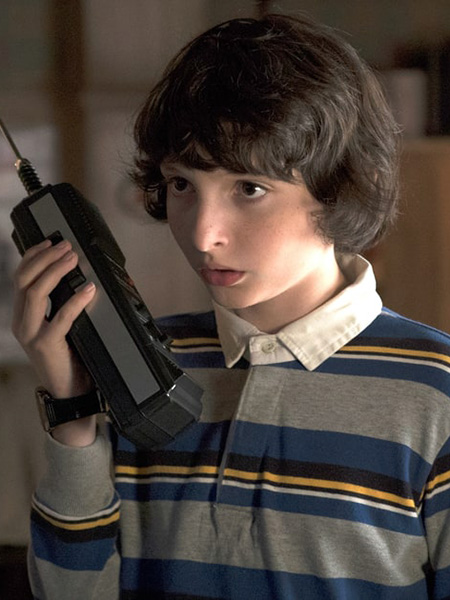 Deux très belles figurines
Ce pack de deux figurines réunit les deux figurines classiques des personnages sorties à l'occasion de la saison de la série. Eleven est représentée avec la robe rose que Mike lui donne pour qu'elle passe "inaperçue" lorsqu'elle doit venir avec eux au collège, ainsi que les baskets blanches, chaussettes montantes et le petit blouson bleu à la forme bien typique des années 80. Au niveau de la tête, on peut voir que son visage est sale et que son nez a coulé, preuve qu'elle a utilisé son pouvoir et on peut donc en conclure qu'elle est ici représentée après sa dispute avec les garçons lorsqu'elle entre dans un supermarché et y vole un paquet d'Eggos (les gaufres que Mike lui a donné pour son premier petit déjeuner en dehors du laboratoire et qu'elle affectionne particulièrement). Quant à lui, Mike porte son pantalon en velours côtelé vert, ses baskets adidas, un polo rayé et un blouson beige. Dans sa main, il tient le talkie-walkie que les garçons utilisent pour se parler. Au niveau de la tête, on reconnait bien sa coupe de cheveux caractéristique et ses tâches de rousseur.