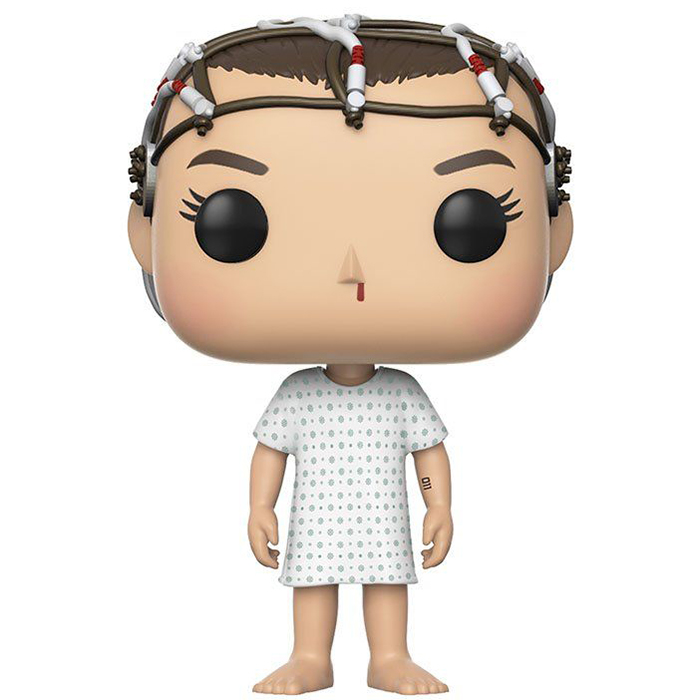 Figurine Eleven with electrodes (Stranger Things)
La figurine Funko Pop Eleven with electrodes (Stranger Things) vous intéresse ?

Vérifier la disponibilité sur

Une expérience de laboratoire
Eleven est l'un des personnages principaux de la série Stranger Things se déroulant dans une petite ville américaine au début des années 80. Au début du premier épisode, on voit un scientifique courir dans les couloirs d'un laboratoire de recherche pour finalement se faire rattraper par une terrifiante créature. Peu de temps après, un jeune garçon est enlevé par cette même créature dans les alentours du laboratoire. Alors que ses amis décident d'enquêter sur sa mort en retraçant ses pas, ils tombent sur une jeune fille au crâne rasé qui semble échappée de ce laboratoire. Comme elle semble effrayée par les adultes, ils décident de la cacher dans le sous-sol de Mike, l'un des trois garçons. Au cours de flashbacks, on apprend qu'Eleven (surnommée ainsi à cause de son tatouage sur le bras) a subi des expériences dans ce laboratoire dans le but de développer les capacités de son cerveau et on va se rendre compte que celles-ci sont directement liées à la créature et la disparition d l'ami des trois garçons.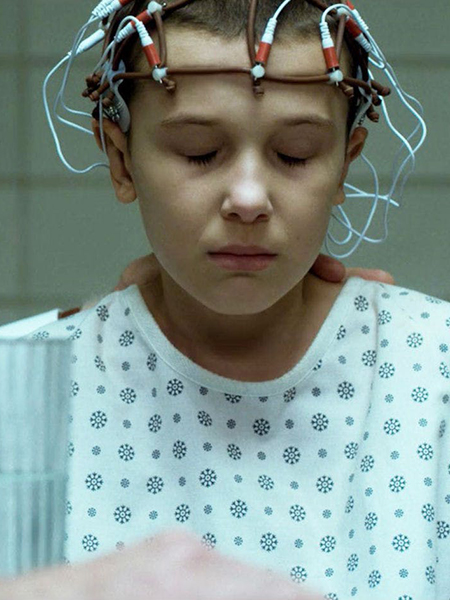 Eleven avec ses électrodes
Pour cette version exclusive à la NYCC 2017, Eleven est représentée avec le casque d'électrodes qui permet d'enregistrer l'activité de son cerveau pendant qu'elle tente d'utiliser ses capacités hors du commun. Comme une autre des figurines déjà existantes du personnage, elle est représentée avec sa blouse d'hôpital blanche à motifs gris. Sur son bras gauche, on peut voir son tatouage représentant le chiffre onze. Au niveau de la tête, elle porte donc ce fameux casque à electrodes et ses cheveux sont coupés très courts, presque rasés. Enfin, on peut voir qu'elle saigne du nez, preuve qu'elle utilise ses capacités mentales de manière intense.