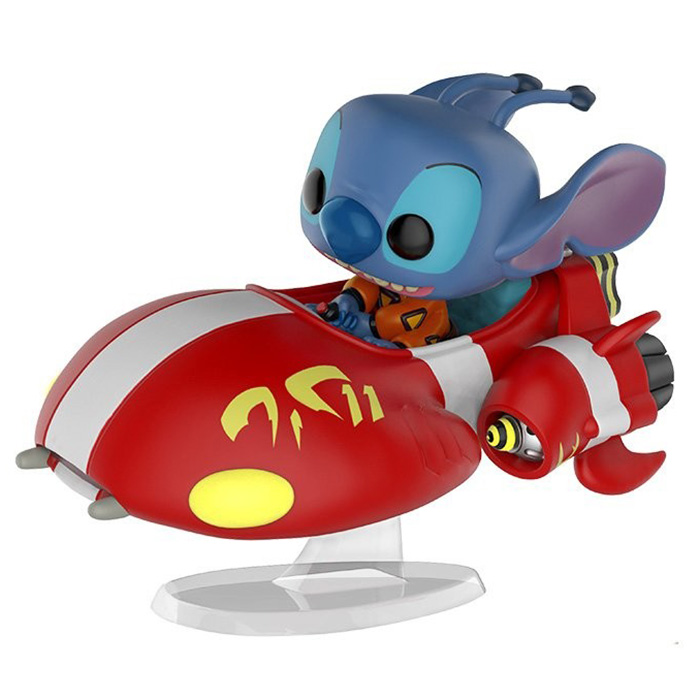 Figurine Stitch avec The Red One (Lilo et Stitch)
La figurine Funko Pop Stitch avec The Red One (Lilo et Stitch) vous intéresse ?
Vérifier la disponibilité sur

Stitch s'échappe
Stitch est l'un des personnages principaux du dessin animé Lilo et Stitch des studios Disney. Sur une planète extra-terrestre, un scientifique est jugé pour avoir fait des manipulations génétiques et donné vie à des créatures étranges, notamment Stitch, petit animal à l'allure de koala bleu mais très fort, très intelligent et très malfaisant. Le scientifique est condamné à la prison à vie et Stitch à être exilé sur une planète déserte. Mais en cours de transfert, il parvient à s'échapper et à voler un petit vaisseau spatial rouge qui finit par s'écraser sur la terre à Hawaii. C'est là qu'il se fait renverser par un camion et emmener dans un chenil, ses sauveteurs le prenant pour un chien. C'est alors qu'arrivent Lilo et sa soeur Nani, toutes deux orphelines, pour adopter un chien. C'est bien sûr Stitch que Lilo choisit. Et s'il se montre au départ réticent, il comprend vite que rester près de la famille rendra la tache plus difficile à ceux qui souhaitent le re-capturer. Et contre toute attente, les deux filles parviendront aussi à lui apprendre la bonté.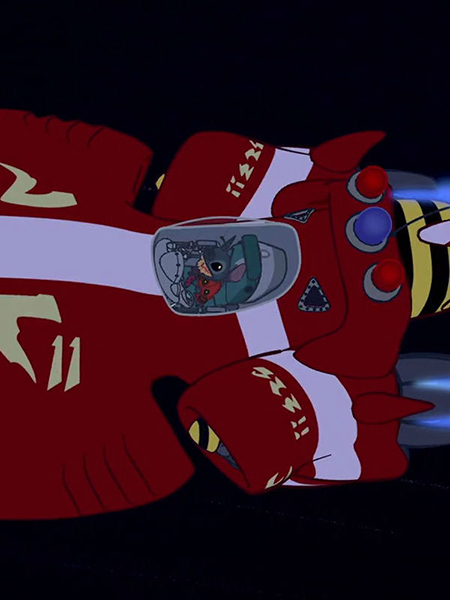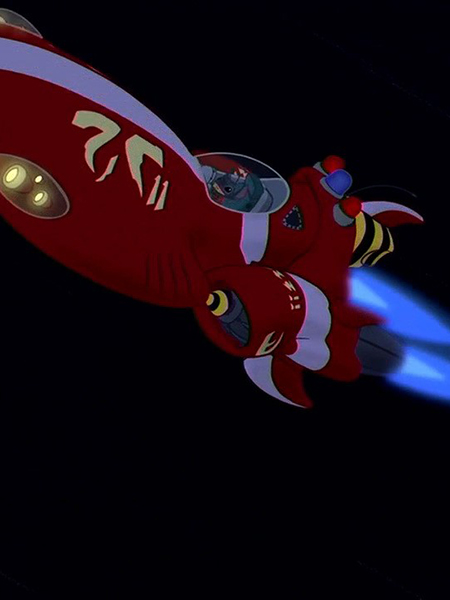 Un drôle de pilote
Pour cette figurine Pop Rides, Stitch est donc représenté au début du film quand il parvient à s'échapper aux commandes d'un petit vaisseau spatial rouge. Celui a une allure très gadget et presque aussi mignonne que Stitch lui même. Il est rouge avec des formes très rondes, des bandes blanches et des caractères extra-terrestres. Ses deux lumières jaunes sur l'avant lui donnent l'air d'avoir un visage et on retrouve aussi ses propulseurs à l'arrière de chaque côté. Quand à Stitch, il porte encore sa tenue de prisonnier orange et l'on peut voir qu'il tire de toutes ses forces sur le manche, probablement pour tenter de le faire atterrir en douceur. Sa bouche est grande ouverte et ses sourcils haussés dans une expression de peur et enfin, ses oreilles sont complètement en arrière pour accentuer l'effet de mouvement déjà présent grace au socle transparent qui donne vraiment l'impression que le vaisseau vole.