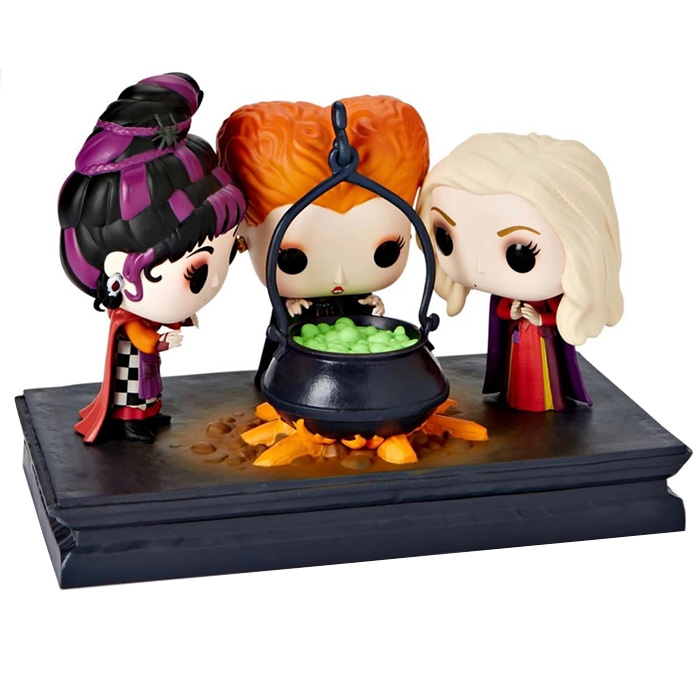 Figurines The Sanderson Sisters (Hocus Pocus)
Les figurines Funko Pop The Sanderson Sisters (Hocus Pocus) vous intéressent ?
Vérifier la disponibilité sur

De méchantes sorcières
Les soeurs Sanderson sont les trois fameuses sorcières du film fantastique des années 90 Hocus Pocus. En 1692, les trois soeurs enlèvent une petite fille dans le but de lui faire avaler une potion qui leur permettra d'absorber son énergie vitale pour les rendre plus jeunes. Cela fonctionne mais les sorcières sont ensuite capturées par les villageois et mises au bûcher. Elles lancent un sort et promettent qu'un jour, un jeune vierge allumera leur bougie noire une nuit d'Halloween et les fera revenir à la vie. Et en effet, 300 ans plus tard, Max, un jeune californien ne croyant pas aux histoires de sorcières rallume la bougie et ramène les soeurs. Mais celles-ci n'ont que jusqu'au lever du soleil pour recréer leur fameuse potion et capturer plusieurs enfants afin de prendre leur force vitale où elle retourneront à la poussière pour l'éternité. Mais cela va se révéler plus compliqué que prévu dans un monde moderne qu'elles ne comprennent pas et avec Max et ses amis pour tenter de les empêcher.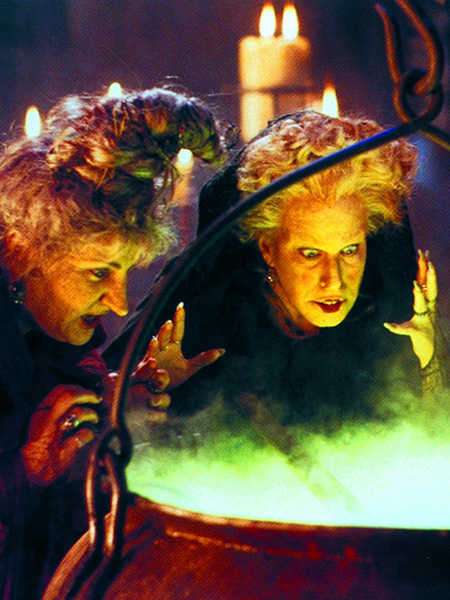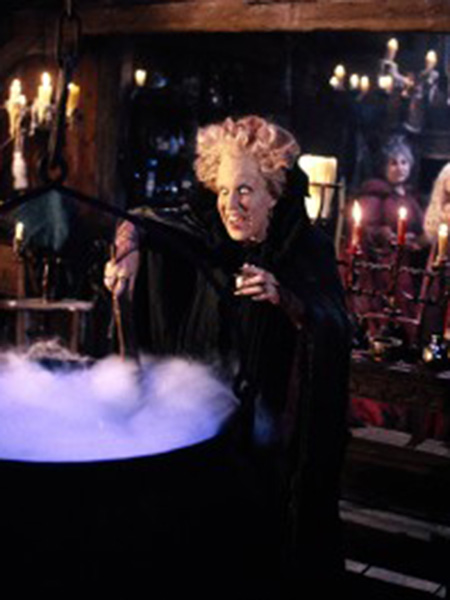 Une potion puissante
Pour ce movie moment, Funko a décide représenter les trois soeurs réunies autour de leur chaudron dans lequel leur potion est entrain de bouillir. Celui est posé sur des braises ardentes et dedans, on peut voir une potion verte. A gauche, on retrouve Mary Sanderson avec ses cheveux noirs et violets, sa cape rouge et sa robe à damiers noirs et blancs. Winifred est celle est qui est entrain de fabriquer la potion et on la reconnait bien avec ses cheveux oranges coiffés en chignon volumineux. Enfin, à a droite, on retrouve Sarah Sanderson, la plus jeune des trois soeurs avec ses longs cheveux blonds, sa cape violette et son teint pale.