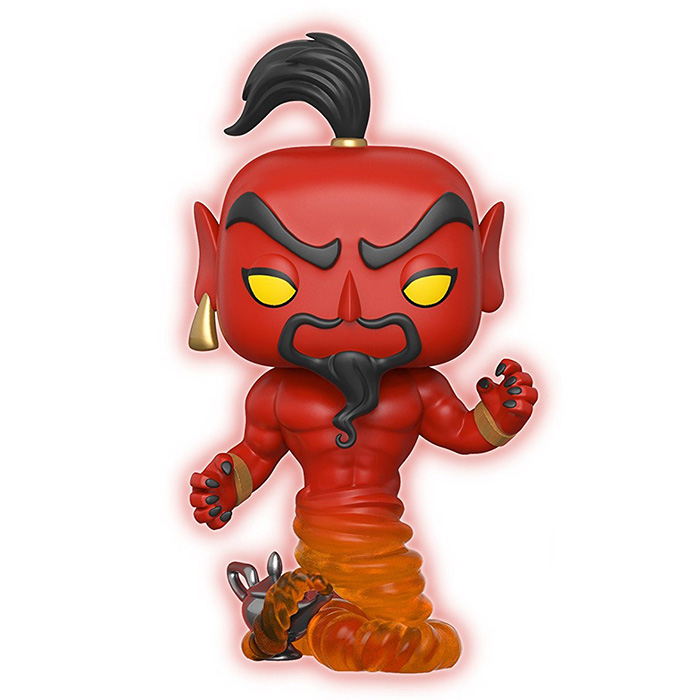 Figurine Red Jafar chase glow in the dark (Aladdin)
La figurine Funko Pop Red Jafar chase glow in the dark (Aladdin) vous intéresse ?

Vérifier la disponibilité sur

Un ennemi puissant
Jafar est le conseiller du sultan d'Agrabah et le grand méchant du dessin animé Aladdin des studios Disney, inspiré du célèbre conte des mille et une nuits. Comme c'est souvent le cas dans l'histoire, l'apparemment fidèle conseiller n'a en fait qu'un seul but : devenir sultan à la place du sultan. Et pour cela son plan est simple : obtenir la main de la princesse Jasmine. Seulement Jasmine est bien décidée à choisir l'homme qu'elle épousera. Et justement elle vient de rencontrer un jeune voleur dans la cité pour qui elle s'est prise d'affection et plus tard débarque Ali, un riche prince enu pour lui faire la cours. Très vite, Jafar va se rendre compte qu'Ali et le jeune voleur Aladdin sont la même personne et qu'Aladdin a trouvé une lampe magique contenant un génie qui lui a accordé trois voeux, le premier étant de devenir très riche pour avoir une chance avec la princesse. A partir de ce moment là, Jafar va tout faire pour s'emparer lui même de la lampe et devenir le maitre du génie.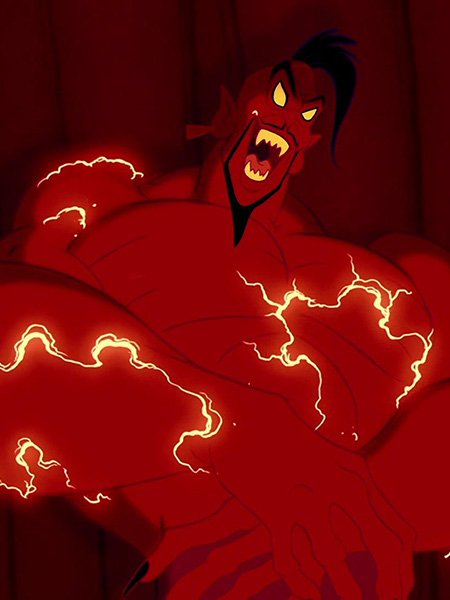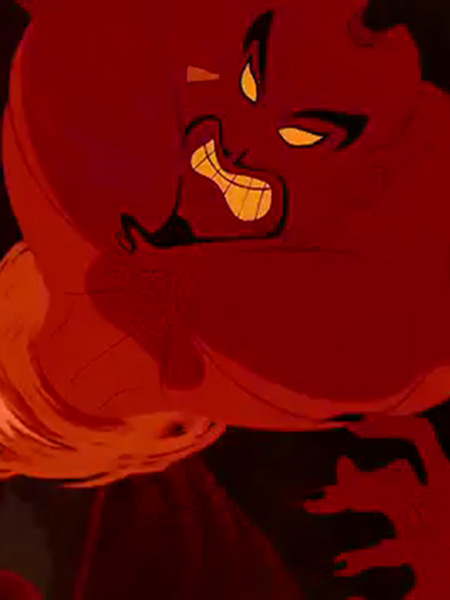 Jafar le rouge
Pour cette version chase de Jafar en version génie maléfique, Funko a décidé de le rendre brillant dans le noir, ce qui rend encore plus flamboyant. On ne voit donc plus de Jafar que son torse rouge et très musclé ainsi que sa tête. Celle-ci est rouge avec des yeux jaunes, un long bouc noir et une simple queue de cheval sur le dessus de la tête retenue par un anneau doré. Le reste de son corps a pris la forme de la fumée qui sort de la lampe mais contrairement au gentil génie bleu, cela créé un tourbillon rouge et orange. On peut aussi bien sûr la fameuse lampe magique dans lequel les génies sont enfermés une fois que leurs maitres ont épuisé leurs trois voeux.