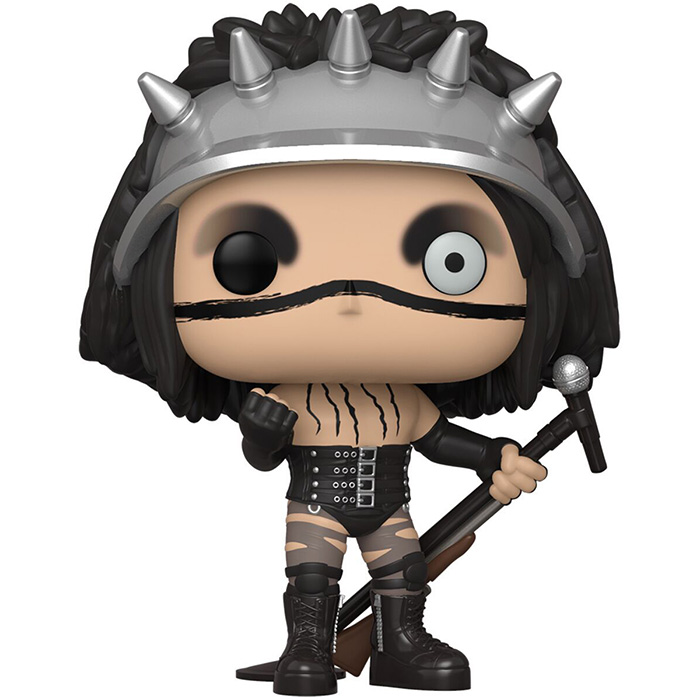 Figurine Marilyn Manson (Marilyn Manson)
La figurine Funko Pop Marilyn Manson (Marilyn Manson) vous intéresse ?

Vérifier la disponibilité sur

Un adolescent solitaire
De son vrai nom Brian Warner, Marilyn Manson est le leader du groupe de métal industriel Marilyn Manson dont le nom fait référence à l'actrice Marilyn Monroe et au célèbre gourou de secte et tueur en série Charles Manson. Né en 1969 dans l'Ohio, il fait sa scolarité dans un établissement catholique où il se trouve très malheureux, ne se faisant pas d'amis et ayant du mal avec les règles strictes de celui-ci pour un garçon qui se passionne pour des groupes comme Juda's Priest ou Kiss. Plus tard, il va étudier pour devenir journaliste afin de pouvoir interviewer tous les grands rockeurs qu'il admire et dont il voudrait intégrer le monde. Il va finalement créer le groupe Marilyn Manson and The Spooky Kids qui sera ensuite réduit à Marilyn Manson. Après des années de travail, il sera finalement repéré par Trent Reznor qui produira leur premier album "Portrait Of An American Family". La musique de Marilyn Manson est empreinte de provocation, de blasphèmes et d'utilisation de symboles mystiques qui lui vaudront souvent des critiques, en particulier aux Etats-Unis.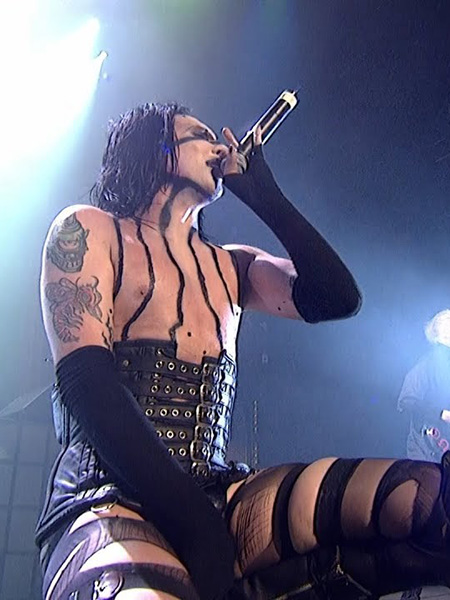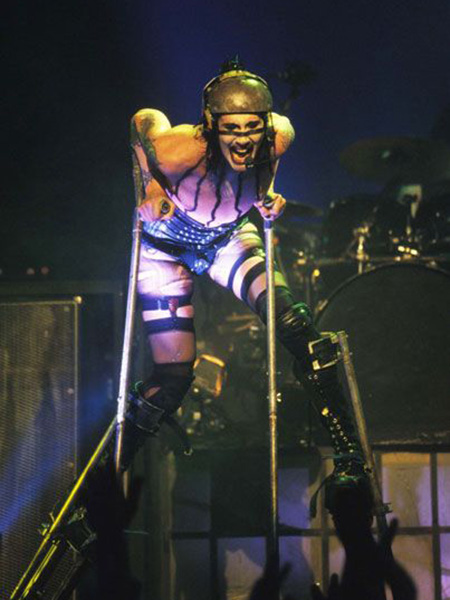 Un physique reconnaissable
Marilyn Manson est ici représenté avec l'une des tenues qu'il portait sur la tournée Guns, God and Government tour aux alentours de 2001. Comme toujours, celle-ci est hours du commun et va puiser son inspiration dans divers styles, notamment le gothique et le SM. Il porte un corset en cuir noir avec de nombreuses sangles autour de la taille ainsi qu'un slip assorti. Il porte aussi des bottes noires à plateformes avec une fermeture éclair et des bas gris troués à plusieurs endroits. Il porte aussi des gants de cuir noirs et tient son pied de micro en forme de fusil. Il porte aussi du maquillage autour des yeux, une grande bande sur le visage et plusieurs traits partant du coup. Enfin, au niveau de la tête, on retrouve ses cheveux noirs ainsi que ce drôle de casque en métal avec des pics.