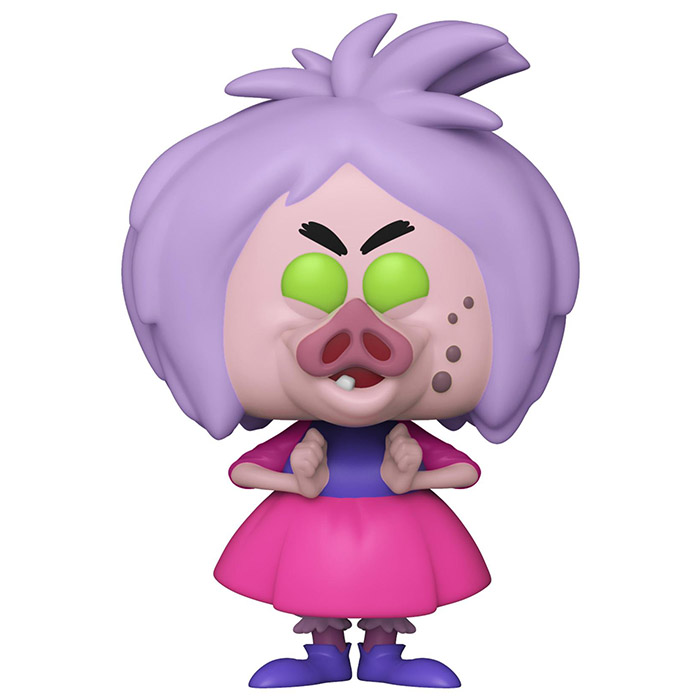 Figurine Madam Mim (Merlin L'Enchanteur)
La figurine Funko Pop Madam Mim (Merlin L'Enchanteur) vous intéresse ?

Vérifier la disponibilité sur

Une vieille ennemie
Madam Mim est une sorcière et l'ennemie bien connue de Merlin dans le dessin animé Merlin L'Enchanteur de Disney, The Sword in the Stone en VO. Le film se concentre sur le jeune Arthur, serviteur chez le sire Hector qui se trouve en fait être le fils caché du dernier roi d'Angleterre. Un jour, il se perd en forêt et rencontre l'enchanteur Merlin. Ce dernier reconnait le potentiel du jeune homme et décide de devenir son précepteur. Mais Arthur va aussi accidentellement rencontrer Madam Mim, une ennemie de toujours de Merlin. Reconnaissant qu'Arthur est le protégé de Merlin, elle tente de le tuer par vengeance. Merlin le sauve mais Madam Mim va à nouveau tenter de le tuer plusieurs fois jusqu'à cette mémorable scène où les deux magiciens vont s'affronter, prenant de très nombreuses formes et multipliant les sorts jusqu'à la victoire de Merlin et ce malgré les nombreuses tricheries de Madam Mim qui n'hésite pas à ne pas respecter ses propres règles.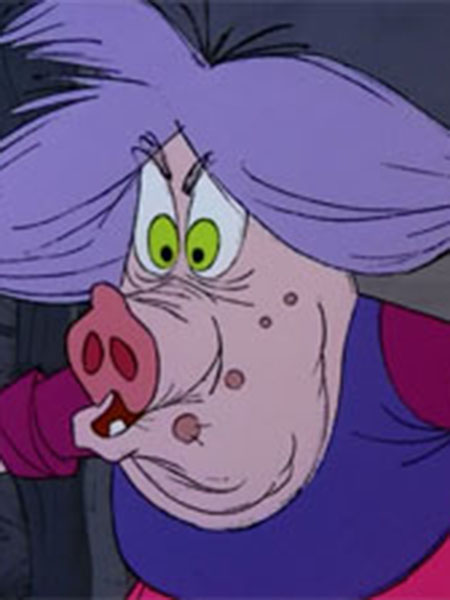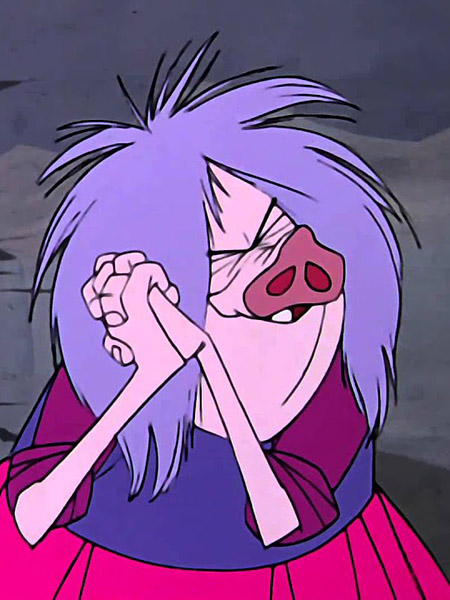 Une drôle de transformation
Madam Mim est ici représenté durant ce fameux combat et plus précisément au moment où elle se retrouve transformée en partie en cochon. On retrouve son habituelle tenue dans des tons de rose et violet. La jupe est ample et rose, le haut violet avec des manches roses et elle porte des chaussures violettes toutes simples. Seul son visage a l'apparence d'un cochon, tout rose avec un groin, une seule dent et des yeux verts inquiétants. On retrouve aussi les quatre gros grains de beauté de Madam Mim sur sa joue gauche. Enfin, ses cheveux ébouriffés sont d'un violet clair et relativement courts.