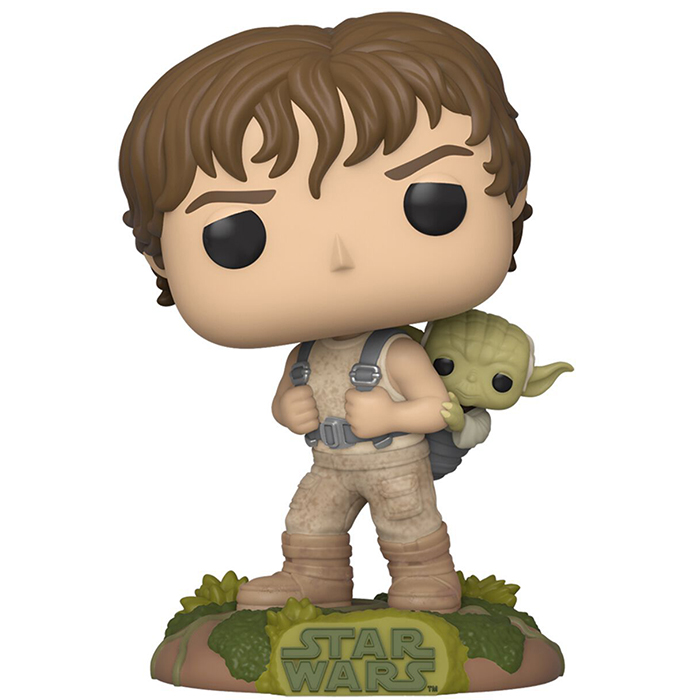 Figurine Luke Skywalker with Yoda (Star Wars)
La figurine Funko Pop Luke Skywalker with Yoda (Star Wars) vous intéresse ?

Vérifier la disponibilité sur

Un maître pas comme les autres
Luke Skywalker est l'un des personnages principaux de la saga Star Wars. Dans la première trilogie, il se retrouve embarqué dans la lutte contre l'empire quand il trouve le message de SOS de la princesse Leia enregistré sur un petit robot et demandant l'aide d'Obi Wan Kenobi. Luke le trouve et avec l'aide du pilote Han Solo, ils la trouvent et la sauvent des griffes de Darth Vader. Mais pendant ce temps, Luke découvre qu'il est sensible à la Force. Malheureusement Obi Wan Kenobi, un maître Jedi, s'est fait tuer par Darth Vader à la fin du premier film. Dans le film L'Empire contre-attaque, il part donc à la recherche d'un autre maître Jedi, le mystérieux Yoda. Il va le trouver sur la planète Dagobah vivant dans une petite hutte au milieu de la forêt où il a vécu seul depuis des dizaines d'années. S'il peut sembler un peu fou au départ, ou au minimum excentrique, il reste un puissant maître Jedi qui va réussir à apprendre à Luke tout ce dont il a besoin pour maîtriser la force et par la suite, combattre Darth Vader.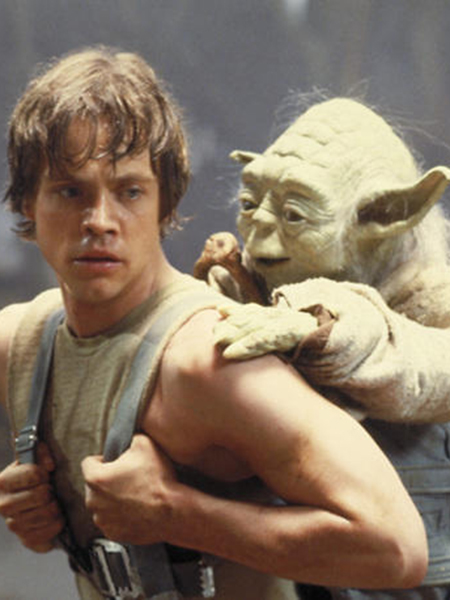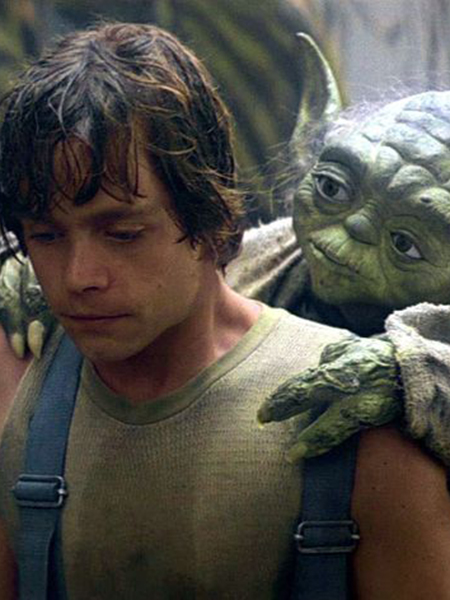 Un moment culte
Luke est donc représenté ici quand il suit la formation de maître Yoda sur la planète Dagobah et que celui-ci le force à le porter sur son dos dans une sorte de sac à dos. Luke porte un pantalon, des bottes et un débardeur beiges, la planète Dagobah étant une planète de forêt humide et chaude. Ses vêtements sont en partie tachés de boue et on peut voir que ses cheveux collent à son visage. Yoda est donc dans cette sorte de sac mais on peut voir sa petite tête verte et ridée ainsi que sa pain posée sur le bras de Luke. Enfin, ils sont posés sur un socle différent du socle habituel Star Wars. Celui-ci représente le sol de la planète avec de la terre et des feuilles et le logo Star Wars se fond dans l'environnement.