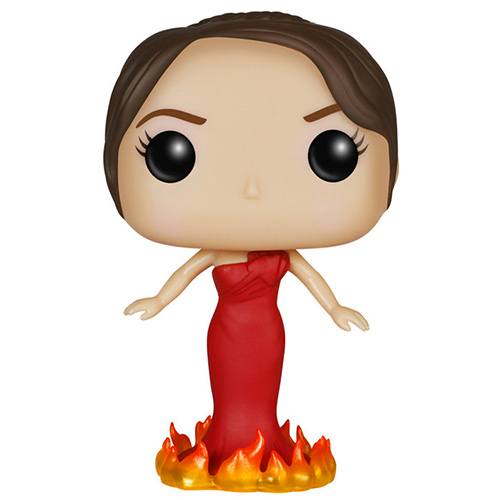 Figurine Katniss The Girl On Fire (The Hunger Games)
La figurine Funko Pop Katniss The Girl On Fire (The Hunger Games) vous intéresse ?

Vérifier la disponibilité sur

Katniss, the girl on fire
Katniss Everdeen est le personnage central de la trilogie littéraire "The Hunger Games" adaptée au cinéma en quatre films. L'histoire se déroule dans un futur plutôt lointain à Panem, sur les ruines des Etats-Unis. Ce pays, divisé en 13 districts est dirigé par un gouvernement autoritaire, le Capitole. 75 ans avant le début des évènements du livre, le peuple tenta de se révolter mais échoua et le Capitole mit alors en place une tradition sanglante : les Hunger Games. Chaque année, deux jeunes gens de chaque district sont tirés au sort et doivent se battre à mort dans une arène et un seul a le droit de survivre. Lors de l'un de ces tirages au sort dans le district 12, Katniss Everdeen va se porter volontaire pour épargner sa jeune soeur tirée au sort. Arrivés au Capitole et avant le début des jeux, les "champions" de chaque district passeront à la télé comme le font des stars de télé réalité aujourd'hui. C'est là que Katniss et Peeta, l'autre champion de son district se rendront compte que pour survivre, former des alliances pourra aussi être important.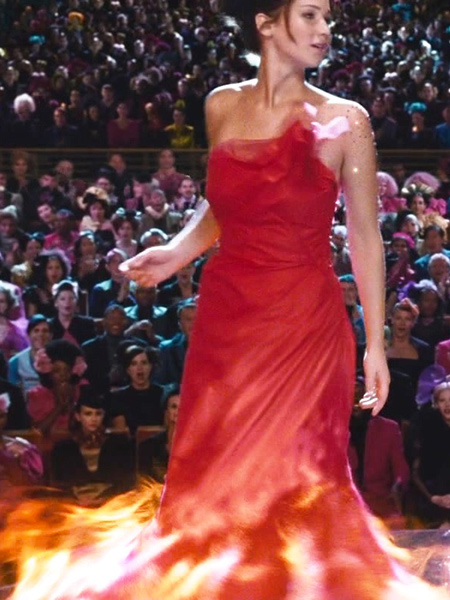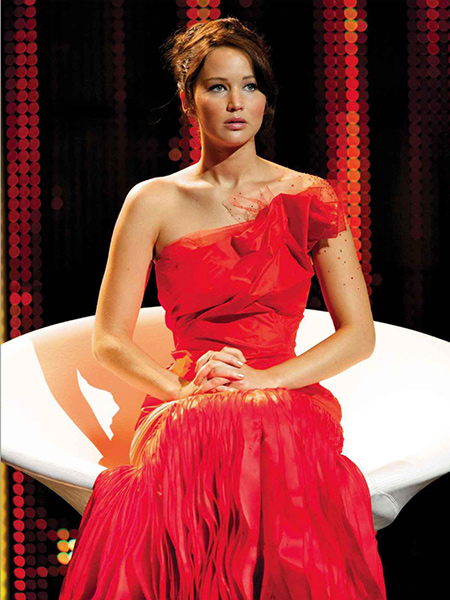 Katniss et sa robe de feu
Cette seconde figurine de Katniss la montre avec la tenue qu'elle porte lorsqu'elle est interviewée afin de pouvoir se présenter au public avant les Hunger Games. A cette occasion son styliste Cinna va lui créer une robe en adéquation avec le district d'où elle vient ainsi qu'avec son tempérament. L'idée étant de la rendre inoubliable afin de l'aider à obtenir des sponsors qui l'aideront pendant les jeux. Comme dans le film, on peut donc voir que cette robe est rouge et longue. Funko a bien respecté les détails du décolleté légèrement plissé et le tout retenu sur une seule épaule. Dans le film, lorsque Katniss tourne sur elle-même, Cinna a créé une technique qui donne l'illusion qu'elle prend feu. C'est notamment grâce à cette robe, et la tenue qu'elle porte lors du défilé un peu plus tôt, qu'elle obtient le surnom de "Girl On Fire". Funko a plutôt joliment rendu cet effet en ajoutant des flammes sur tout le bas de sa robe. Au niveau de la tête, son visage est tout simple mais la coiffure qu'elle porte à ce moment là a été, encore une fois, plutôt bien rendue.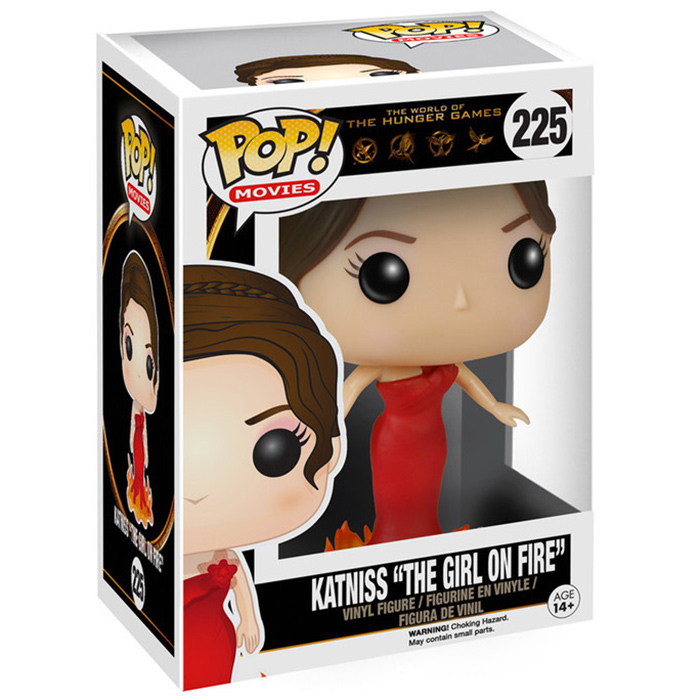 La figurine Funko Pop Katniss The Girl On Fire (The Hunger Games) vous intéresse ?

Vérifier la disponibilité sur

Trouvable également ici :

13.90 €
Voir l'offre