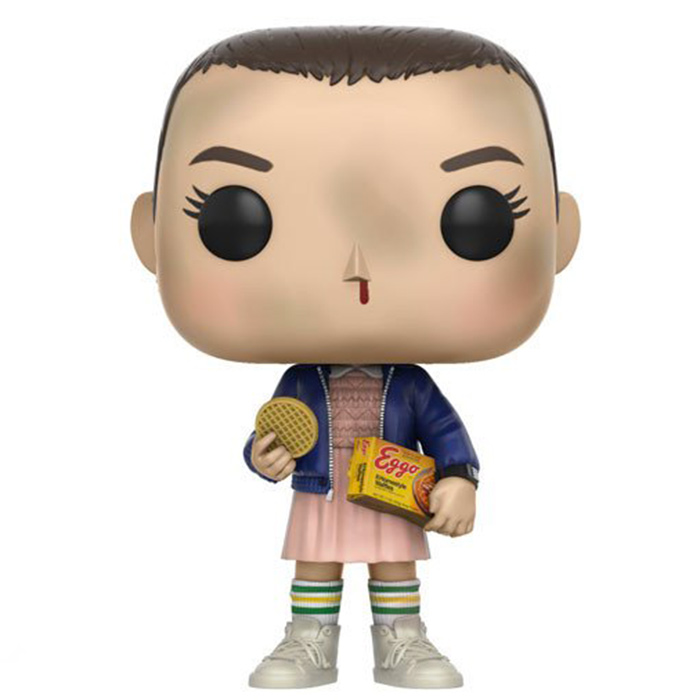 Figurine Eleven with Eggos (Stranger Things)
La figurine Funko Pop Eleven with Eggos (Stranger Things) vous intéresse ?

Vérifier la disponibilité sur

l'expérience de laboratoire
eleven est l'un des personnages principaux de la série Stranger Things. Diffusée sur Netflix durant l'été 2016, Stranger Things se déroule au début des années 80 aux Etats-Unis. Cette série fantastique n'est pas sans rappeler certaines adaptations de Stephen King mettant en scène principalement des enfants comme "It" ou "Stand by me". Au début de l'histoire, dans un laboratoire désert, un scientifique est poursuivi et à priori enlevé et/ou tué par une créature mystérieuse. Quelques temps plus tard, un jeune garçon passe près de ce laboratoire en rentrant d'une partie de donjons et dragons avec ses copains et croise cette créature. Elle le poursuit jusqu'à sa maison déserte et l'enlève. La police locale, sa mère mais aussi ses amis vont commencer les recherches. C'est alors qu'ils tombent sur une jeune fille au crâne rasé qui ne parle pas. Elle est effrayée et ils décident de la cacher au sous-sol de l'un des garçons. Quand elle finit par parler, on comprend que nom est Eleven et qu'elle s'est échappée de ce fameux laboratoire où elle était apparemment étudiée pour ses capacités psychiques.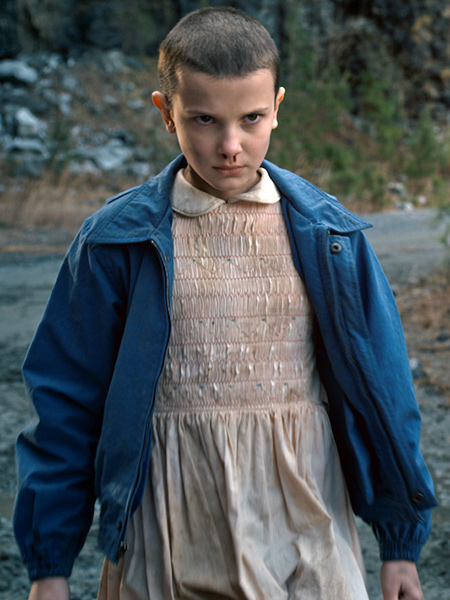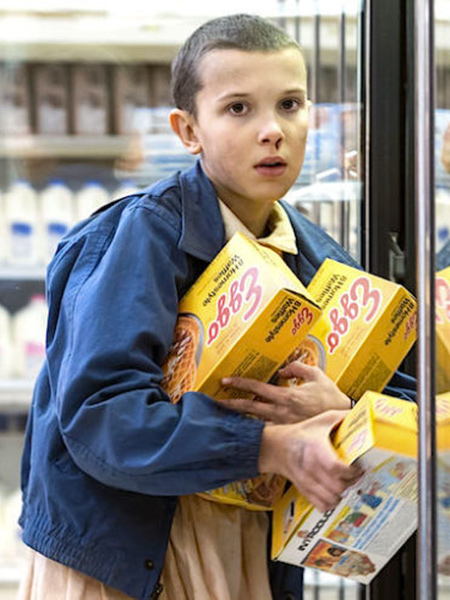 Eleven transformée en jeune fille presque normale
Quand les garçons rencontrent Eleven, ils commencent par la cacher au sous-sol mais quand ils se rendent compte qu'elle pourrait les aider à retrouver leur ami disparu, elle doit sortir du sous-sol et pour ça, Mike va lui prêter d'anciens vêtements appartenant à sa grande soeur. Elle est donc ici représentée avec cette tenue : une robe rose très sage et typiquement années 80 portée avec de petites baskets blanches et des chaussettes montantes à rayures. par dessus ça, elle porte une veste bleue à fermeture éclair et tous les détails de ces vêtements sont très joliment représentés. Au niveau de la tête, son visage est sale comme il l'est souvent dans la série et on peut voir que son nez a saigné, comme c'est toujours le cas quand elle se sert de ses pouvoirs. On retrouve aussi ses cheveux coupés très courts presque rasés et enfin, elle tient dans ses mains une boîte des fameux Eggos, ces gaufres qu'elle aime tant.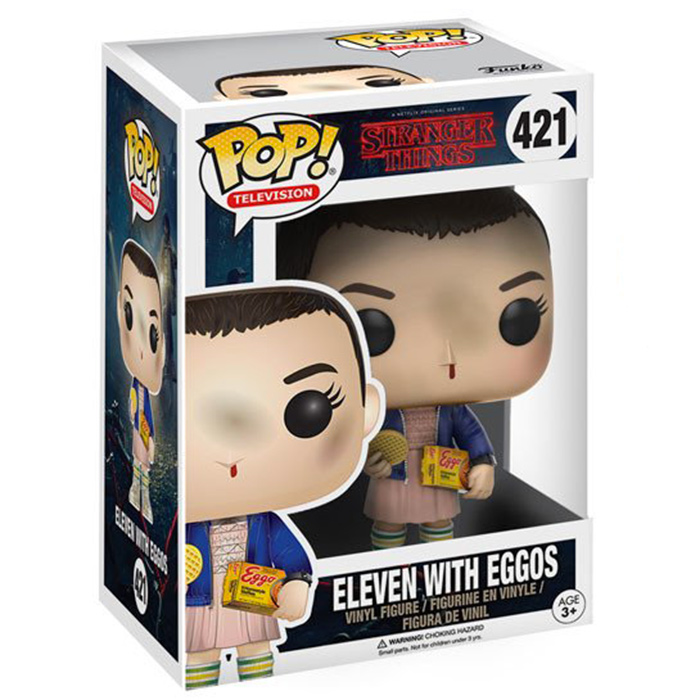 La figurine Funko Pop Eleven with Eggos (Stranger Things) vous intéresse ?

Vérifier la disponibilité sur

Trouvable également ici :

13.90 €
Voir l'offre